KIM Aurin picked the right time to deliver his career game as Perpetual stayed alive in the NCAA Season 95 seniors basketball tournament with an 85-83 escape of St. Benilde Friday at Filoil Flying V Centre in San Juan.
The 6-foot-2 forward churned out 29 points and 10 rebounds, including the game-sealing freebies with 19.6 seconds remaining to make it an 85-80 lead and end the Altas' five-game losing streak.
"Maganda ang nilaro ni Kim. Malaking bagay para sa amin yun," remarked coach Frankie Lim of Aurin, who had to return the game after inadvertently butting heads with Unique Naboa in a wild scramble for the ball in the fourth quarter.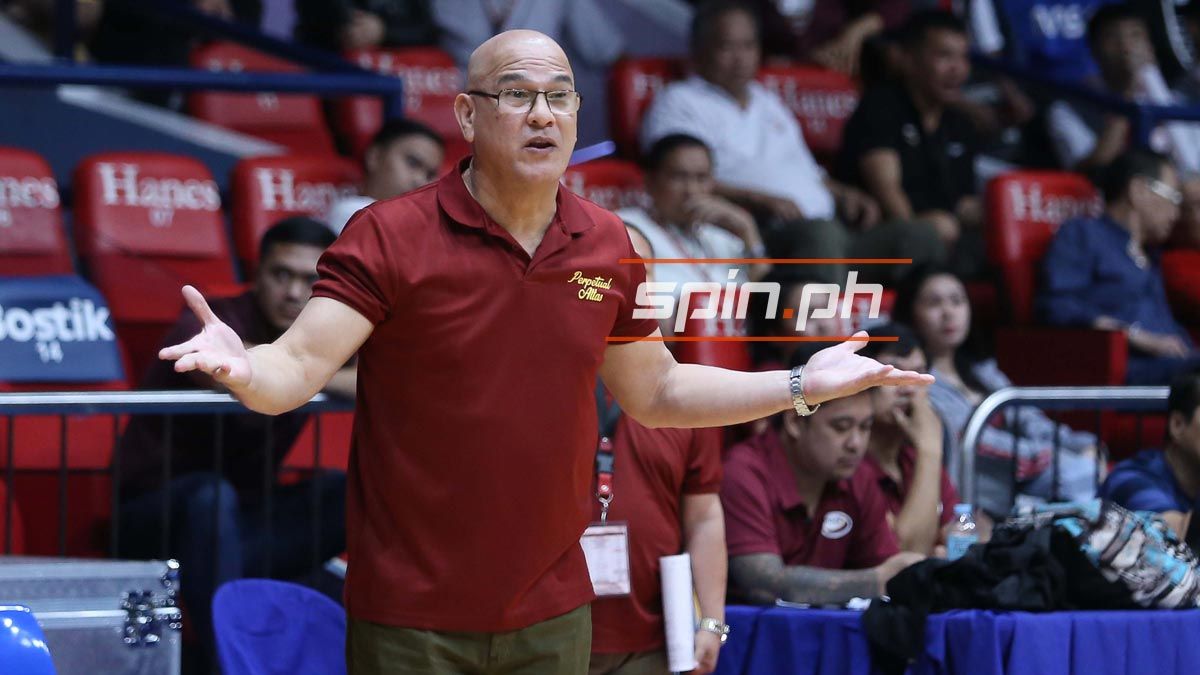 ADVERTISEMENT - CONTINUE READING BELOW ↓
The win, however, didn't come easy for Perpetual as Carlo Young and Justin Gutang's charities got St. Benilde within two in the final 9.2 seconds.
Edward Dixon then secured a steal in the ensuing inbounds play, but Prince Carlos muffed his potential game-winning three for the Blazers that sealed the triumph for the Altas.
Jielo Razon added 15 points, five boards, and two assists, while Tonton Peralta got 11 points, three rebounds, and two assists.
Ben Adamos just missed out on a double-double for Perpetual with 10 points, eight boards, three dimes, and a block, as James Labarda got 10 points and five rebounds in the win.
More importantly, the Altas kept their dimming Final Four hopes ablaze as they rose to a 4-10 card.
"We're looking at winning our games. Yun naman ang magde-decide kung makakapasok kami o hindi. There's no special formula for that," said Lim. "We just have to get better especially from our practices. We're not just talking about my starters, but the whole team as a whole."
Meanwhile, the losses continued to pile for St. Benilde as it now lost its sixth straight and eight of its last nine games to drop to a 6-8.
Young led the skidding Blazers with 20 points on a 5-of-9 clip from threes, on top of two rebounds, and a steal, while Gutang added 13 points, 13 boards, three assists, and two blocks.
Carlos also had 13 points, seven rebounds, three steals, and two rebounds as they lost grip of a 15-point third quarter lead, 57-42, to suffer the collapse.
The Scores:
PERPETUAL 85 -- Aurin 29, Razon 15, Peralta 11, Adamos 10, Labarda 10, Charcos 5, Giussani 3, Sevilla 2, Cuevas 0, Lanoy 0, Martel 0, Tamayo 0.
BENILDE 83 -- Young 20, Gutang 13, Carlos 13, Lepalam 10, Belgica 8, Haruna 5, Nayve 5, Sangco 5, Dixon 2, Naboa 2, Flores 0.
Quarters: 15-17, 33-44, 62-60, 85-83.