IT has been an interesting first round in the NCAA Season 93, with Lyceum living up to lofty expectations in sweeping the first nine games and San Beda remaining as a consistent powerhouse with only just a single loss at the hands of the Pirates.
In the first round, fans of the league have witnessed some of the best individual performances, seeing what's expected from the usual stars while getting some surprises along the way from little known players.
After putting up a list of top performers on a weekly basis, SPIN.ph now gives a rundown on the All-NCAA team after the first round, together with the reserves to put the spotlight on the top individual performers of the league so far in the season.
Here are the members of SPIN.ph's All NCAA Team after the first round of Season 93.
First Team
Center
Prince Eze – (14.8 PPG, 17.2 RPG, 2.2 BPG)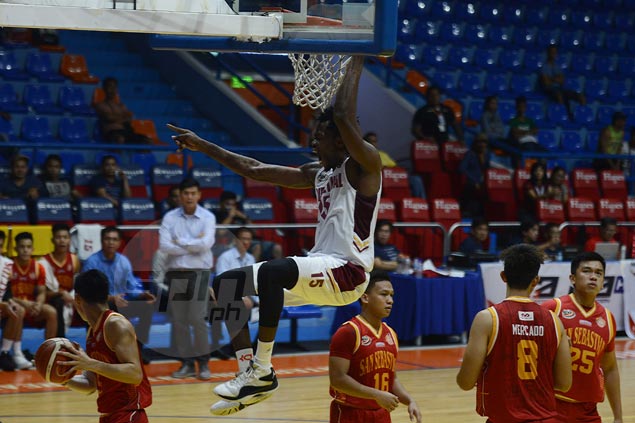 Continue reading below ↓
Recommended Videos
Seeing Prince Eze top the MVP race after the first round may come as a surprise, but for those following the league devotedly, it's pretty much a no brainer.
This towering Nigerian has been the lone reason why Perpetual Help remains a deadly team despite the losses as he leads the league in rebounds and blocks per game.
With Bright Akhuetie heading to Diliman, this is now Eze's team to run and so far, he hasn't disappointed.
He might not be as flashy as Akhuetie, but Eze gets the job done.
Forwards
Sidney Onwubere (14.9 PPG, 11.8 RPG, 2.6 APG, 1.9 BPG)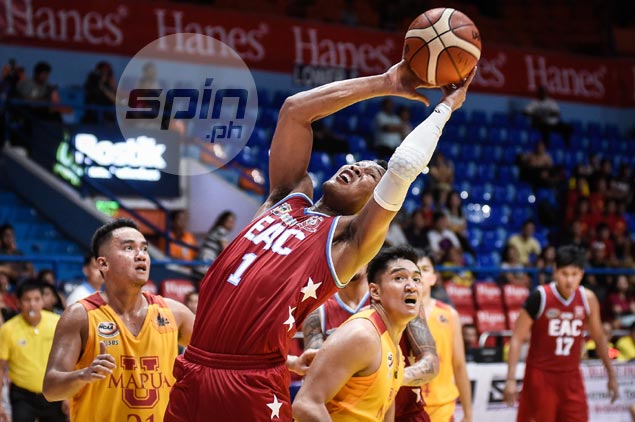 For the first time since the Gerry Esplana-mentored Emilio Aguinaldo College team, the Generals are finally back into Final Four contention and majority of the credit goes to the consistent play of Sidney Onwubere.
Losing star big man Hamadou Laminou to an ACL injury was a huge blow, but Onwubere has stepped up in lieu of the injured Cameroonian, doing double time on the boards and being the Generals' top interior defender.
On offense, Onwubere showed improved shooting from beyond the arc, while staying true to his 'grit and grind' style of play underneath.
CJ Perez (18.6 PPG, 5.6 RPG, 3.2 APG, 1.6 SPG)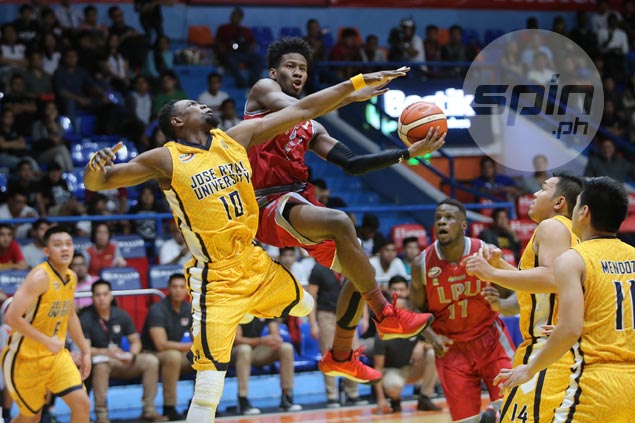 In his anticipated return to the NCAA, CJ Perez has met high expectations for him and his Lyceum team.
The young man out of Pangasinan leads the league in scoring as he continues to be coach Topex Robinson's top offensive weapon in a Lyceum offense which has been essentially unstoppable for the season.
His ability to create off the dribble has been a huge part of what makes Perez deadly but it is on the open court where he is at his deadliest, as he can force a stop and take it all the way for a fastbreak, or grab the rebound and quickly start their offense.
A lot of the Pirates' success are often attributed to Robinson's 'team first' type of offense, but Perez definitely deserves some recognition for leading the charge, too.
Guards
Rey Nambatac – (17.3 PPG, 8.7 RPG, 3.2 APG)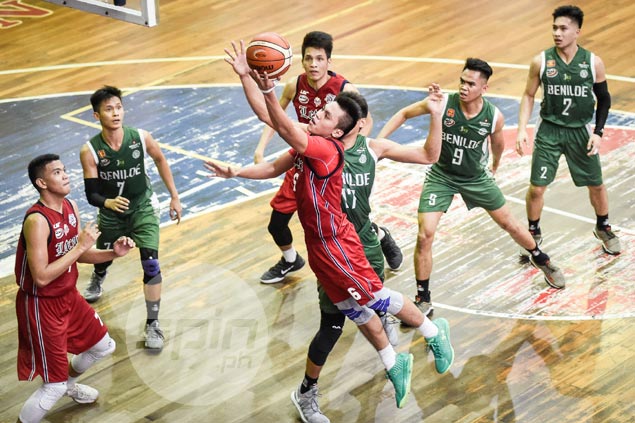 Not only is Rey Nambatac the league's third best scorer, but Letran's top playmaker is also the best rebounding guard in the tournament and a solid defender as well.
What's impressive about this graduating guard's play is how he was able to translate his style of play from being just a pure scorer to one of the best all-around performers in the league.
Nambatac was at his best in Letran's string of four straight wins, putting up double-doubles in every game and being the leader that was expected of him before the season began.
He also has a knack of getting to the foul line, getting to the line 7.6 times a game and making 73.9 percent of his freebies.
Robert Bolick (13.6 PPG, 7.6 RPG, 4.7 APG)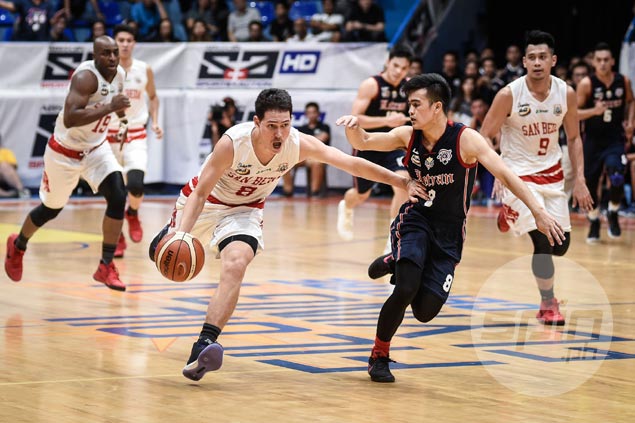 Speaking of all around players, Robert Bolick has emerged as one of the most coveted playmakers in the league as San Beda's chief facilitator.
Under the tutelage of Boyet Fernandez, Bolick has embraced the role as this squad's leader, opting to set up his teammates first before looking for his shot.
He's also turning out to be one of the most clutch performers in the league, pulling through for San Beda in times where they had to grind out wins in the endgame.
After a stellar performance in the preseason, a lot was expected from Bolick in Season 93 and he has been more than willing to deliver.
Second team
Center
Mike Nzeusseu (11.1 PPG, 10.9 RPG, 1.3 BPG)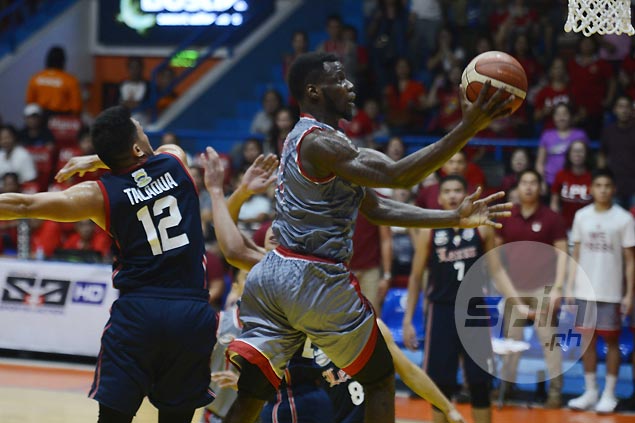 From a perennial 20-20 threat, Mike Nzeusseu's numbers has dropped significantly. But Nzeusseu's commitment to involving his teammates more and focusing on defense is what earned him a huge role in Lyceum's unbeaten run.
Despite the drop off, Nzeusseu remains the second closest center to Prince Eze, especially with the injury of Letran big man Jeo Ambohot who was also turning heads before an unfortunate wrist injury sidelined him for two months.
Forwards
JV Mocon (12 PPG, 9.9 RPG, 3.6 APG)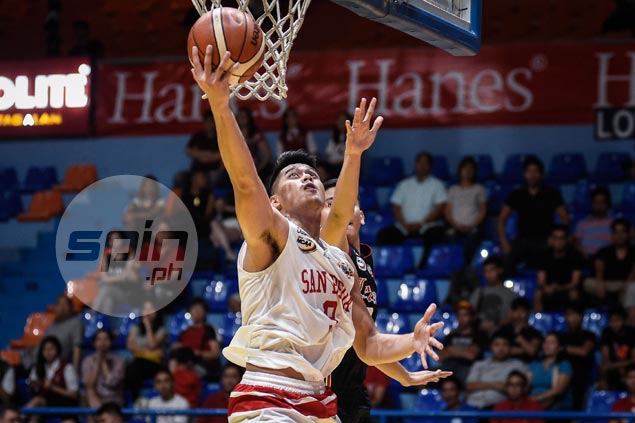 Versatility has been JV Mocon's main weapon this season as he has translated his game from being a nifty customer on the post to being one of the best passing big men in the league.
When Bolick sits out, the Red Lion offense runs around this veteran power forward, either working from the elbow, or penetrating and finding his teammates after drawing his defenders.
Michael Calisaan (16.5 PPG, 9 RPG)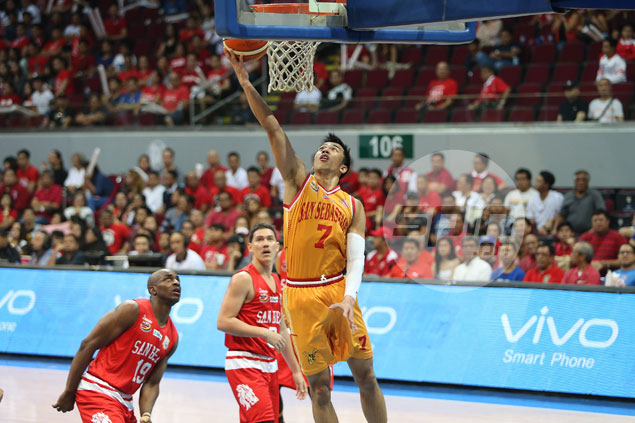 There isn't much that San Sebastian head coach Egay Macaraya can ask from Michael Calisaan.
The lanky 6-foot-3 forward has played from small forward to a center this season and excelling well in every position.
His ability to get points off the offensive glass has been his bread and butter and an improved three point shot is helping him as well.
It's just too bad that his ejection in the Stags' match against EAC disqualifies him from any individual award at the end of the season.
Guards
JC Marcelino (10.9 PPG, 5.6 RPG, 2.2 APG, 1.3 SPG)
el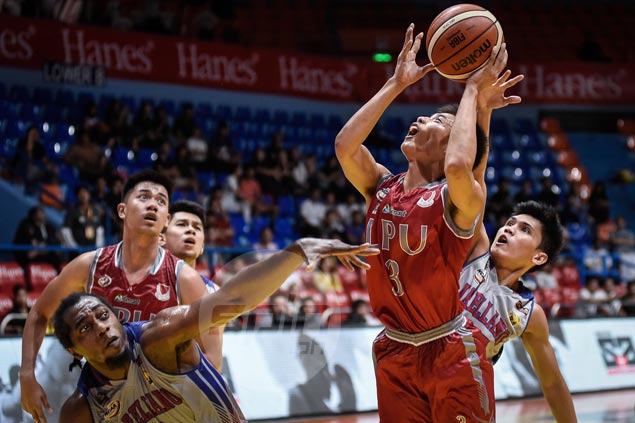 Perhaps there isn't a bigger surprise this season than JC Marcelino.
The energetic combo guard has been the instigator of Lyceum's offense while also anchoring that dreaded trapping defense that the Pirates love to run this season.
Together with his twin brother, JV, the Pirates have the best defensive backcourt in the league – their rebounding prowess can also be considered as a bonus.
Kent Salado (18.1 PPG, 4.3 RPG, 4.1 APG, 1.6 SPG)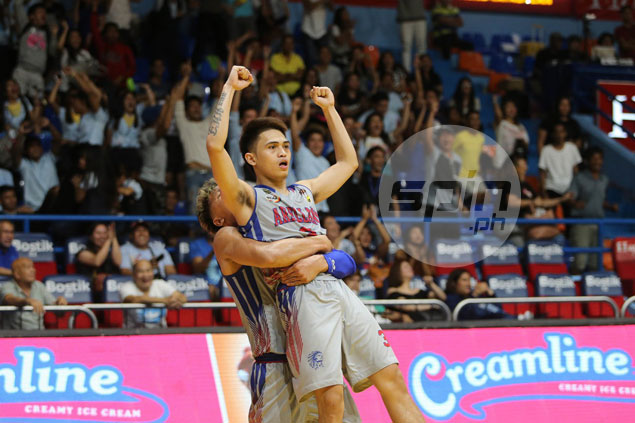 Had Arellano won a few more games this season, Kent Salado would easily be on the first team.
The Chiefs, runners-up from last season, has not seen much success in Season 93 so far after winning just three games. But that doesn't necessary fall on Kent Salado's shoulders.
Despite being the second best scorer in the league, Salado has consistently looked to get his teammates involved.
In the times that his teammates are clicking, Arellano has been successful.
But that has come far and few in between as the Chiefs have been on a slump after the first round.