MIKE Nzeusseu anchored Lyceum's 18-point decimation of Jose Rizal University, 95-77, Friday in the NCAA Season 95 seniors basketball tournament at Filoil Flying V Centre in San Juan.
The Cameroonian big man dropped 13 points and eight rebounds as the Pirates took hold of their third straight win to improve to 4-1.
"We took a gamble on him," said coach Topex Robinson on Nzeusseu, who's still recovering from his injured right index finger. "We gave him the decision if he wanted to play or not and sabi niya, 'If I'm gonna rest now, wala na ako next year.' He wanted to make every game count."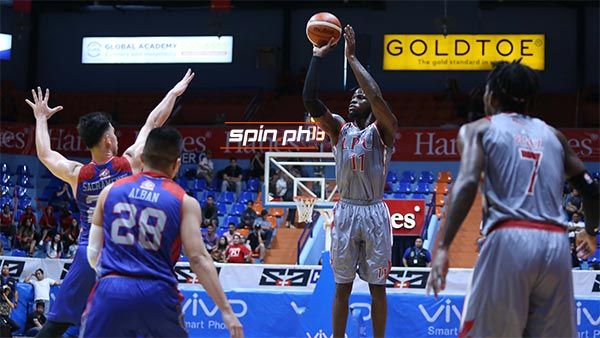 Continue reading below ↓
Recommended Videos
Toci Tansingco also fired three three-pointers to nab 13 points and two rebounds, as Enoch Valdez and Nino Ibanez both scored 11.
Lyceum had the luxury of resting top scorer Jaycee Marcelino, who was dealing with a hand injury stemming from last game.
"It's a good win for us. Alam namin na madaming fans yung JRU and we wanted to see paano magre-respond yung mga bata. We are glad with how they were able to handle pressure," Robinson said.
The Pirates were quick to assert control of the game, taking a 31-19 first quarter lead before running away in the second frame with a 51-27 advantage before swelling to as much as 28, 80-52, with a Renzo Navarro trey early in the fourth.
Emotions, however, heightened in the second half as JRU coach Louie Gonzalez was tossed early in the third quarter after arguing a foul called on Marwin Dionisio, who elbowed Valdez on a rebound play.
Agem Miranda was also slapped with a disqualifying foul for throwing a punch to the gut of Biern Laurente in an inbounds play at the 3:13 mark of the final canto, when Lyceum was comfortably ahead, 84-66.
Rookie John Amores scored 23 points for the Heavy Bombers, which saw their two-game win streak snapped to fall to a 2-4 slate.
Miranda got himself 13 points, four assists, three rebounds, and two steals, as JL Delos Santos had nine points and six boards in the loss.
The Scores:
LYCEUM 95 -- Nzeusseu 13, Tansingco 13, Ibanez 11, Valdez 11, Caduyac 8, Jv. Marcelino 7, David 7, Pretty 6, Navarro 6, Laurente 6, Yong 4, Santos 2, Guinto 1.
JRU 77 -- Amores 23, Miranda 13, Delos Santos 9, Dionisio 6, Aguilar 6, Vasquez 6, Steinl 4, Jungco 4, Dela Rosa 3, Abaoag 2, Arenal 1.
Quarters: 31-19, 51-27, 75-49, 95-77.