IN the end, defense held through for Letran as it outlasted a blazing RK Ilagan and San Sebastian with an 85-80 victory Tuesday at Cuneta Astrodome to progress in the stepladder semifinals of the NCAA Season 95 seniors basketball tournament.
Scorching from deep all game long, the Knights went to their hard-knocks defense in the final minute as they forced a stop after Ilagan stepped on the halfcourt line before Fran Yu tipped the ball and let a driving Alvin Capobres sail out of bounds to deny the Golden Stags' rally.
Jerrick Balanza had a chance to ice the game for good, but he muffed both of his freebies with 13.3 seconds left. JM Calma had the rebound until Yu grabbed the leather from the air and locked the game up with a pair of free throws in the last 10.2.
Letran now heads to meet Lyceum on Friday, with the winner advancing to the championship against the unbeaten San Beda.
ADVERTISEMENT - CONTINUE READING BELOW ↓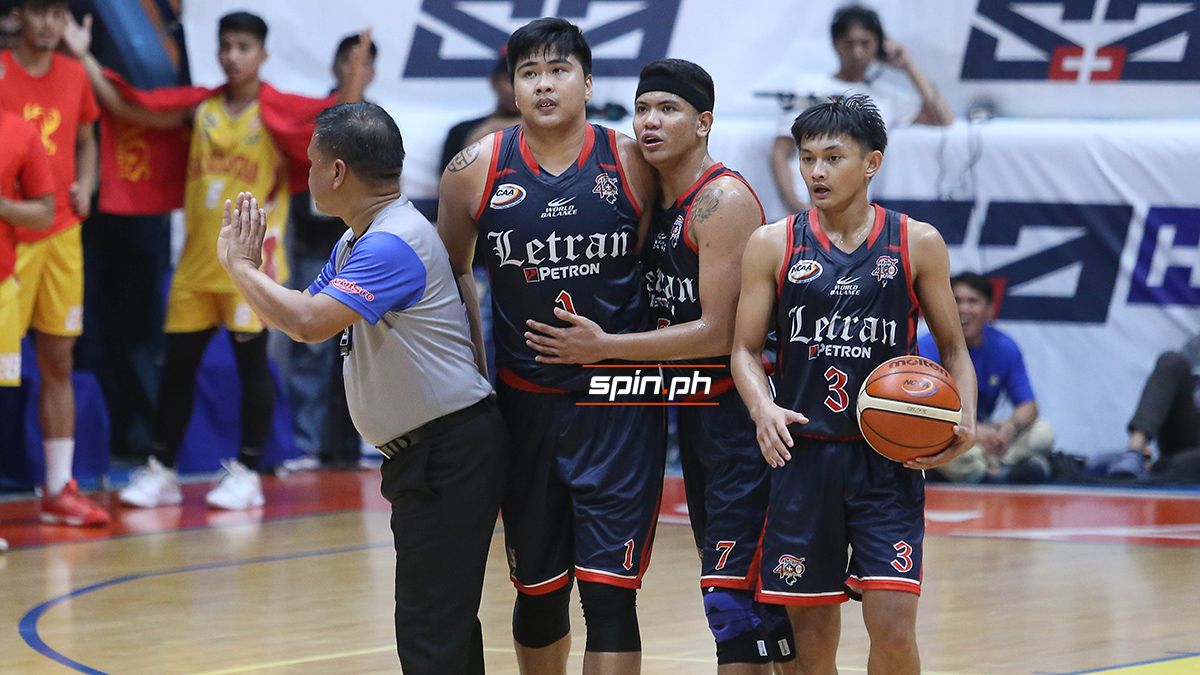 Balanza poured 15 points, six rebounds, and four assists as he led the six Knights to notch double figures in scoring.
"I put the trust sa mga graduating players ko. Binigay ko sa kanila," said coach Bonnie Tan.
Bonbon Batiller added 14 points, four dimes, and three boards, with his back-to-back treys midway through the payoff period playing a pivotal part in slowing down the Golden Stags' fightback to take a 77-63 lead after the Knights saw their 17-point advantage, 69-52, trimmed down to just six.
But Ilagan had other plans, spurring San Sebastian's barrage late with his right wing trey getting his side to as close as one, 81-80 with 1:40 remaining.
That proved to be its last hurrah, with Letran taking charge on defense in the final minute to avoid the meltdown.
"At the end, a win is a win," sighed Tan. "Ayaw ng mga veterans ko na last game nila. Gusto nila maglaro at mag-practice pa bukas at hindi sila bumigay sa magandang pinakita ng Baste."
Allen Mina played a crucial role in the Knights' early attack, burying four treys for his 12 points as they shot 12-of-29 from downtown, a good 41-percent from beyond the arc.
Larry Muyang chimed in 11 points and two rebounds, Ato Ular got 10 points, five boards, and two blocks, while Yu scored 10 points and hauled seven rebounds in the win.
Allyn Bulanadi taking a bit of a breather midway through the second frame proved to be disastrous for San Sebastian as Letran took full advantage of that stretch and used an 11-0 run to erect a 44-32 lead with 1:40 remaining to help the Muralla side create the cushion in the fiercely contested second half.
ADVERTISEMENT - CONTINUE READING BELOW ↓
Ilagan saw his career-best performance of 36 points on a blistering 7-of-13 shooting from deep go down the drain. He also collected six rebounds and three assists.
Bulanadi took a bow in his collegiate career with 15 points, seven boards, and three assists for the Golden Stags.
The Scores:
LETRAN 85 -- Balanza 15, Batiller 14, Mina 12, Muyang 11, Ular 10, Yu 10, Caralipio 9, Balagasay 4, Ambohot 0, Olivario 0, Reyson 0, Sangalang 0, Javillonar 0.
SAN SEBASTIAN 80 -- Ilagan 36, Bulanadi 15, Villapando 8, Calahat 7, Capobres 5, Altamirano 5, Desoyo 2, Sumoda 1, Cosari 1, Calma 0, Isidro 0.
Quarters: 23-20, 50-40, 69-59, 85-80.