FRAN Yu made sure to bury Letran's painful past, helping the Knights slay the ghost that was Lyceum, 92-88, on Friday at the Cuneta Astrodome to advance to the NCAA Season 95 seniors basketball Finals.
The gritty 5-foot-10 guard anchored the pivotal 15-2 run that turned a 70-69 Lyceum lead into a commanding 84-72 Letran advantage after a Jerrick Balanza three-point play with 5:26 remaining.
Yu scored eight of his 20 points in the final quarter, on top of six assists and five rebounds as Letran finally beat Lyceum and returned to the championship round for the first time since winning it all in 2015.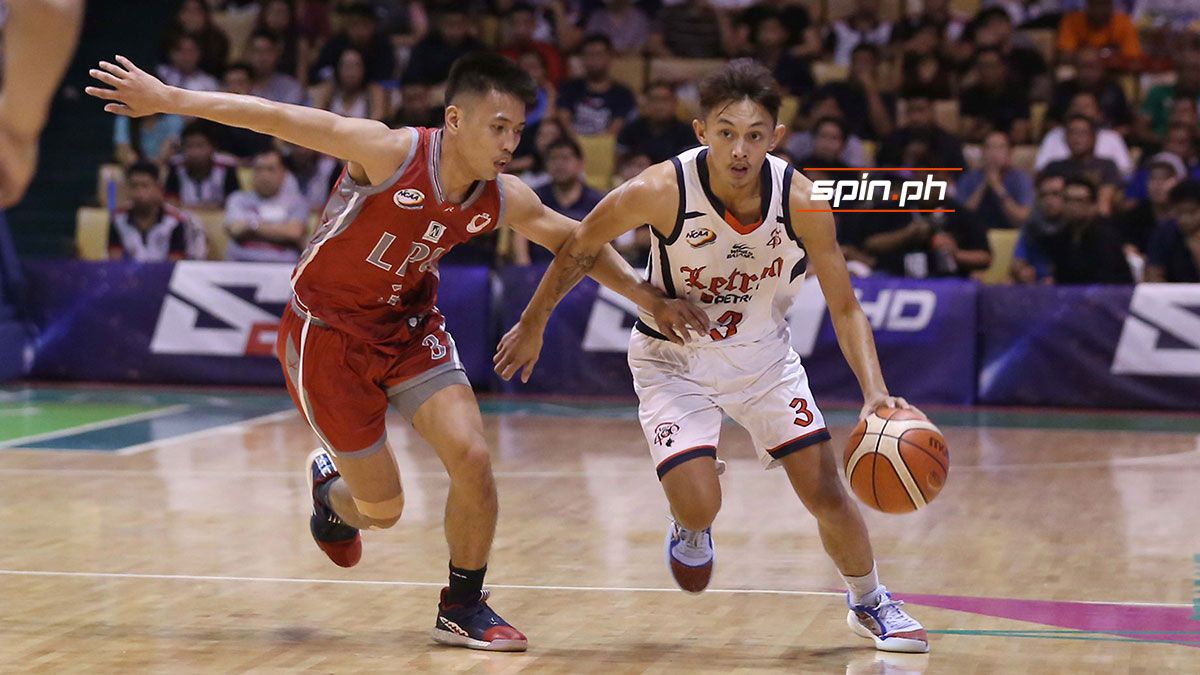 Continue reading below ↓
Recommended Videos
The Knights, however, face a daunting task in the best-of-three finals against San Beda, which swept the two-round eliminations and rested while Letran knocked off San Sebastian and later second-seed Lyceum in the stepladder semis.
The best-of-three championship series opens on Tuesday at the Mall of Asia Arena.
"I want to give something na di siguro nabigay the past few years," said coach Bonnie Tan, who led the third-seed Knights to the finals in his first year in charge.
"Honestly before taking the job, I know that this team left by coach Jeff Napa is a very talented team. From the first day na nagpa-practice ako sa Letran, I kept on mentioning this is the best team na nahawakan ko talent-wise.
"Surprise rin in a way kasi we're ranked three and four sa eliminations, but now we're playing for the championship."
Larry Muyang also did damage down low for the Knights with 19 points and nine rebounds. Bonbon Batiller got 13 points, six boards, and six assists, and Balanza contributed 11 points and three rebounds.
The win, however, did not come easy for Letran, especially with Jaycee Marcelino refusing to quit as he got Lyceum within three, 90-87 with 24 seconds left.
King Caralipio then found Muyang in the ensuing possession to bring the Knights' lead back up to five, 92-87 with 18.1 ticks remaining.
Mike Nzeusseu split his charities, but the door remained open for the Pirates after Batiller missed his free throws. Renzo Navarro, unfortunately, could not hit his late three as the final buzzer sounded.
Marcelino valiantly fought for Lyceum with his 26 points, three rebounds, and three assists, as the Cameroonian Nzeusseu capped off his NCAA career with 19 points, 15 boards, and two blocks.
The scores:
LETRAN 92 - Yu 20, Muyang 19, Batiller 13, Balanza 11, Reyson 6, Mina 5, Sangalang 5, Balagasay 4, Ular 4, Caralipio 2, Javillonar 2, Ambohot 1, Olivario 0.
LYCEUM 88 - Jc. Marcelino 26, Nzeusseu 19, David 11, Caduyac 5, Jv. Marcelino 5, Navarro 5, Tansingco 4, Ibanez 4, Remulla 4, Santos 3, Guinto 2, Valdez 0.
Quarters: 20-26, 44-40, 67-66, 92-88.