ANTIPOLO - To keep its throne, Letran rightfully so turned to a king.
King Caralipio, to be precise.
The senior forward put the Knights on his back as they claimed the 81-67 Game Three win over St. Benilde to rule the NCAA Season 98 seniors basketball tournament for the third successive season.
Caralipio, a Mythical Team member, shone the brightest among the Knights in shining armor as he led the defending champions' 19-2 barrage that turned a 32-26 lead into a 23-point advantage, 51-28, with 2:08 to play in the first half.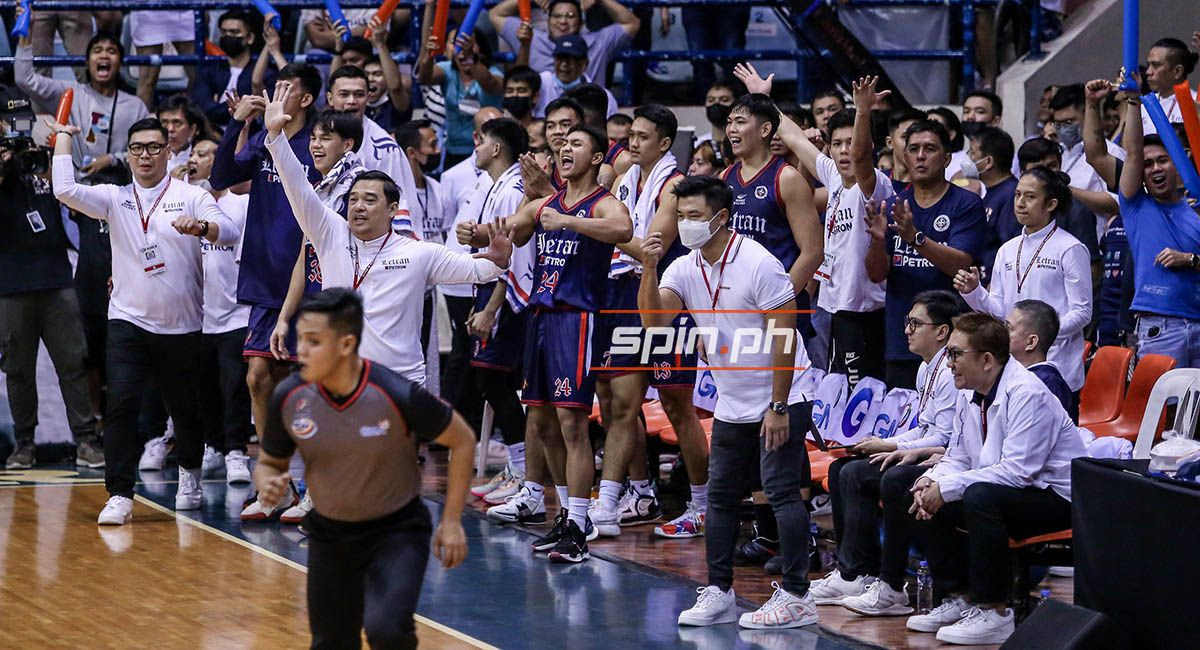 ADVERTISEMENT - CONTINUE READING BELOW ↓
That became part of a 27-point second quarter eruption for Letran, creating enough breathing room to wrap up the gutsy victory over a huge Sunday crowd at the Ynares Center in Antipolo City.
The win completed a three-peat for the Knights - a feat the school has not achieved since Samboy Lim was still roaming the halls of Muralla from 1982 to 1984.
More importantly, it gave a triumphant curtain call for seniors Caralipio, Brent Paraiso, Tommy Olivario, and especially team captain Fran Yu, who sat out what was supposed to be his final collegiate game as he served his one-game suspension.
Season MVP Will Gozum helped CSB back trim the deficit to 11, 77-66, in the final 3:05, but he was sent off with a disqualifying foul for an elbow hit at the back of Paraiso's head with 1:44 on the clock.
Though Migs Oczon's technical freebie still made it a 10-point game, Paraiso and Pao Javillonar's charities all but sealed the win and locked up the 20th NCAA basketball championship for the proud Knights program.
Caralipio led the Knights with 20 points, 10 rebounds, and two assists to claim the Finals MVP honors.
Paraiso capped his college career with 16 points on 2-of-5 shooting from distance, while doing a bit of everything with his three boards, two assists, two blocks, and a steal. He has won three championships in his career, including one in the UAAP with La Salle.
Kobe Monje got 11 points, four rebounds, and three dimes in the clincher.
Letran was just on-point all game long as coach Bonnie Tan drew major contributions from Kurt Reyson, who had eight points, six boards and two assists, Louie Sangalang, who collected eight points and four boards in possibly his final game for the Knights, as well as big games from rookies Kevin Santos and Rafael Go.
Nonetheless, it was a gallant stand for CSB which leaned on Miggy Corteza's 14 points and seven rebounds.
ADVERTISEMENT - CONTINUE READING BELOW ↓
Gozum was held to just 10 points and two boards as he found himself in early foul trouble in Game Three before his ejection.
The scores:
LETRAN 81 - Caralipio 20, Paraiso 16, Monje 11, Reyson 8, Sangalang 8, Santos 7, Olivario 4, Go 4, Guarino 2, Javillonar 1, Tolentino 0, Bojorcelo 0.
CSB 67 - Corteza 14, Pasturan 10, Gozum 10, Oczon 9, Sangco 6, Nayve 6, Flores 5, Marcos 3, Cullar 2, Carlos 2, Davis 0.
Quarters: 24-21, 51-33, 70-54, 81-67.
Get more of the latest sports news & updates on SPIN.ph