TY Tang's heart skipped a beat when Justin Gutang went up for an alley-oop dunk in the final seven minutes of St. Benilde's game NCAA against Arellano - only hisfirst game back from a knee injury on Tuesday.
"Alam mo naman sa akin, two points is two points. Practical lang tayo. If you miss it, it's not nice to miss those fancy shots," Tang said after giving his Fil-Am forward an earful for flubbing the slam.
Other than that sorry miss, Gutang was solid in his comeback game, firing 12 points to go with seven rebounds, five assists, and two steals, and one block in the Blazers' 82-77 victory over Arellano.
He showed no signs of the sprained left MCL and a bruised right calf that sidelined him for the past 20 days.
"It's not full strength yet, so I just gotta keep working at it," the 6-foot-3 high-flyer admitted, shaking his head on what could have been the highlight play of the game.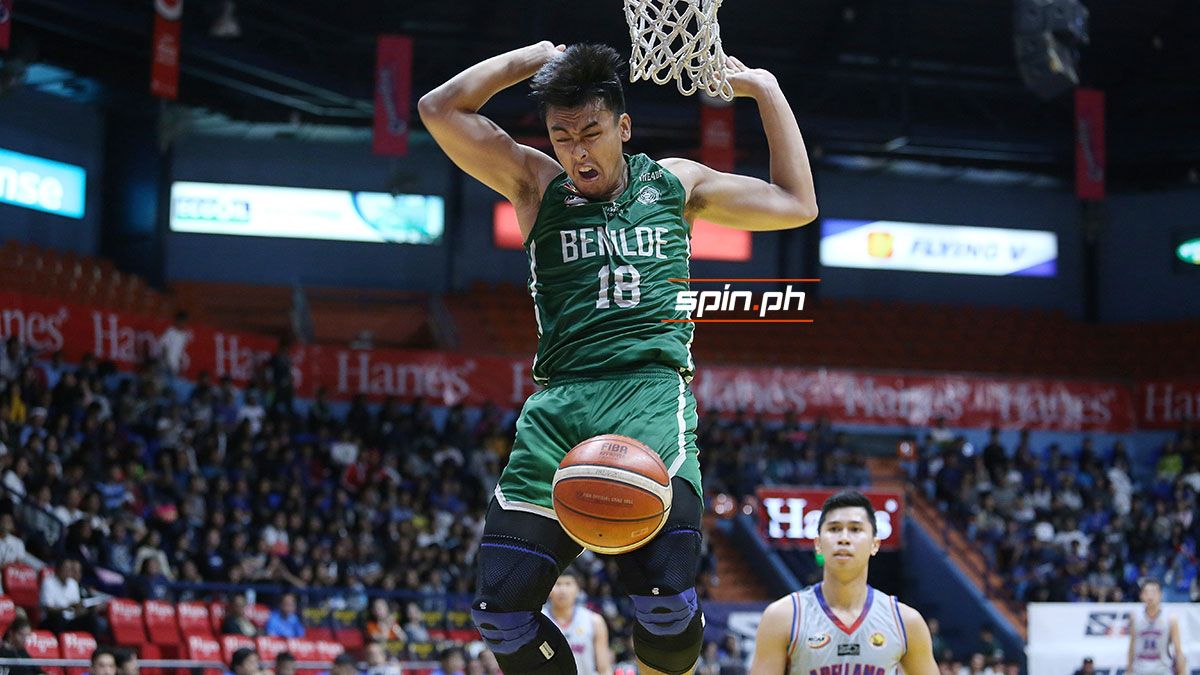 Gutang getting back on the court is already success in itself given that he was supposed to miss three games.
The inclement weather, however, worked to his advantage as a pair of St. Benilde games, against San Beda and Jose Rizal University, had to be rescheduled, leading him to only sit out the Blazers' 77-72 win over San Sebastian last July 30.
"The rain storm and the flooding, it really did help us. Not only did I get injured, but some of the other guys as well got injured especially during practice," he said. "The two weeks off definitely helped us get us back together and playing together."
It wasn't easy working his way back into form, Gutang admitted.
"It was almost a tear. But it was a sprain and I couldn't really do anything in the first week," the 22-year-old shared of his left knee injury. "The second week, it was getting better like I could do a little bit of shooting and then after that, we just went back to work."
The results did speak for itself as Gutang was a sparkplug in his comeback as he helped St. Benilde extend its winning run to five for the school's best start in history.
To him, this immaculate run should be a proof that St. Benilde is no longer the pushovers of old, and that it can compete with the best the NCAA can offer.
"This is a testament for us, mentally, physically, and everything. We know what we're capable of," he said, looking forward to Friday's big game against Lyceum.
"We already know how they play. It just comes down to our mental strength and our poise on the court, on how we handle the situation when we play against them."
Recommended Videos