SAN Beda slotman Donald Tankoua admitted he was hurt by the NCAA's decision to fast-track the total ban on foreign student-athletes in all athletic competitions in the college league after next season.
"It was really painful because we still have some years in school and they weren't really waiting for (us to finish it)," said Tankoua, moments after he was honored as a Pivotal Player in the 2018 Chooks To Go College Basketball Awards.
The country's oldest collegiate league created a controversy when it announced last week that it has moved up the decision to disallow all foreign athletes in its league by a few years to Season 96 in 2020.
Most of those who favored the ruling regard the so-called imports as mercenaries who only take away opportunities fro local players.
Tankoua argued otherwise, saying most foreign players in the country are after a good education and not anything else.
"For us, it's more of the education," said the Douala, Cameroon native. "You can have the schooling here and when you have the diploma, you can go (and work) outside or here in the Philippines because the diploma is a proof which will help you to get a work."
Tankoua said he drew inspiration from former Red Lion Sam Ekwe, who sparked the win run of San Beda in the 2000s and is now off to a better life in the United States.
Tankoua said it was the scholarship that brought him to San Beda.
Although his focus is with the Red Lions in their quest to complete an NCAA three-peat, Tankous said he never loses sight of his goal to finish his studies, thanks to advice and inspiration from his father.
"My father always told me that it's education before everything," bared the 24-year-old. "The only time he saw me playing was on TV. He never came to a game in person because for him, it was always education first."
Tankoua is currently on his fourth year taking up a degree in marketing management and playing for the team is his only way to repay the school for everything it did for him.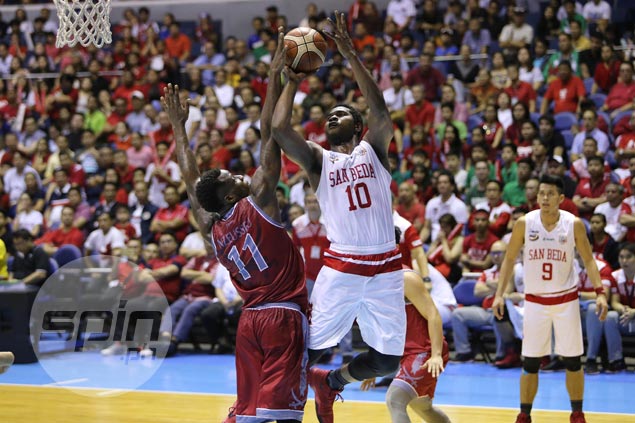 "Winning another title for San Beda is really important for everything they did for me. The education, them taking care of me, and for all the alumni, it's all about them and that's what I'm here for," he said.
The 6-foot-6 center also believes that contrary to some claim, the foreign players arrival were pivotal in helping Filipino players raise their game, something which guys like Calvin Abueva and Raymond Almazan, to name a few, can attest to.
"I think it was more of a positive thing. We were helping them to become strong. With our teammates practicing with us, we're helping them too because they're learning how to play with taller people already," he said.
"When someone is really strong in their team, practicing with them every day, the rest of the team become stronger. They are not the same."
Regardless on what happens to him in the next years, Tankoua promises that he will never lose sights of his original path when he came to the Philippines: to finish his degree and change his life for the better.
"Whatever happens, I'll still finish my education," he said.