ONCE in a while, we see a coach and player cross paths and achieve great things, one better because of the other.
Here's one of those stories.
Lyceum coach Topex Robinson and CJ Perez have turned a small school in Intramuros into a force to be reckoned with in the NCAA, and in so doing have forged a bond that has become just as special.
Before this season, Robinson coached a young Perez for two years in a San Sebastian team that was in transition at the end of the era of famed 'Pinatubo Trio' Calvin Abueva, Ian Sangalang and Ronald Pascual.
Dubbed as the 'Baby Beast' back then as the supposed heir apparent of Abueva, Perez became the face of Robinson's squad of 'No Namers' that made the semifinals in NCAA Season 89.
Coincidentally, the two also left the Stags around the same time in 2014, with Robinson taking over the varsity team of Lyceum and Perez being lured to move to Ateneo.
The separation, it turned out, was only temporary.
"Even when he was in Ateneo, we still talked. We still keep in touch and call each other," Robinson shared.
Call it destiny or just sheer luck for Lyceum, but the two crossed paths again two years later as Perez, after being groomed to take over the spot of Kiefer Ravena as Ateneo's main man, left the Blue Eagles' nest due to academic problems.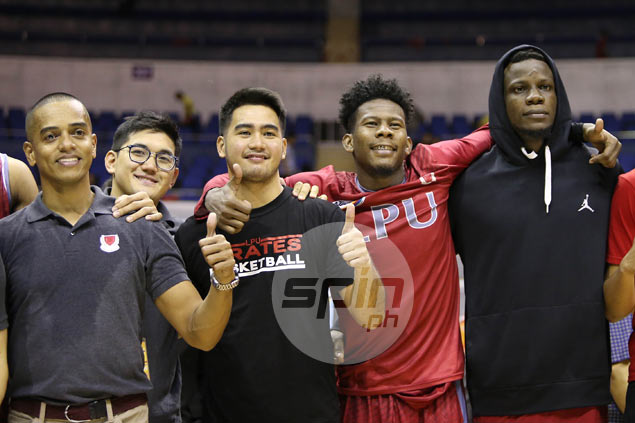 Around that time, Robinson's Pirates were in dire need of help after finishing ninth overall with a grand total of four wins in 18 games.
Then came the call that changed the Pirates' fate.
"He called and asked me if he can join me in Lyceum and I replied, 'Are you sure? Because every UAAP school will want to get you,'" said Robinson.
Unknown to many, Perez was, by then, no longer looking for the glamour of the big schools or the hype that went with it. He was simply looking for stability.
With a once bright future suddenly uncertain after being sidelined for two years, Perez decided to put his career in the hands of a familiar face, a father-figure of sorts, in Robinson.
"I thank him for considering LPU to be his option. He had so many options to play, he chose LPU. I'm so grateful and thankful (to him) for considering LPU," Robinson said.
It turned out going to LPU was an easy decision to make for Perez.
"Siya yung iniisip kong hero ko," said Perez. "Yung trust kasi na binibigay niya sa akin, sobra-sobra. Sa mga struggles ko, hindi siya nawawalan ng tiwala sa akin. Nandyan lang siya, tumutulong, nagtuturo at pinu-push ako kung ano ang gagawin ko."
For his part, Robinson knew long before Perez arrived at Lyceum that although the 6-2 high-flyer was hands down the most athletic guy in the league, he can sometimes be the most error-prone.
The Lyceum coach, however, was ready to accept Perez, take the good with the bad.
"Just like what I told him, CJ will win games for us and he will definitely lose games for us," Robinson, 37, said. "But what's important is the relationship that we have."
As he reflected on the Pirates' near-miss in the finals this season, Robinson is certain this relationship will help both of them get back on their feet and get another shot at the title next season.
He is also sure this special bond will endure long after their time with the Pirates.
"I love CJ but that doesn't mean I like him all the time. We're gonna have our arguments. We're gonna have our discussions," Robinson said.
"But at the end of the day, we will lead and we will have this relationship, I guess way way beyond the NCAA. I'm sure it's gonna be more than that. I'm really proud of him."