BOYET Fernandez could only howl out of sheer relief and clench his fist after San Beda pulled off a 79-76 Game Two win over Letran in the NCAA Season 95 seniors basketball finals on Wednesday.
He clearly wasn't happy about officiating.
Backed against the wall after a shock Game One loss, San Beda thought it had made the stop it needed after Bonbon Batiller missed his reverse layup as the Red Lions held on to a precarious 77-76 lead in the final seconds.
But the referees saw it otherwise, ruling a 24-second shot clock violation that stopped the clock at 5.1 seconds, even if the Red Lions already had clear possession with Evan Nelle dribbling down the court.
"They took the last shot, right? We already got the rebound and we got the ball. Then we put the ball and we dribbled already! And then, they will call a 24-second shot clock violation? We already got the ball eh!
ADVERTISEMENT - CONTINUE READING BELOW ↓
"Tapos tumawag pa siya ng 1.5 seconds remaining kaya tumagal pa yung game eh."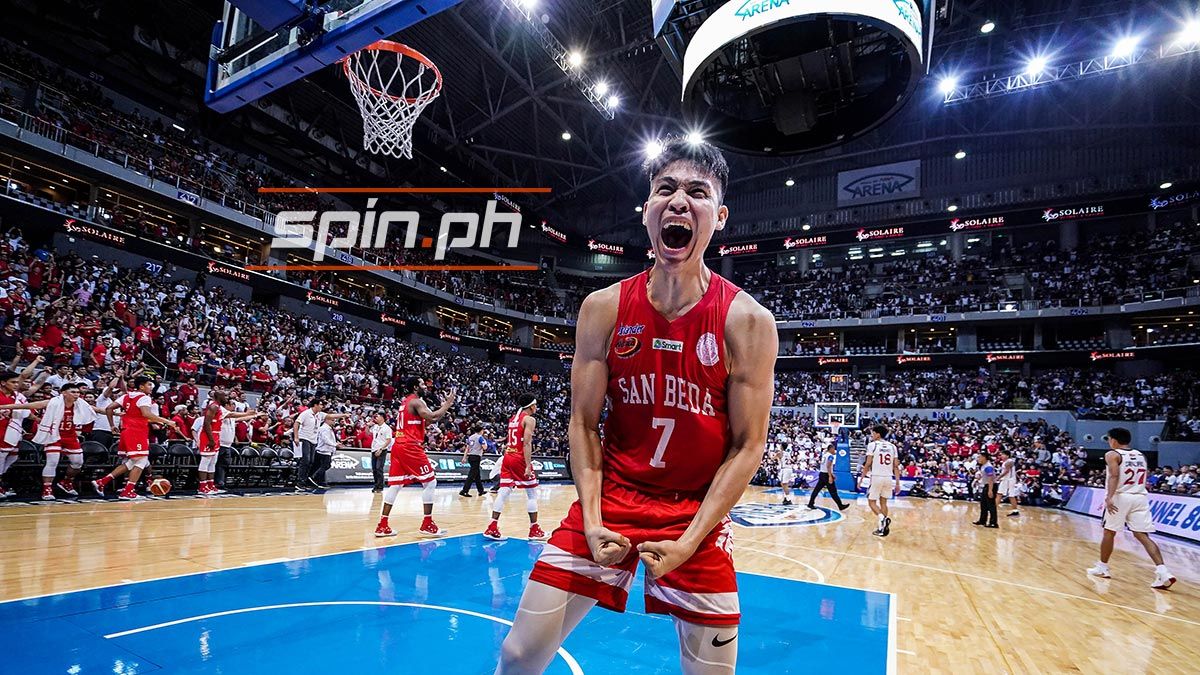 San Beda was able to hold on to the win after a pair of James Canlas freebies, but that hardly eased the frustrations Fernandez had with the officials, which started after his big man Donald Tankoua got into foul trouble.
After San Beda took an early 15-0 lead, Donald Tankoua was called for three fouls that limited his time on the floor and saw him ride the bench for majority of the game.
"Ang foul ni Donald, three fouls. Diyos ko naman, parang baby ang fouls na yun. Pero kung si (Larry) Muyang dumakdak kay Donald, konting ganti walang foul," said Fernandez.
The Nigerian big man, who was adjudged as the Best Foreign Player, also couldn't hide his disappointment.
"It was really frustrating," he lamented as he was limited to just 11 minutes on the floor and could only contribute two points and three rebounds.
"It's like everything changed. We were leading, and then all of a sudden, I got three fouls immediately. I was really sad. I don't think (I could have done anything differently)."
Fernandez insisted that all he wants is to have a fair shake when it comes to the calls, especially in the winner-take-all Game Three on Tuesday.
ADVERTISEMENT - CONTINUE READING BELOW ↓
"I just want to protect my players kasi mga bata ito eh. They have to teach the boys to play fair because these boys sacrificed every day in practice. Hindi naman pwede na hindi ko ipaglaban sila eh. So ang akin lang, tama na," he said.
Fernandez challenged basketball commissioner Tonichi Pujante to review the game tape to understand where he's coming from.
"I'm not questioning the calls of the referees. I just want them to review it," he said. "I'm not sour graping for this and I'm not really complaining, but I just want a fair shake."
Get more of the latest sports news & updates on SPIN.ph