ALLYN Bulanadi just couldn't let San Sebastian down.
The graduating winger erupted for a season-best 44 points to tow the Golden Stags to a 99-94 victory over Perpetual and through to the Final Four of the NCAA Season 95 seniors basketball tournament Friday at Filoil Flying V Centre.
Bulanadi was on a zone of his own, drilling four triples in the first quarter before scoring 11 of San Sebastian's last 15 points to finish the game.
He finished with a scorching 7-of-12 shooting from deep and a 14-of-26 clip, while also collecting eight rebounds, four assists, and a steal to make sure that the Golden Stags avoid complications and claim the last ticket to the semifinals.
"For me, Allyn is ready for the big league. This is for him, in his last year and I guess everybody should know that he's ready," said coach Egay Macaraya of his sweet-shooting swingman.
ADVERTISEMENT - CONTINUE READING BELOW ↓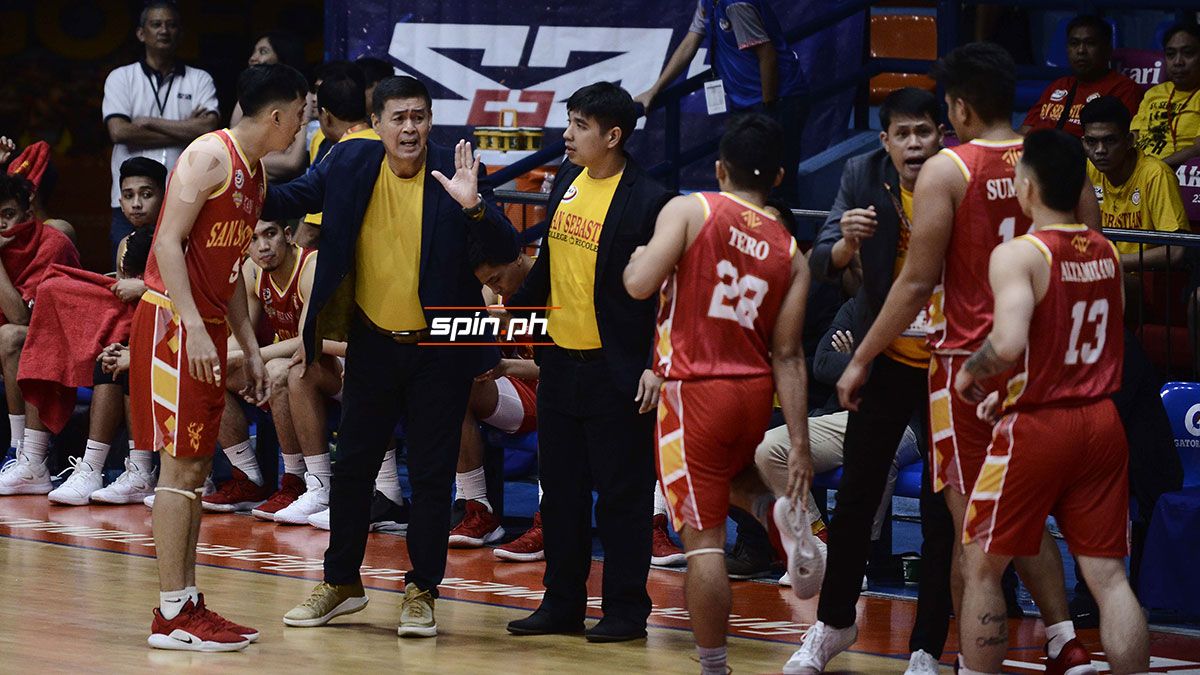 RK Ilagan also waxed hot with his 5-of-11 from deep to wound up with 22 points, seven rebounds, three assists, and a steal, while Alvin Capobres got 10 points, two boards, and two dimes to end the eliminations with an 11-7 record.
JM Calma also had six points and 11 rebounds, including the huge putback with 21.6 seconds remaining to make it 97-92.
The Altas, however, refused to die with Edgar Charcos getting his side back within three, 97-94, and forced a big stop, but he was unable to tie the game with a trey, leading to Rommel Calahat icing the game at the charity stripe with 3.4 ticks left.
Perpetual ended the season with a 5-13 card.
Charcos ended his collegiate career with 22 points, seven assists, and six rebounds, while Kim Aurin had 20 points and six boards.
Jielo Razon also got a double-double of 18 points, 10 rebounds, four assists, and two steals in the loss.
The Scores:
SAN SEBASTIAN 99 -- Bulanadi 44, Ilagan 22, Capobres 10, Calma 6, Villapando 6, Calahat 6, Tero 3, Sumoda 2, Isidro 0, Cosari 0, Desoyo 0, Altamirano 0.
PERPETUAL 94 -- Charcos 22, Aurin 20, Razon 18, Peralto 10, Adamos 8, Martel 6, Giussani 6, Sevilla 2, Tamayo 2, Lanoy 0, Cuevas 0.
ADVERTISEMENT - CONTINUE READING BELOW ↓
Quarters: 27-18, 48-44, 76-65, 99-94.