LYCEUM'S season was on the hands of the Season MVP, and when push came to shove, John Barba delivered.
The 6-foot-2 forward buried a big left corner triple with 16.7 seconds left to help the Junior Pirates stop the San Beda Red Cubs, 79-74, Friday at Mall of Asia Arena and force a decider in the NCAA Season 95 juniors basketball Finals.
With San Beda knocking on Lyceum's door, 76-74, in the final 31.4 seconds, Barba caught a pass from Raphael Garro to deliver the dagger three that pushed his side up five.
Josiah Alcantara and Yukien Andrada muffed their treys late for the Red Cubs as the Junior Pirates escaped with the victory to tie the best-of-three championship series at one game apiece.
The winner-take-all Game Three is slated on Tuesday.
Barba racked a double-double of 14 points, 10 rebounds, and four assists to move a win away from the school's first NCAA title.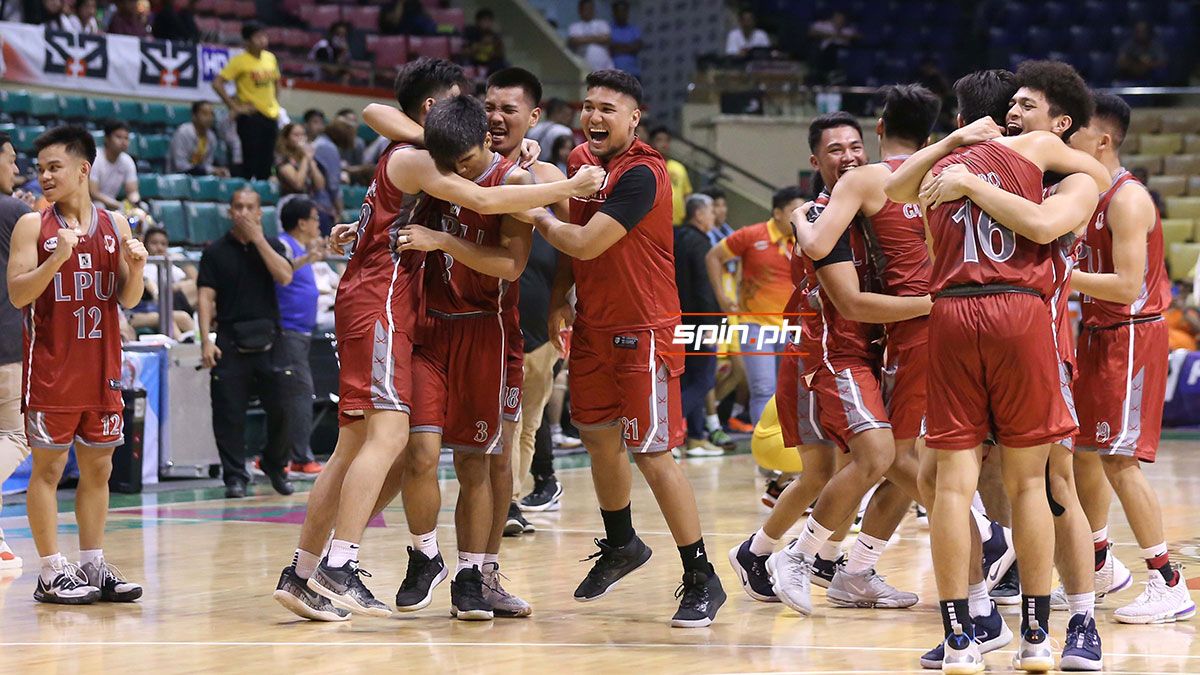 Continue reading below ↓
Recommended Videos
Mac Guadana powered Lyceum with 19 points, seven boards, four steals, three assists, and two blocks to make up for his 2-of-10 shooting night in Game One.
Jae Omandac finally showed up in the Finals with 18 points, five rebounds, and two rejections, Garro had six points, 12 boards, and seven assists, and Gyle Montano had 12 points, eight rebounds, three dimes, and two steals before suffering a right leg injury in the payoff period.
The Junior Pirates were holding on to a precarious 56-50 lead heading into the fourth quarter when Andrada, Justine Sanchez, and Rhayyan Amsali brought the Red Cubs back in the game with a 7-0 blast to take a 67-65 lead with 4:37 remaining.
Lyceum, however, refused to back down, with Roie Panganiban completing a three-point play from Guadana to snag the lead back, 71-69 with 2:49 remaining.
Guadana seemed to have iced the game with a big triple, 76-71, with 42.9 ticks left, but Andrada answered back with a three of his own with 31.4 seconds remaining to set up the frantic finish.
Andrada led San Beda with 20 points and 10 rebounds, while Sanchez got 15 points and nine boards in only its second loss this season.
Tony Ynot once again did the yeoman job with 14 points, nine rebounds, three blocks, and two assists, as Amsali had 12 and eight.
The Scores:
LYCEUM 79 -- Guadana 19, Omandac 18, Barba 14, Montano 12, Garro 6, Panganiban 5, Garing 2, Ragasa 2, Gamlanga 1, Santos 0, Caduyac 0, Dumon 0, Gudmalin 0.
SAN BEDA 74 -- Andrada 20, Sanchez 15, Ynot 14, Amsali 12, Alcantara 8, Delfino 2, Llarena 2, Oftana 1, Alao 0, Pelipel 0, Valencia 0, Cabanero 0, Nicdao 0.
Quarters: 20-23, 34-36, 56-50, 79-74.