RC Calimag made sure that CSB-La Salle Greenhills got its measure of revenge, upending Lyceum, 95-87, Friday in the NCAA Season 95 juniors' basketball tournament at Filoil Flying V Centre in San Juan.
The former Gilas Youth stalwart unleashed 29 points, two rebounds, and two assists to tow the Greenies to the bounce back win after falling to San Sebastian last week.
Calimag triggered the 16-4 run for LSGH to flip the game from a close 64-63 affair with 8:31 remaining to a commanding 80-67 lead with five minutes left to play.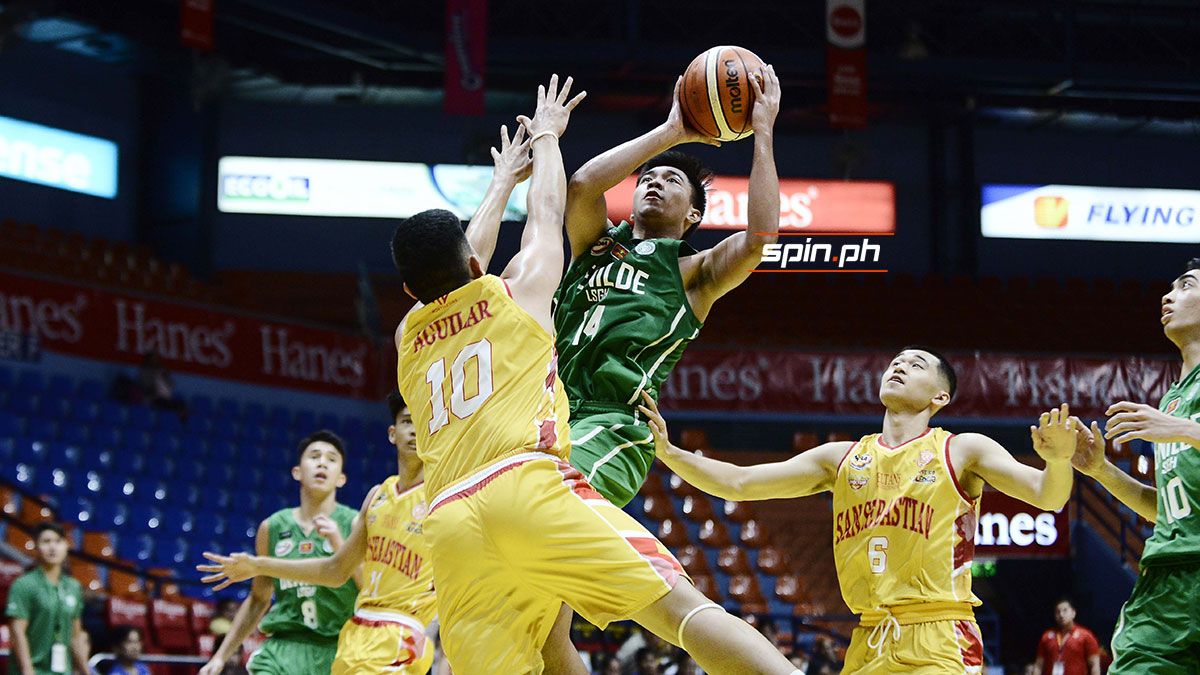 ADVERTISEMENT - CONTINUE READING BELOW ↓
Mac Guadana kept the Junior Pirates in the game, slicing the lead down to eight, 86-78, with 2:07 remaining, but that turned out to be their last hurrah as Calimag buried back-to-back treys to bring the lead back up to 14, 92-78 with 1:21 remaining.
"Si RC, alam na nating siya yung no. 1 option, pero at the end of the day, alam niya rin na di kami mananalo na puro siya lang. So right now, we're also working on dun sa iba naming players," said coach Karl Santos of Calimag.
Jan Manansala tallied a double-double for LSGH with 15 points, 13 rebounds, two assists, and two blocks.
Lennox Valenzuela also had 12 points and four assists while playing solid defense against Guadana, while JC Macalalag chimed in 10 points, four boards, four dimes, and two steals for the Greenies, which rose to solo second place with their 7-4 card in the standings.
ADVERTISEMENT - CONTINUE READING BELOW ↓
"Ang motivation talaga namin is to get to the top two. Dikitan yung laban so we want to have separation dun sa mga teams na nasa baba. Lahat ng teams kasi, capable of winning," said Santos.
John Barba led Lyceum with a season-best 35 points and three rebounds, but his side suffered its second straight defeat to fall to 7-5.
Guadana added 19 points, six boards, four assists, and two steals for the Junior Pirates.
In the nightcap, San Sebastian survived a late rally from Letran to pull off the 86-81 victory.
Nikko Aguilar fired 21 points, on a 5-of-8 clip from deep, to go with eight rebounds and five assists for the Golden Staglets to improve to fourth place in the standings at 6-5.
Louise Concha added 16 points and three boards, while Milo Janao scored nine of his 15 points in San Sebastian's 27-point third quarter, where it took a 68-48 lead.
ADVERTISEMENT - CONTINUE READING BELOW ↓
The Squires, though, rallied late, unloading 33 points in the payoff period but that barrage ultimately fell short.
Shawn Umali paced Letran (5-7) with 21 points and 18 rebounds, while Lenard Santiago got 20 points and seven boards in the defeat.
Meanwhile, the game between Mapua and EAC-Immaculate Concepcion Academy was postponed after monsoon rains ravaged the province of Cavite earlier in the day.
The Scores:
First Game:
CSB-LSGH 95 -- Calimag 29, Manansala 15, Valenzuela 12, Macalalag 10, Quiambao 7, Palencia 6, Dimaunahan 6, Arciaga 5, Torrijos 3, Estil 2, Panlilio 0, Gagate 0, Rivera 0, Reyes 0.
LYCEUM 85 -- Barba 35, Guadana 19, Montano 12, Panganiban 6, Ragasa 5, Omandac 3, Garing 3, Garro 2, Caringal 2, Caduyac 0, Dumon 0, Santos 0.
Quarters: 15-19, 36-35, 64-59, 95-87.
Second Game:
SAN SEBASTIAN 86 -- Aguilar 21, Concha 16, Janao 15, Darbin 13, Bulasa 8, Are 4, Brizo 4, Gomez 3, Barroga 2, Besa 0, Dailo 0.
ADVERTISEMENT - CONTINUE READING BELOW ↓
LETRAN 81 -- Umali 21, Santiago 20, Saure 19, Ramirez 9, Omega 5, Argente 4, Flauta 2, Tolentino 1, Tibayan 0, Romenez 0, Cabal 0, Lim 0, Cauguiran 0, Miranda 0.
Quarters: 17-15, 41-35, 68-48, 86-81.