THERE are established superstars -- the Calvin Abuevas and the Kevin Alases who will dominate the headlines this season and, for all intents and purposes, decide where this year's NCAA championship trophy will go.
Then there are the emerging stars -- players who are either just starting to carve names for themselves or have largely stayed in the shadows for a while and are eager to break out.
Here's a list of 10 players to watch out for this season.
Baser Amer
Baser Amer is San Beda's prized sixth man. After leading the Lions in assists (4.5) as a rookie last year, the 19-year-old playmaker is expected to provide instant offense off the bench this season. He did just that when he scored a game-high 17 points against Lyceum upon his return from a one-game suspension on July 2.
Continue reading below ↓
Recommended Videos
Earl Scottie Thompson
After showing flashes of his potential last season, Perpetual Help's Earl Thompson is ready to break out in Season 88. The 19-year-old swingman from Digos City can blow by defenders with his quick first step and he's a great finisher with his array of aerial moves.
Andrew Estrella
Andoy Estrella is one of Mapua's prized rookies this season. Elevated from the Cadinals' juniors' team, the 19-year-old playmaker is mature beyond his years and is eager to show his wares in the men's division. His dazzling crossover and three-point shooting were on display against Jose Rizal University on opening day as he hit a game-high 22 points.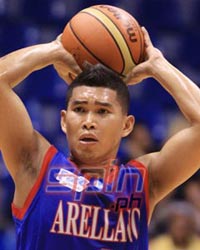 Nard John Pinto
The 21-year-old Arellano University rookie is a combo guard from Davao City who has a scorer's mentality and a wizard when it comes to dribbling and playmaking. He's expected to be among the Chiefs' scoring leaders this year.
Mark Cruz

Mark Cruz is one of the shortest players in the league at 5'5", but he stands tall with his excellent playmaking for the Letran Knights. More of a facilitator last year, the 20-year-old Cruz has turned into an aggressive scorer this season as evidenced by his team-leading 14.3-point scoring average in the Filoil Flying V preseason Cup.
Nosa Nicholas Omorogbe

Nicholas Omorogbe is one of Perpetual Help's two Nigerian imports this year. The 22-year-old big man is expected to be a vital cog in the Altas' campaign this year. Despite his 6-foot-4 frame, he has shown he can handle the ball and thrive in isolation plays.
Rome Adler dela Rosa
With the departure of Garvo Lanete and the abrupt exit of Julius Armon, Rome dela Rosa has been thrust into the spotlight at San Beda this year. But the 21-year-old swingman, son of former pro Romy, has shown that he's capable of carrying a bigger load for the Lions.
Jovit dela Cruz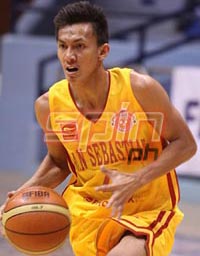 Jovit dela Cruz is the Stags' best player outside of San Sebastian's "Pinatubo Trio" of Calvin Abueva, Ian Sangalang, and Ronald Pascual. The 19-year-old swingman can hurt you with his mid-range jumper and scoring opportunities from his quick baseline cuts.
Roberto Bartolo Jr.
Robert Bartolo is College of St. Benilde's best big man. A transferee from San Sebastian, Bartolo has been tipped as the missing piece that could help the Blazers make the Final Four this season. He's a capable rebounder and can score off drop passes.

Shane Albert Ko

Lyceum's shortage of offensive weapons has given Shane Ko no choice but to score more for the Pirates. He has delivered for the squad, averaging in double figures in the Filoil Flying V Preseason Cup. He's expected to do the same in this NCAA season.