CHICAGO - The news first trickled in as one of those tickers you tend to ignore in a news broadcast. But this one went quickly from mild to serious as a heart attack.
After announcing that prized rookie Zion Williamson will miss the team's final preseason game in New York, the New Orleans Pelicans announced that the absence will be much longer.
How long?
"He has avoided a serious injury to his right knee but is expected to miss a period of weeks," head coach Alvin Gentry told reporters after the Pelicans' shootaround at the Madison Square Garden on Friday.
If the player we're talking about here is just another dude in a what would ultimately be a 13-man roster, the reaction would be like, "ah, okay."
But since we are talking about Zion Williamson, the No. 1 pick in last June's NBA draft and a likely meteoric star, the response is stunned silence while the brain processes assign the thought as a hiccup or a full-blown cold.
And when you factor in his history of knee problems, you can't help but mumble under your breath: "uh, oh."
To better understand the stress the knees inflicts upon a human being, I consulted Harvard Health and here's what I learned.
Continue reading below ↓
Recommended Videos
"When you walk across level ground, the force on your knees is the equivalent of the 1 1/2 times your body walk. That means a 200-pound man will put 300 pounds of pressure on his knees with each step. Add an incline, and the pressure is even greater: the force on each knee two to three times your body weight when you go up and down stairs, and four to five times your body weight.
Zion Williamson is doing more activities than the normal toils of daily living. The man violently dunks a basketball for a living, an exercise that requires lots of flying and landing.
And consider this, too. The 19-year old kid has packed 285 pounds inside his 6-foot-frame. He is dense as a balikbayan box.
Can you imagine the punishment his knees absorb each time he lands from a 46-inch vertical leap?
It would be insane to believe that the Pelicans, led by the implacable David Griffin as GM, are panicking right now, but it would also be naive to assume that they sleep well at night.
CAUSE FOR CONCERN. A pattern is developing here and to borrow the words of John Steinbeck, who won a Pulitzer prize for his "Grapes of Wrath" gem, "the mirror is not always flattering, but accurate."
Zion missed five of Duke's 38 games with knee issues that included a sprain when he blew out his shoes in a game against North Carolina, a rivalry showdown where some courtside tickets fetched for $10,000.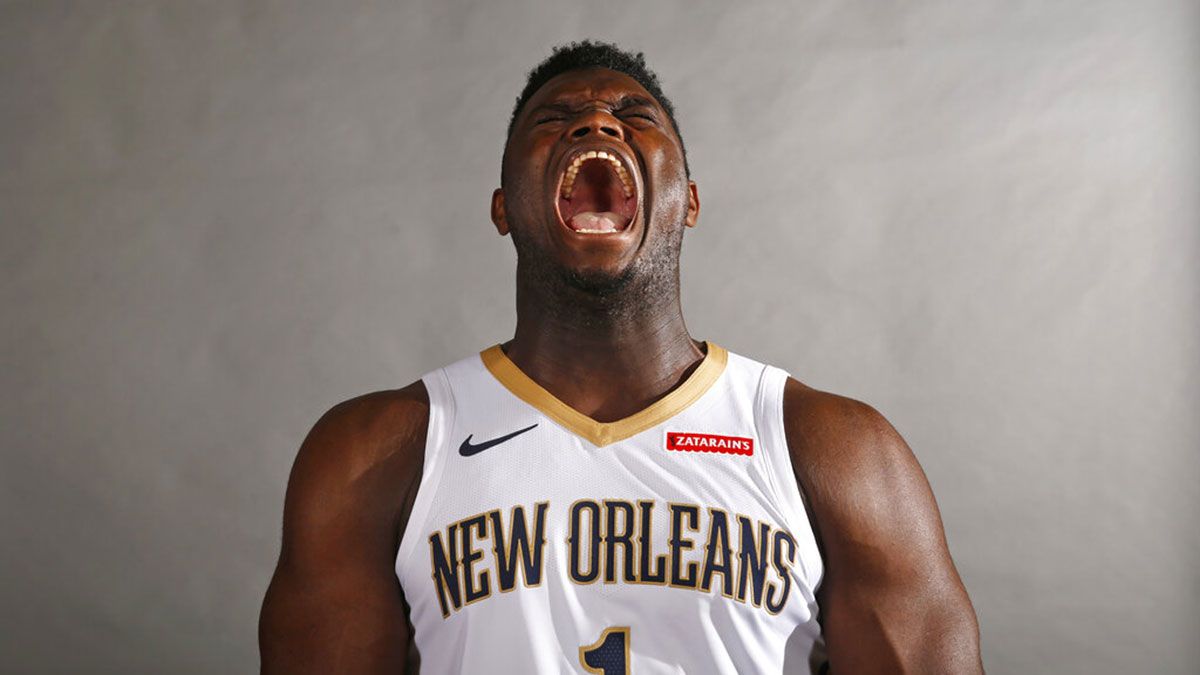 Williamson missed all but nine minutes of the NBA Summer League after banging knees with an opposing player, according to The New York Times.
And now this, an injury sustained in an October 13 game versus the San Antonio Spurs, a team that, in a strange twist of irony, happens to be the most durable in the last two decades.
So what happens to the Pelicans while Zion's stardom is on hold?
Well, some misery is in the immediate future.
Fifteen of the Pels' first 20 games are against teams which made the playoffs last season. Zion, who averaged 23.3 points and 6.5 rebounds while shooting 71.4 percent from the field during the preseason, will be missed.
The home fans will miss him, too. Dearly.
Since arriving in New Orleans, the Pelicans have sold 12,000 season tickets according to The New Orleans Times Picayune. It must be frustrating to make that purchase knowing that either Nicolo Melli or Kenrich Williams will be the starting power forward.
Look, the Pelicans are still good with Jrue Holiday, Lonzo Ball and Brandon Ingram leading the charge. But it's not more fun and lucrative for the team without the transcendent star who lures TV cameras and microphones with the charm of a Pied Piper.
It's like the Beatles without John Lennon.
Although the last two years of his four-year rookie scale contract isn't guaranteed, the first two years worth $19.9 million is guaranteed. With each game he misses this season, he will still receive $118,292 per.
And yes, his seven-year $75 million shoe deal with the Jordan brand remains a live contract.
As far as winning Rookie of the Year is concerned, that too is still intact. As long as he does not miss more than 30 of the 82 games, Zion will be in the ballot.
While perhaps trying to deflect the seriousness of the situation, Gentry told reporters, "he's not dead yet guys."
Unfortunately, Zion isn't playing, either.
And for a basketball player, not playing is just as good as dead, isn't it?