CHICAGO - In this age where superstars are opting out of their contracts and publicly demanding for trades, the NBA All-Star Weekend can easily become a fertile ground for a tampering festival where plots made in mid-February give birth to super teams in early July.
By most accounts, no such hanky panky occurred at the 68th edition of the mid-season classic held recently in Charlotte. It was nothing more than a harmless conclave of the league's elite enjoying each other's company while entertaining the fans.
What I did see though, while covering the event, was the budding bromance between Kevin Durant and Kyrie Irving.
I first noticed their torrid public display of affection at the Team LeBron practice which took place on Saturday afternoon at the Bojangles Coliseum along south Independence road some 3.8 miles from downtown Charlotte. As their teammates were hoisting half-court shots, KD and Kyrie were playing one-on-one, ribbing each other and flashing smiles worthy of a toothpaste commercial.
When practice concluded, both exited one after the other and headed toward the tunnel that led to the idling luxury buses outside. They stopped by to sign autographs and when a fan threw a Celtics jersey at Kyrie, Kevin intercepted it and teasingly tossed the expensive fabric on the floor. They laughed and the world seemed like a much better place.
Continue reading below ↓
Recommended Videos
How sweet.
The next time I saw the wholesome pair was a day later at the All-Star Game at the Spectrum Center where they found more bonding time just before they stormed the court. I'm no expert in body language but I know chemistry when I see one. Heck, they even had cheerfully matching shoes - glowing pink for KD while Kyrie donned black with a smudge of electric lime green. Both Nikes, of course.
Two men engulfed in brotherly love is nothing new. We've all done it with our best buds, eagerly dispensing high-fives, daps, and fist bumps. We've been touchy, handsy, and sometimes, too huggy. And it's all normal.
But when the interaction involves Durant and Irving, suspicions arise because both can opt out of their contracts this July. Rumors about Kevin's free agency flight from Golden State have been whispered so often it now carries the weight of something true. Kyrie, on the other hand, has wavered from his once adamant stand of staying in Boston.
KD and Kyrie have been linked to the Knicks, who traded Kristaps Porzingis to the Dallas Mavericks last month to create $74 million in cap space that would allow signing two max free agents.
Kevin and Kyrie may not necessarily want to move to New York, but why the hell not? Both could use a fresh start.
Last November, Durant had a heated confrontation with Draymond Green at a team huddle and things were said. Green reportedly reminded KD that the Warriors had won a title without him. Who knows, maybe that spontaneous volley of angry words stung Kevin enough to spur him to prove that he can win elsewhere, on his own, without the Splash Brothers and their merry band of trigger-happy shooters.
Kyrie, meanwhile, has a detailed history of relationship issues. He forced Cleveland to trade him in 2017 and left LeBron, remember? And this season, when Boston couldn't find their traction and struggled with a mediocre 10-10 start, he has had some rough patches with his coaches and fellow Celtics.
So, it only makes practical sense for them to leave their current nests and parlay that visceral off-court chemistry into one of the most dangerous on-court tandems in all of the NBA by joining forces with the Knicks.
New York is the largest media market in the world, a place where the stars are brighter and the marquee is bigger. They call it the Big Apple, and it's waiting for KD and KI to take a chunky bite off it.
I hope they would. Not just for hopeless romantic reasons, but because I'd appreciate the sentimental indulgence of seeing big, bold, and fearlessly beautiful dreams come true for Kevin and Kyrie.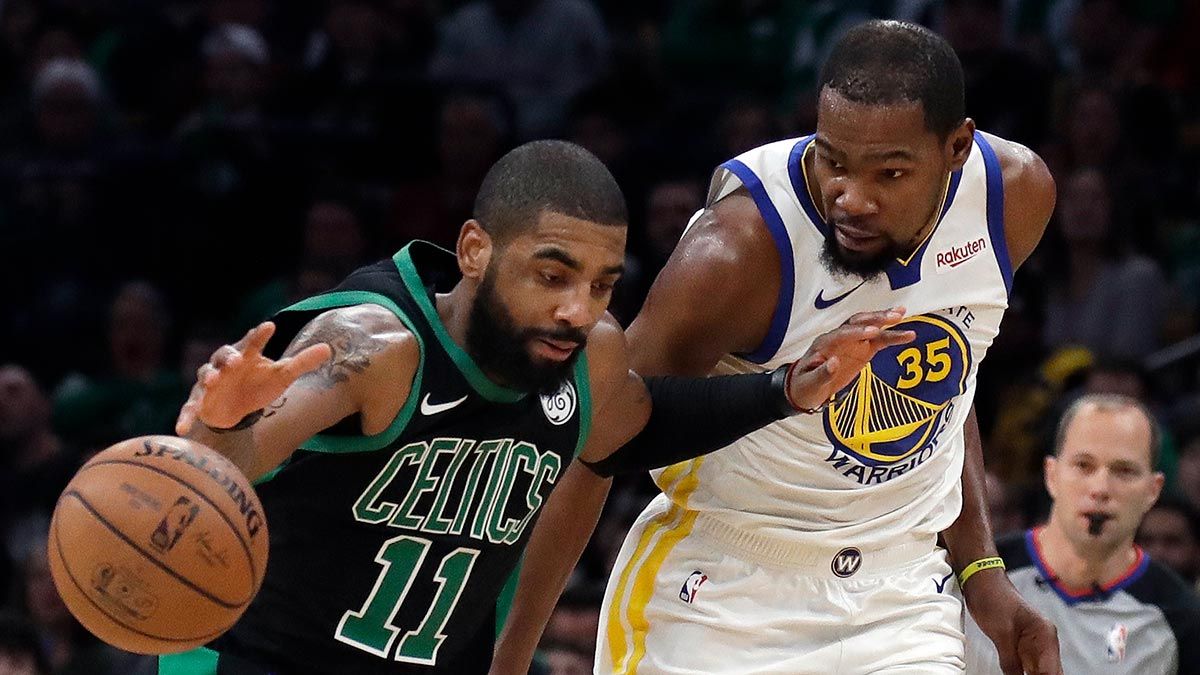 P.S. TO CHARLOTTE. I've been to multiple All-Star Games and have received credentials to 15 NBA Finals, trips that have taken me to various NBA cities since 2000. I've loved all those destinations but Charlotte, a small city with a giant heart, easily ranks among the best. And I say that not as a prisoner of the moment.
In my three days and three nights over there, I was spoiled with hospitality, bewitched by southern charm.
Hotel and arena food were my main source of nourishment but on Sunday morning, when raindrops fell gently above the gray skies, I found myself wandering inside a Waffle House, a famous restaurant chain that is open all night and day and has served hungry customers since 1955.
I had T-bone steak that was skillfully grilled medium well. The hash browns were fried to crispy golden brown perfection, and the eggs, cooked sunny side up, blended deliciously with the meat and potatoes. It wasn't just a dining experience, it felt like a culinary passage to heaven.
The Uber drivers, hotel staff, arena personnel, bar tenders, and everyone I came in contact with were all nice. Darn, even the usually grumpy airport security personnel were unbelievably cordial.
I didn't see Michael Jordan as I had wished I would, but I saw enough to understand why the Queen City is the most famous in the entire state of North Carolina.
Can't wait to go back.