CHICAGO - Under the bright lights of these NBA playoffs, with the entire basketball universe watching, the stage was set for Isaiah Thomas' official coming out party.
The 5-foot-9 whirling dervish was destined to take the No.1-seeded Boston Celtics into the once familiar deep waters of the postseason. Along the way, he would line himself up for a mega contract that pays more richly than the $6.5 million he is pocketing this season.
But like a thief in the night, tragedy struck. Swiftly. Cruelly. Unexpectedly.
In the blink of an eye, basketball's big things got very small for Isaiah Thomas, so infinitely meaningless in the context of real life.
Roughly 24 hours before his team hosted the Chicago Bulls in their first-round series opener on Sunday (Monday, Manila time), Thomas' 22-year-old sister, Chyna, died when her Toyota Camry veered off a highway and hit a cement barrier and a large sign post, according to the Boston Globe.
ADVERTISEMENT - CONTINUE READING BELOW ↓
Throughout a wondrous regular season, Thomas carried Boston on his back as the historic franchise sprinted to 53 wins. But on Easter Sunday, the 185-pound serial scorer was tasked to carry a cross that was too heavy, one that he so unfairly deserved.
Through reddened eyes and tears-soaked cheeks, Thomas bravely accepted his fate, his heart beating with Celtic pride. He honored his baby sister's death with a gritty performance, 33 points and six assists.
Sadly, it wasn't enough to deny the Bulls from stealing Game 1 and homecourt advantage, 106-102.
I watched Thomas play with a pair of eyes that were sympathetic and ready to leak like a busted faucet. I rooted for him to do well, a bias anchored on shared grief. I wish I could give him a hug because I know exactly what he is going through.
Four years ago last month, my daughter Faith passed away. She was only 16. I was 44 and irreparably broken for the rest of my days. You never really get over the death of someone you love, you just get by.
ADVERTISEMENT - CONTINUE READING BELOW ↓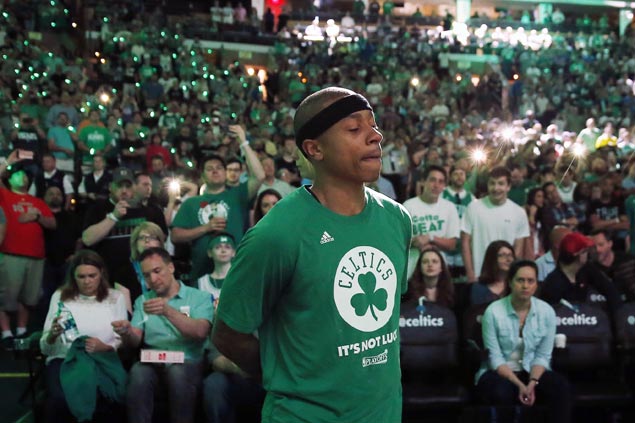 LONG AND WINDING ROAD. While questions were raised as to whether Thomas would play in Game 1, I had no such doubts. Idle time is misery's best friend, and it would have pulled Isaiah in a darker place where the memories of his sister's beautiful life would torment him.
It's already been 1,501 days since my daughter died and I still pause from time to time to think of the what-ifs, the missed milestones, and the baffling mystery of God's ways.
ADVERTISEMENT - CONTINUE READING BELOW ↓
Grieving is a process, a long and painful one, and it's only just beginning for Isaiah Thomas.
But if there was somebody who could get through this impossibly difficult time, it would be Isaiah Thomas. He was, after all, always doubted, dubbed as "too short and too small' to play in the NBA.
Look at him now, a two-time All-Star and the NBA's third best scorer at 28.9 points a game. He dropped 52 against the Miami Heat last December and thrust his name in the MVP conversation.
Unless it ends in six games or less, the -Celtics-Bulls showdown is a series that is scheduled to last until April 30, which means that somewhere along the way Thomas will likely bury his sister. It's a finality that offers some closure, but it's also a melancholic ritual that allows sadness to reach its peak.
While Thomas was on the bench resting in Game 1, his team was outscored by 16. Can his teammates rally around him and overcome a 0-1 deficit the rest of the way?
ADVERTISEMENT - CONTINUE READING BELOW ↓
Chicago unraveled in various stages of regular season dysfunction before snatching a playoffs berth, but in Game 1, the team's collective experience and Jimmy Butler's singular brilliance carried the day.
Are the Celtics resilient enough to hold off a suddenly resurgent horde of Bulls?
I don't know.
But I do know that regardless who wins this one, we can no longer relish the series with the same joy and satisfaction that we anticipated before sadness rudely interfered.