CHICAGO - Every time a perpetrator gets arrested for doing something noble but wrongful, NYPD detective Lennie Briscoe, a fictional character in the hit TV show Law and Order, would deadpan the famous line: "Sometimes the good you do does not do you any good."
The quote reminds me of Nikola Mirotic and Jordan Clarkson.
After a mostly spiritless three seasons with the Chicago Bulls, Mirotic has finally come to life this year, exploding for 17.4 points and 7 rebounds a game. The 26-year old Spaniard from Montenegro is shooting 46.5 percent from three-point range, up from a lukewarm 34.2 percent from last season when he averaged a mere 10.6 points in 70 outings.
Mirotic missed the first 23 games of this season due to facial fractures caused by teammate Bobby Portis' punch during preseason practice last October. Without him, Bulls crashed to a 3-20 start. Since his return, the team is 11-6 and continuing to improve.
Defense had never been a strong suite for the 6-foot-10, 220-pound Mirotic. At his best he is slow to help and rotate. At his worse, he cannot guard a chair. But he has improved vastly in that department this year, moving his feet well and keeping those long arms active.
Continue reading below ↓
Recommended Videos
Unfortunately for Mirotic, all these improvements have made him a valuable asset to trade.
Here are two of the main reasons why he will likely be playing outside of Chicago on January 15 - 1) He is making $27 million for two years, and 2) He makes the Bulls win when they should be tanking in order to position themselves to get one of the top-four can't-miss prospects entering the June 2018 draft.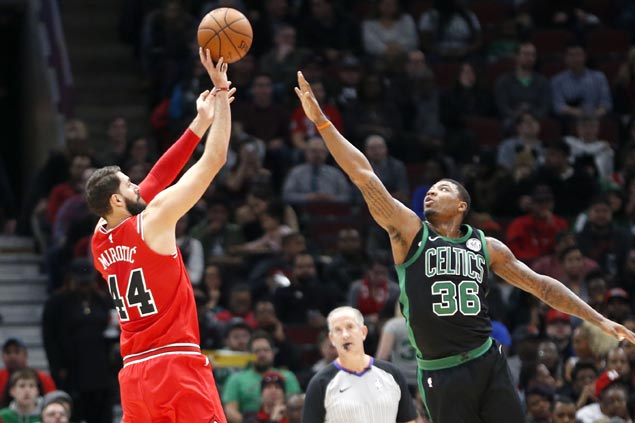 In the days after the Portis fracas, Mirotic demanded a divorce from the Bulls and declared he was willing to waive the no-trade clause in his contract. Two days ago the Chicago Sun-Times reported that Mirotic still maintains that sentiment.
Consider that wish granted.
JORDAN CLARKSON is playing the best basketball in his four years in the NBA. Although his scoring average is slightly down from last season's 14.7 points per to 14.1 this season, he is shooting better from the field and from long distance. With only two starts in 38 outings, he is the spark off the bench, often steadying the Lakers at the point guard spot where rookie Lonzo Ball has been anything but solid and consistent.
His reward?
A ticket out of LA-LA land where the Lakers personify glitz and glamour.
According to multiple reports, including the Los Angeles Times, the Lakers are shopping Clarkson to open up salary cap space that would enable the team to acquire two superstars in this talent-loaded offseason. Hello, LeBron James. Hi, Paul George.
Unlike small market teams like Philadelphia, which can afford to waste away years on rebuilding, Los Angeles is a giant market where the fan base's mandate is win every year. The skies may be orange and pink in LA, but its residents bleed purple and gold.
Jordan is making $12.5 million this year plus another $25 million in the next two years. Thanks to his stellar play, that contract is no longer a burden. In fact, it is a flat-out bargain.
Jordan, a true pro, will have a rich and productive NBA career for a long time. Unfortunately, it won't be with the Lakers.
HOUSTON, WE HAVE A PROBLEM. Just like the Tom Petty song, the Houston Rockets are Free Fallin', losing two in a row and seven of their last 10. With their 27-11 record, the No.2 ranked Rockets are now four games behind the top-ranked 32-8 Golden States Warriors and just two games ahead of the 27-13 San Antonio Spurs in the tough Western Conference.
It gets worse. James Harden and his 32.3 points and 9.1 assists per game will be sidelined for at least another week due to a Grade 2 sprain. If they can't plug this enormous hole, the Rockets could well end up as a fourth seed in the West and get bounced by the Warriors in the playoffs.
So much for a deep playoffs run.
I'm bailing out of the Rockets this early. Don't accuse me of being a fair-weather fan because I was never a fan to begin with. James Harden is a special talent, a serial scorer with impeccable aim. But he got no Mamba blood in him for sure.