CLEVELAND -- Doug Behrens drove 38 miles from Akron, Ohio to watch Game 2 of the Cavaliers-Raptors series at the Quicken Loans Arena in downtown Cleveland two nights ago. He had four seats at section 110, and it cost him a pretty penny.
"I paid $375 each," he told me at the arena's main concourse where I bumped into him during the halftime break. A season-ticket holder, Behrens pays $175 apiece for the same seats during the regular season but "prices go up every round during the playoffs."
In last year's NBA Finals, Behrens recalls paying $675 a seat.
Over at section 232, Stephanie and her friend, a blonde in tight jeans and with an easy smile, paid $90 for their tickets. Up there at the nosebleed section, the players look significantly smaller, but the cheers are just as loud, proving that distance does not blunt fan enthusiasm.
Two of the best seats in the house for Game 2 - courtside at $2300 each - were occupied by Filipino couple Rex and Erly Perez. They have roots in Manila and Pasay City but now live in Streetsboro, Ohio.
The company they work for, Softlite, where Rex is a valued asset while Erly toils in accounting, provided for the tickets. "We are so fortunate, we get to come often," she said.
While ticket prices vary depending on seating location, the food and beverages at the concourses are the same. They are uniformly expensive.
Continue reading below ↓
Recommended Videos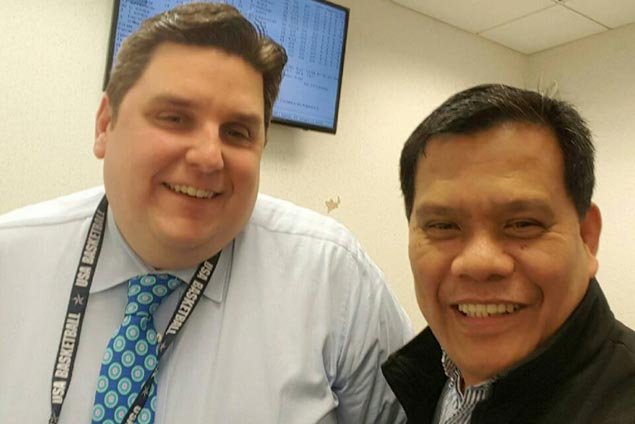 SPIN.ph columnist Homer Sayson with ESPN's NBA analyst Brian Windhorst.
HIGH-PRICED EATS. If you have a hankering for pizza, go to Georgio's where one slice of pie heaven plus a cup of souvenir soda will make you $15.50 poorer.
Over at Quaker Steak and Lube, the chicken wings are hot but your wallet will be on fire because a 20-piece bucket costs $20.50, Add another $8 for a beer can or $10.75 for draft beer. Trust me, at those prices, you will need a drink.
If hotdogs are your thing, meander your way to Topped, which has a signature sandwich called the champsteak. Dripping with cheese and numerous toppings, you just don't eat this thing, you devour it. But at $14.50 plus $4.25 for a bottle of water, your budget might suffer from economic indigestion.
For the health-conscious, there is a tiny eatery called Healthy for Life. Their prices, however, are not on a diet and rather unhealthy for those with thin checking accounts like mine. A small serving of gluten-free nachos is $7.50 while the wide array of Angry Orchard drinks include an apple cider for $9.50.
Since arena visits often include shopping for team gear, The Q has a few places to satisfy such demand. A shop named Souvenirs has a Jumpman brand LeBron James jersey for $100. The Jumpman is one of three types of NBA jerseys, The other two are replica and authentic, the least and most expensive, respectively.
If you have more money than Dubai, go to the Team Shop. Hats of varying colors and sizes can be yours beginning at $20. Towels, mugs, key chains and other items are sold there, too, but the mother of all purchases is the authentic LeBron James jersey for a cool $300.
Unless you walk to the arena or take public transportation, parking your car or whatever four-wheeled contraption you bring can cost a small fortune. In front of the Q is $50, other parking garages charge between $30 and $40.
You can park for $5 but you will be so far you might as well run a marathon.
A staffer welcomes us at Team Shop inside the Quicken Loans Arena, where hats of varying colors and sizes can be yours beginning at $20. Towels, mugs, key chains and other items are sold there, too, but the mother of all purchases is the authentic LeBron James jersey for a cool $300. Homer Sayson
THE MONEY TRAIL. According to StackExchange, an NBA team earns an average of $2 million per home game, more in the playoffs when everything is jacked up. Tickets sales are split 60-40 in favor of the home team, which also takes all the proceeds from concessions and parking.
But selling overpriced food and beverages and charging bloated parking fees alone do not make NBA teams float with so much cash. NBA teams make the bulk of their money through TV rights, such as the $2.6 billion ESPN and TNT will pay the league annually from 2018 to 2025. There is also serious money from licensing, sponsorship and endorsements.
LeBron James does not play pro bono basketball. On the contrary, he collects $376,829 a game for a total take of $30.9 million this season. With Kyrie Irving and Kevin Love pocketing a combined $38.7 million, the Cavs own the league's highest payroll at $128.4 million.
The Cavs are doing what most businesses routinely do - pass a chunk of their operating costs to the consumers.
But Cleveland fans don't mind. Which is why the Cavaliers rank second in the NBA in attendance, drawing 843,042 people in 41 regular season games, plus a sold-out crowd of 20,562 in all of their playoffs home games thus far.
To paraphrase a Mastercard commercial: Tickets for two at the Q: $700. Prime parking: $50. Food and drinks: $80. Watching the greatness of LeBron James - Priceless.