CHICAGO - Since the league began imposing stiff fines and prolonged suspensions following the infamous "Malice in the Palace" brawl in 2004, modern-day NBA altercations have become spiritless affairs that involve reluctant participants who bark loud and bite light.
No fight for life here. Just a harmless kiss of tease, not death.
But on Saturday night (Sunday, Manila time) at Staples Center, under the backdrop of LeBron James' regular season debut, Brandon Ingram and Rajon Rondo of the Lakers, and Chris Paul of the Houston Rockets, turned the NBA into the National Boxing Association.
It started when Ingram maliciously shoved James Harden with 4:13 left in the fourth quarter and the Rockets up, 109-108.
It escalated when Paul was spat on by Rondo and retaliated with justifiable aggression.
It went berserk when Rondo hurled the first punch.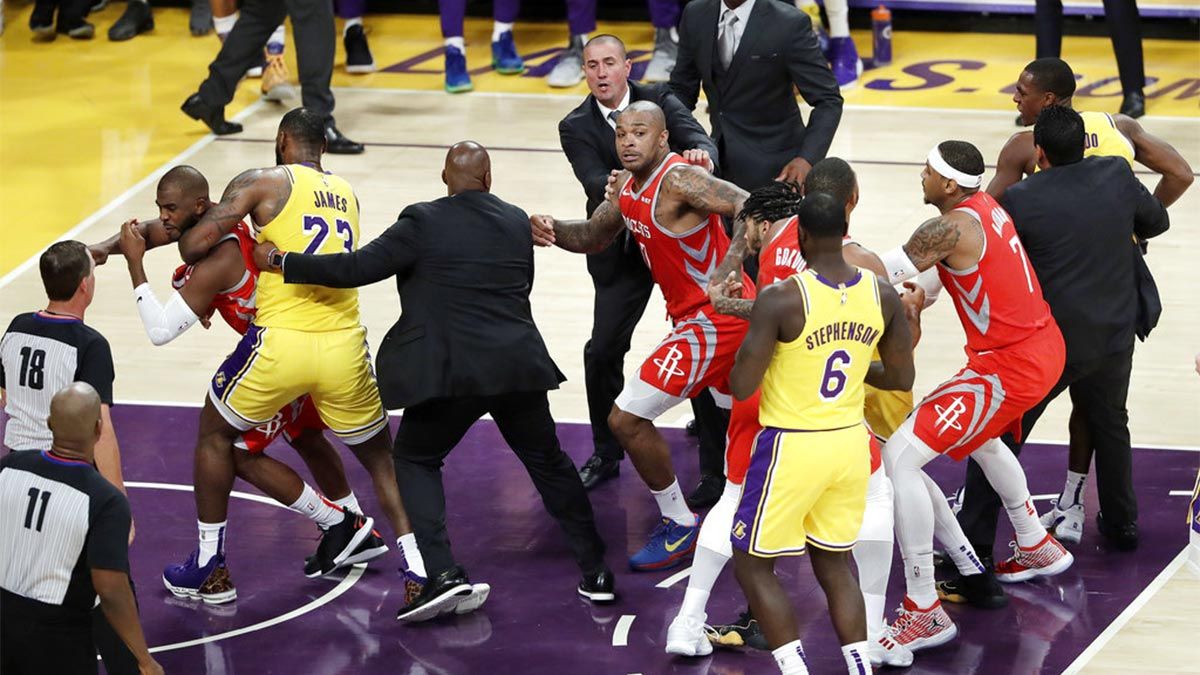 Continue reading below ↓
Recommended Videos
Thankfully, no blood was spilled. Mercifully, there were no knockdowns. But sadly, the NBA sustained an undeserved black eye.
And because of the tarnish that was so stupidly, defiantly inflicted on the league's image, the punitive hammer went down hard.
Swiftly. Decisively.
According to the official NBA statement, the 21-year old Ingram will receive a four-game suspension for "aggressively returning to and escalating the altercation." Rondo got three games for "spitting and throwing multiple punches" while Paul received two games for "poking and making contact with Rondo's face and throwing multiple punches at him."
Ingram will sit out the longest. Rondo will be ridiculed the most for his barbaric saliva stunt. But because all suspensions are without pay, Paul is the biggest loser.
When another man dishonors you, spits in your face, and then assaults you with a two-fisted rage, pride and self-preservation take over and you push back.
I never endorse violence as a means to resolve conflict but I'm also not going to sit pretentiously on the right hand of God and rebuke Paul for doing something I myself would have probably done, too.
Here's the thing, I admire Mahatma Gandhi and the self-restraint that he espoused. Though I have a little temper, I am by no means mercurial. But this I promise, if a dude spits on me, I will quickly go inter-galactic and swing punches like a pendulum.
The NBA, however, is another universe. It's a repository of all things peaceful, a global brand represented by players that kids look up to. There are consequences for breaking the rules, regardless of mitigating circumstances.
And for Chris Paul, the price is hefty.
With the four-year $160 million contract he signed last July, Paul will be paid $35.6 million this season, according to basketballreference.com. His per game check is $434,806, which means this melee will cost him $869,612.
Rondo makes only $9 million this season so his salary loss is three game checks worth $329,268 while Ingram, who rakes in $5.7 million this season, will be docked $278,048 for four game checks at $69,512 per.
The scale on lost wages may seem unfair, but the imbalance is only incidental to the fact that Chris Paul has a max contract.
You can rest well in the knowledge that like lady justice, the NBA's penal system is blind. It does not see a player's All-Star status or economic weight, it only considers his culpability when rendering judgment.
As any political science major will tell you in Latin: Dura lex, sed lex.
The law is harsh but it is the law.