CHICAGO - With a players' age average of 30.3, they are the oldest team in the NBA. Some of their mainstays - Dwyane Wade and Kyle Korver, both 36, and Channing Frye, 34 - are so past their prime they belong in a museum.
Ranked 29th among 30 teams in defensive efficiency, surrendering 109.3 points per 100 possessions according to ESPN, their defense has more dents than a golf ball.
They are not just losing games. They are getting crushed. Walloped by the Minnesota Timberwolves, 127-99, last January 8 and brutalized by the Toronto Raptors, 133-99, three days later. They were also creamed by the Portland Trail Blazers, 127-110, last January 2 in Cleveland, which made up for a very unhappy new year.
After bowing to the Golden State Warriors, 118-110, on Monday (Tuesday, Manila time) at the Quicken Loans Arena, they have lost four straight and nine of their last 12. With a 26-17 record, they are seven games behind the 34-11 Boston Celtics for the best record in the Eastern Conference.
Their defense is inept. Their offense is predictable, craving for imagination. They are old and decrepit. And they are falling apart like broken down, well-worn shoes.
They are the Cleveland Cavaliers.
Continue reading below ↓
Recommended Videos
Oh, how the mighty has fallen.
The beast in the East for the last three years, the Cavs are now barely hanging on to third place, 3.5 games behind the No.2 Raptors (29-13) and leading the fourth-ranked Miami Heat (25-18) by just one game. If the playoffs were to start today, Cleveland would have to go through Indiana in the first round, Toronto in the second round before facing Boston in the East Finals.
Only Joshua and the Israelites had a more treacherous path to the Promised Land.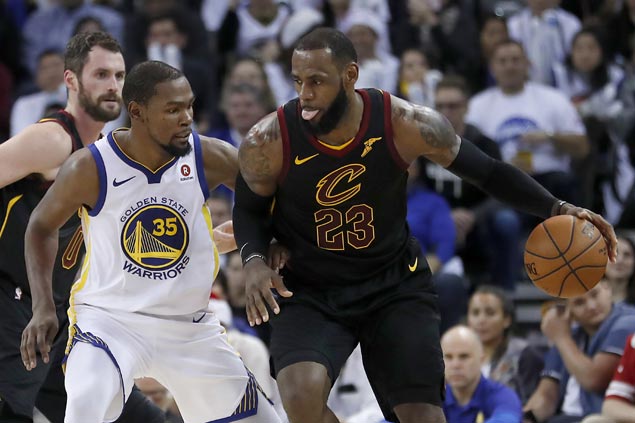 But like a leader who doesn't want to admit that the walls are crumbling around his empire, LeBron James, the self-imposed Cavalier king, is playing it cool and told ESPN, "I like our effort tonight (against the Warriors). If we continue on that, going into our next few games, then I like where we are."
Besides being a regular season MVP, NBA Finals MVP and perennial All-Star, LeBron deserves a few more titles: Spin Doctor and Denial-in-Chief.
IF YOU ARE BLIND AS A BAT and believe in what LeBron is saying, then Santa Claus is real. To paraphrase the late Daniel Patrick Moynihan, the great former United States senator and diplomat, we are all entitled to our own opinion, but not our own facts.
The truth is, the Cavaliers, as presently constituted, are flawed. They are unstable at the point guard position, shallow on the front line, and thin in the middle. The only excess they have is a "glut of redundant role players," per anonymous team sources who voiced their frustrations to multiple outlets including Cleveland.com and The Athletic.
Indeed, the Cavs did have a streak of 18 wins in 19 games early this season, but that was a harvest poached with the aid of inferior teams. Against the top tier squads such Golden State, Houston, Minnesota, Toronto and Boston, the Cavaliers are a sorry 1-6.
Cleveland used to just waltz through the regular season as though it was an inconsequential speed bump on their march to the playoffs. They'd turn on the switch in April, crank up the gear in May, and then easily race to the NBA Finals in June.
There is no such guarantee this time. The switch is short-circuited, the power is lacking. And the sands of the hour glass are falling fast on 33-year old LeBron.
As a writer with an insatiable appetite for drama, I was so looking forward to a Warriors-Cavs NBA Finals showdown Part IV. But with turmoil fermenting in Cleveland, I'm beginning to warm up to the idea of Boston and Golden State shooting for all the marbles this year.
And so should you.
NO QUICK FIX. To address some of their personnel woes, the Cavaliers can tinker a little bit before the February 3 trading deadline. But with the league's highest payroll at $137.08 million, they have little flexibility to do so.
I mean, how can you move J.R. Smith, who is making $13.2 million this season plus another $30.4 million until 2020 or Tristan Thompson, who rakes in $16.4 million this season plus another $36 million guaranteed in the ensuing two seasons?
The Cavs have acquired two draft picks in the Kyrie Irving trade but it would be prudent to hold on to those chips in case LeBron leaves (again) this July and a rebuilding becomes expedient and most imperative.
That being said, these Cavs are stuck with whatever working or malfunctioning pieces they have. But given his pride, his intensity and desire to win, LeBron is more than capable of pulling a rabbit off of his fedora and drag Cleveland to its fourth straight NBA Finals and his ninth overall.
Once they get there, though, the only thing they'll see is the shine of the Larry O'Brien trophy that the Warriors will be hoisting.