CLEVELAND - If you've got the gall to come the NBA Finals, be prepared because your wallet and your bank account is going to take a pretty nasty hit.
For fans on both sides, nothing holds truer for the love of their team than taking the leap and making a financial sacrifice in experiencing pro basketball's grandest championship battle.
Dorothy and Hong, a Bay area couple, decided minutes after Game 3 had ended to purchase Game 4 tickets and fly out to Cleveland.
It wasn't cheap.
"We were looking to go to Games 1 or 2 at Oracle Arena but courtside seats were going for $30,000 as a package deal, so we passed on it. But as soon as Game 3 was over we looked into courtside seats at the Q and prices were slashed down to $4,000 a piece and just bought it."
The couple, who were garbed in Warriors gear, arrived Cleveland hours before tip-off.
Jeff of Tennessee on the other hand decided early to get tickets. "Yeah we got tickets about five days ago for about $700 each and drove up yesterday."
[See Wondering how much it would cost to watch an NBA Finals game at The Q?]
Jeff has been on this rodeo before and spared himself a small fortune to park his car.
"You can find free parking man, if you just take the time to look for the right place. Now you're going to walk quite a ways, but you save money instead of paying like $40 or $50 bucks."
If you're thinking for one second you're safe from other expenses, unfortunately one way or another, you're bound to get hungry and thirsty.
"Oh yeah, back at Oracle you're going to easily spend about $30 on food and drinks, and that's without alcohol", Dorothy said.
Speaking of adult libation, here at Quicken Loans, a 24oz. domestic beer can run you $9.50 or $10.75 for a 20 oz. craft beer at concession stand 'Draft Picks.'
So I asked the obvious question to all parties, "Why come to such an event that requires such a pretty big budget ?"
Jeff said it best, "I mean, I can only do this every so often, so I wouldn't do this if I didn't love the team, and didn't love the game."
Touché.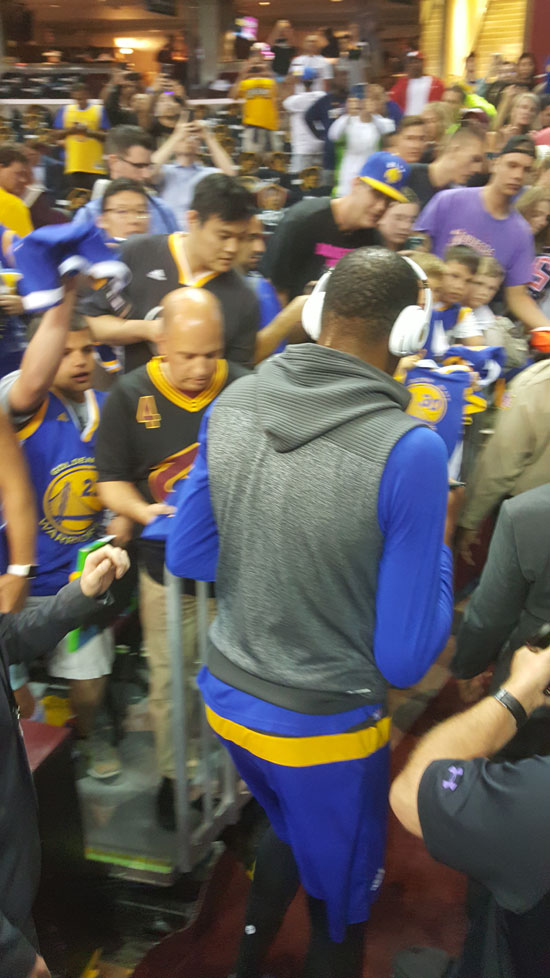 Editor's note: The most expensive seats in NBA history will be two courtside tickets at Oracle Arena for Game 5 of the Finals.
According to business reporter Darren Rovell of ESPN, someone paid $133,000 for two courtside seats to watch the Warriors potentially clinch their second championship in three years in Game 5.
Since the tickets were sold through a third party, the buyer also paid $17,000 in buyer's fees. The face value of said tickets are $3,000 apiece, the report said.
Rovell added that the average ticket price for Game 5 is a whopping $1,731 apiece.