Read the story? Tell us what you think!
How and where can I get this?
Steph Curry is a beast on the court, and that's only because he's determined to stay a beast off of it. Much has been said about his year-round workout plan, but you can't argue with the results. The two-time league MVP is one of the most dependable scorers in the league, and has been for a long time.
So what's it like to work out like Steph? Here are some exercises from his fitness regimen: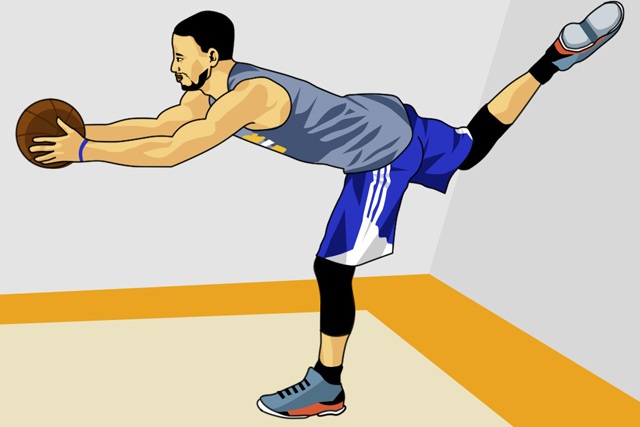 Single Leg Airplane
Yoga has long been a basketball player's best friend. It helps improve balance and flexibility for lay-ins, and to repel contact. The Warriors, in particular, are known to have attended a Vinyasa session or two during off-season.
Steph does the Single Leg Airplane pose to improve balance and hip strength. You can try it yourself. Here's how: rest your weight on one leg and hold your arms straight out to the side. Then, bend at the hip while keeping your torso and other leg straight, until both are parallel to the floor. Hold the pose for a few counts, slowly return to starting position, and then repeat with your weight on the other leg.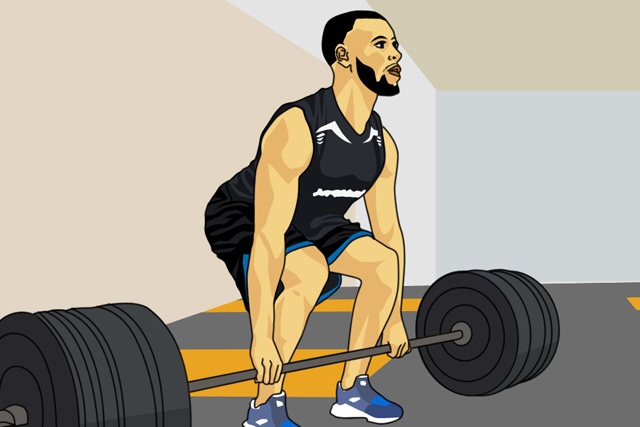 Deadlifts
Did you know that Steph can deadlift twice his body weight? This type of workout helps him get into shape for the season.
Deadlifts can mobilize and strengthen almost every major muscle group. It's a great exercise on its own, and has significant benefits for ballers.
Deadlifts strengthen your core, improve your leaping ability and quickness, and can even help tighten your grip on the ball. By making you a stronger athlete, deadlifts also help reduce the risk of injury on the court.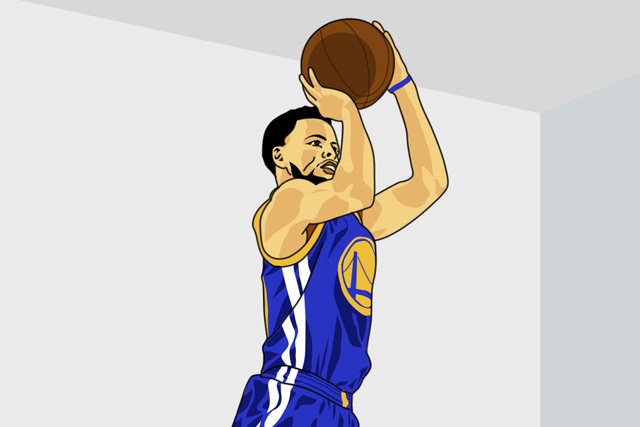 Beat the Ogre
Steph does a warm-up drill called "Beat the Ogre." It's a game where he needs to score 21 points while shooting 3-pointers in constant motion. But there's a catch: each made shot scores you one point, but every miss causes you to lose FOUR points. That means that if he misses even one shot, he'll have to make 24 out of 25 triples to win.
If that's too hardcore for you, you can try playing "Beat the Pro" instead. In this version, a make scores one point, and a miss subtracts two. Get to seven points, and you win.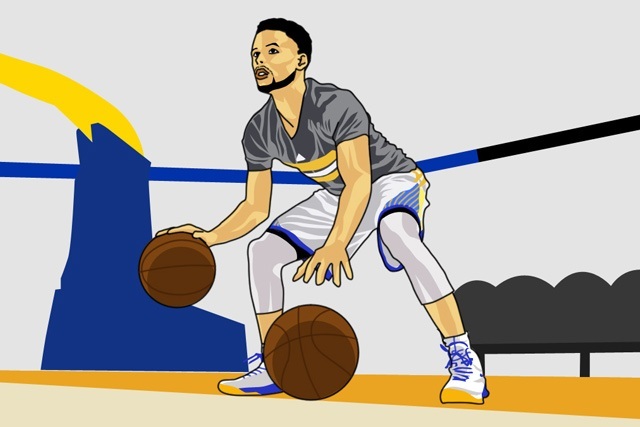 Double Ball Bounce-and-Cross
Steph has impeccable handles because he does some pretty intense dribbling drills, including a series of exercises that involve dribbling two balls at the same time.
The Double Ball Bounce-and-Cross is one of those exercises. If you want to try it, here's how: with a basketball in each hand, bounce the balls at the same time, and then cross both over to the other hand, one in front of the other. Start with 20 repetitions of the left-to-right ball crossing in front of the right-to-left ball, and do 20 more reps with the positions switched.
It takes a lot of work for Steph Curry to be the kind of player that he is, and he makes sure that everything he uses on and off the court works just as hard. He uses only New Rexona Ice Cool now with Anti-Stain Technology. Rexona keeps him Drier, Fresher and virtually Stain-Free for that winning confidence on and off the court.
Follow Rexona PH on Facebook.