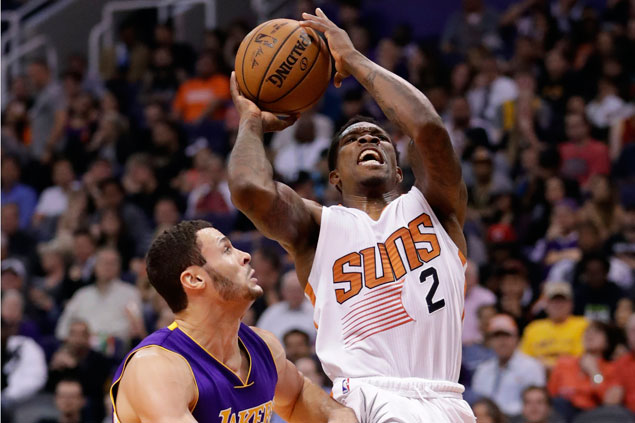 CHICAGO - In today's NBA, Greg Monroe, a traditional big man who likes to play the low post, is a BlackBerry in a sea of iPhones.
Though the 6-foot-11, 285-pound center has proven his worth in the NBA by averaging 14 points and 8.7 rebounds a game in eight seasons, Monroe's value has been significantly diminished in an evolving playground  where the pace is insanely fast and 3-point shooting is a gold mine.
If Greg Monroe feels being left behind, he is not alone.
Roy Hibbert, a plodding 7-foot-2 center who once anchored the nasty Indiana Pacers defense, has been chased out of the league. After a winning a title in Cleveland in 2016, 7-foot-1 Tim Mozgov was signed by the Los Angeles Lakers before being shipped to Brooklyn where he is an afterthought on the Nets offense, shooting just four field goals a game.
Dwight Howard and his lumberjack arms used to be in the conversation as one of the best big men to ever play in the NBA but the 6-foot-11 mastodon, who used to pride himself as Superman, has had a nomadic journey as of late, suiting up for four teams in five years. 
There is indeed no place like home; just that Howard couldn't seem to find one.
So why am I talking about fading creatures in Steph Curry's planet?
Because the Phoenix Suns, who haven't won a title in their 50 years of existence, parted ways with their best player - Eric Bledsoe - in exchange for Greg Monroe of the Milwaukee Bucks. The Suns pulled the trigger despite already having a pair of 7-foot-1 centers in their roster - Tyson Chandler and Alex Len. 
Given their checkered history of surrendering players such as Goran Dragic, Isaiah Thomas and Brandon Knight to name a few, the Suns don't always rise in Phoenix when it comes to keeping and trading assets. But there is actually a method to this recent madness.
The 18th overall pick in the 2010 draft, Bledsoe isn't an All-Star, but he has distinguished himself as one of the finest fruits to fall off that storied University of Kentucky basketball tree. Thanks to a five-year $70 million contract he signed last September 2014, Bledsoe earned $14 million last season and deserved every penny, averaging 21.1 points, 4.8 rebounds and 6.3 assists in 66 games.
This season, however, as the Suns went off to another slow start and figured to miss the playoffs for the eighth straight year, Bledsoe's numbers dipped to 15.7 points, 3 assists and 2.3 rebounds per. Swept by the tide of discontent, he sent out an October 24 tweet that said, "I don't wanna be here."
ADVERTISEMENT - CONTINUE READING BELOW
Phoenix obliged. 
Like any reputable business model, the Suns were unwilling to keep an unhappy employee who could potentially provide a toxic locker room environment, so they sent Bledsoe packing to Milwaukee. The trade, therefore, wasn't neither a whim or an emotional decision. It was a function of necessity.
And while the Monroe-Bledsoe swap appears painfully one-sided against the Suns, there is a silver lining: Monroe, who makes $17.9 million this season, has an expiring contract that would create cap space for Phoenix moving forward.
The Suns lost a great point guard, but they might have also found a path to a fresh start. 
WADING A TOUGH TOPIC. There was a "traffic" accident in Cleveland a few days ago. It happened in the intersection of frustration and disappointment. Dwyane Wade threw some of his Cavaliers teammates under the bus.
Following another loss, the fourth in five games for the 5-6 Cavs, Wade, who was recently demoted from starter to second stringer, complained that the main guys aren't getting the job done. "I want one time for the first unit to get on the second unit because we blew a lead. I'm waiting for that day to happen," Wade told reporters.
Now on the back-9 of a fabulous Hall-of-Fame career highlighted by three championship rings, Wade is averaging a pedestrian 9.1 points a game this season. He is making just 41.6 percent of his field goals and he is disturbingly bad from 3-point distance, 21.4 percent. 
At age 35, with worn and torn knees that have logged a punishing 32,579 minutes of regular season action, D-Wade has clearly lost his bite. Apparently, the bark is still there, the same bite that punctured many of his former Bulls teammates during his forgettable one-season stint in the Windy City last year. 
When someone such as a LeBron James berates teammates for what is perceived as a lack of effort, it's called leadership. But when an underperforming asset such as D-Wade calls out his peers, it's not leadership. It's throwing stones while living in a glass house.