CHICAGO - Sometime in May 2019, for the fifth year in a row, the Golden State Warriors will win the NBA's Western Conference.
I know it. You know it. My dead grandmother knows it. Those who believe otherwise are either drunk or in denial. Or maybe even both.
It's not naked arrogance. It's just the truth.
When I was a rookie reporter 25 years ago, a sage newspaper editor once told me that a sportswriter without the appropriate stats is like a trapeze performer without a safety net. That being said, here are the facts that support my argument.
Last season the Warriors won 57 games and led the NBA in scoring at 113.5 points per. They did so despite Steph Curry, Kevin Durant, Klay Thompson and Draymond Green missing a combined 66 games.
In the playoffs, the Warriors' production dipped to 110.4 points per through 21 games but they gathered 45 rebounds and piled 26 assists per. And they shot better than any team, 48 percent from the field and 35.7 percent beyond the arc.
ADVERTISEMENT - CONTINUE READING BELOW ↓
This past offseason they lost ZaZa Pachulia and got DeMarcus Cousins, a big recovering from a blown Achilles but has a body of work that screams Hall-of-Fame induction. The Warriors also lost JaVale McGee, but they got a Swedish delight named Jonas Jerebko who lights up threes like a Christmas tree.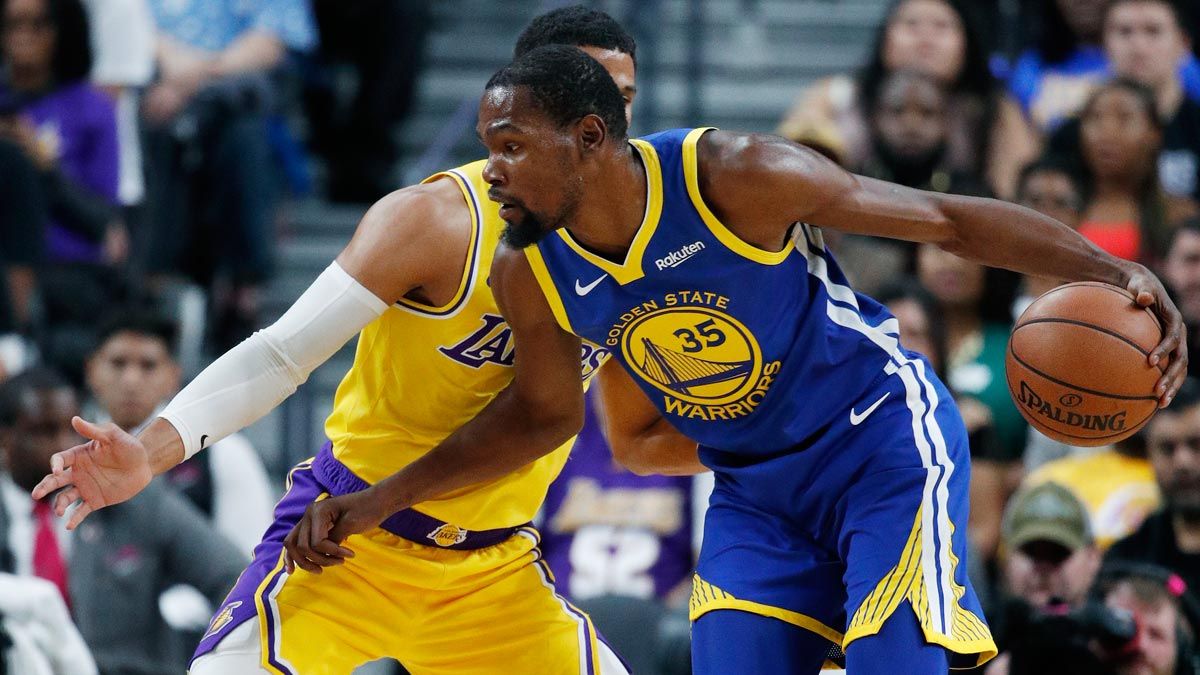 ADVERTISEMENT - CONTINUE READING BELOW ↓
As other teams scramble to mount a legitimate challenge, Golden State got better. At some point in the season, they will have a unprecedented starting lineup of five Hall of Famers and six All-Stars in the roster.
Life is so unfair.
THE REST OF THE WEST. The Houston Rockets were one game away from reaching the NBA Finals for the first time since 1994.
Game 7 was at the Toyota Center and they blew it in the most embarrassing way, converting just 7-of-44 threes, missing 27 straight at one point. It was as though the basketball gods had ordained cruel punishment on the Rockets for disrespecting the game by ignoring the thought of playing defense.
James Harden finished with 32 points but he missed 17 of 29 field goals and went 2-for-13 from long distance. He also had five turnovers and over 100 unnecessary dribbles. An MVP, Harden was expected to deliver a career-defining performance in the team's biggest game in 24 years.
ADVERTISEMENT - CONTINUE READING BELOW ↓
Instead he shrank like cheap jeans.
And please, spare me the garbage about the Rockets winning that Game 7 had Chris Paul played. Look, if Andre Iguodala were healthy in that series, there would even be no Game 6.
Instead of sharpening their arsenal for another failed challenge this season, the Rockets dulled their lineup. They lost Trevor Ariza and Luc Mbah a Moute. And they acquired Carmelo Anthony and Michael Carter-Williams, two dudes who are allergic to defense.
There was a fleeting moment last year when I actually believed that the Houston Rockets were legitimate title contenders. Not anymore. Never again.
THE PORTLAND TRAIL BLAZERS won 49 games and were the third seed in the West last season only to be swept by the Pelicans in the opening round of the playoffs.
With All-Stars Damian Lillard and CJ McCollum, Portland reminds me of John Wall and Brad Beal of the Washington Wizards. Full of promise low on performance.
ADVERTISEMENT - CONTINUE READING BELOW ↓
Russell Westbrook will always make the Thunder relevant. But to win a championship, he needs help beyond Paul George and Steven Adams. Adding Nerlens Noel and Dennis Schroder isn't enough.
The Jazz surprised us all with a 48-win season and a six-game dismissal of the Thunder in the playoffs. With Robert Gobert healthy and Donovon Mitchell mighty, Utah will continue to make strides. But winning the West is a bridge too far.
If the NBA were an aria, Anthony Davis of New Orleans wins every year. But it's a symphony and the Warriors have all the instruments.
With the Big 3 gone and Kawhi Leonard exiled, the only dangerous thing left in San Antonio is coach Gregg Popovich's temper.
The Timberwolves were decent until Jimmy Butler made them a joke.
LeBron and the Lakers will make some noise, and perhaps limp its way to a playoffs berth.
But the loudest party will be in Oakland where the Warriors - who will move to the Chase Center in San Francisco next season - will celebrate their departure from the Oracle Arena after 47 years with yet another conference title.
ADVERTISEMENT - CONTINUE READING BELOW ↓
The experts were right after all, the Western Conference will be a tight race.
For second place.