CHICAGO - While contemplating to pursue a broadcasting career as a second act to follow his improbable PBA run, Dondon Hontiveros went with me to watch the Chicago Bulls host the Boston Celtics at the United Center where he took diligent notes on various media functions.
On that mildly cold Thursday night last February 16, 2017, with pro basketball's biggest stage as the backdrop, all eyes were focused on the smallest performer bringing his act to the house that Michael Jordan built - 5-foot-9, 185-pound Isaiah Thomas.
Thomas lived up to the hype that evening, sizzling with 29 points, seven assists and three boards. He hit 8-of-18 field goals and 4-of-9 treys while logging 34 minutes.
Although the Celtics lost a 104-103 nail-biter, his valiant effort served as appetizers and just desserts at a post-game meal that I partook with Dondon alongside his lovely bride Micah Dizon, a looker disguised as a registered nurse, and PhilBoxing.com NBA writer John Aldwin Mahipos at a Chinatown greasy spoon.
In between bites of assorted dimsum treats, which included crunchy spring rolls and spicy chicken feet, we marveled at Isaiah's speed, his dazzling command of the ball, the grace of his ballerina feet, and the chutzpah of a little guy daring giants as he relentlessly attacked the hoop.
Continue reading below ↓
Recommended Videos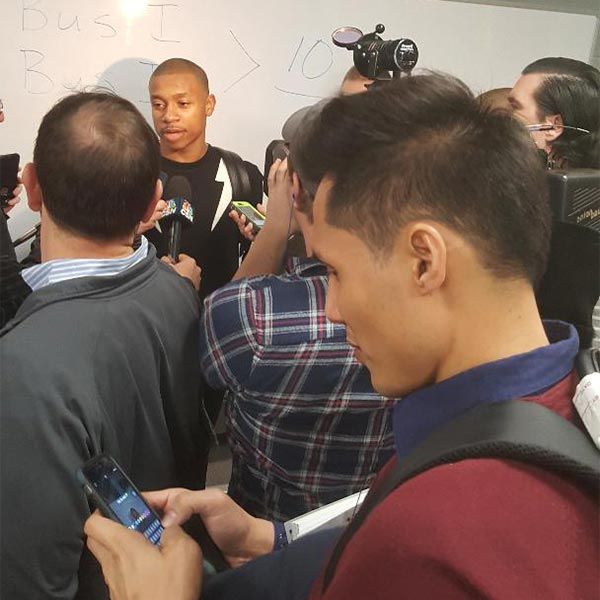 What we witnessed was special and it wasn't a flash in the pan.
That 2016-17 season turned out to be Thomas' best, a campaign where he averaged 28.9 points, 5.9 assists and 2.7 rebounds in 76 outings. The University of Washington alum was even better in the playoffs where he proved his place among the elite by scoring 53 points against the Wizards and swished 52 triples in a 15-game spree in which he normed 23.3 points and 6.7 dimes while converting 49 percent of his two-point shots and 33.3 percent of his threes.
But all along, as he was burnishing his resume' and lining himself up for a massive contract that he described as requiring a Brinks armored truck to carry the cash load, Thomas was gallantly playing through an injured hip that would eventually sideline him after Game 2 of the 2017 Eastern Conference Finals.
A few months later in August 22, the then 28-year old Thomas was shipped to Cleveland in a blockbuster trade that included a disgruntled Kyrie Irving.
Isaiah, who had previous previous stops in Sacramento and Phoenix, didn't turn out to be the messiah Cleveland was hoping for to fill the void at starting point guard. Instead, he was deemed a "toxic force" in the locker room, per Nick Wright of Fox Sports.,
On February 8, 2018, Thomas was traded in a three-team deal that allowed the Cavaliers to acquire Jordan Clarkson, Larry Nance, Rodney Hood and George Hill. In a span of 13 months, the two-time All-Star and top five MVP candidate, suddenly turned into a journeyman, weaving in and out of one bad relationship after another.
A looming free agent with rumors of his health chasing him like a checkered past, Thomas was determined to get his hands on the pot of gold and had a resurgence in Los Angeles where he delivered an impressive 15.6 points and five assists per in 17 games off the bench except for one start.
But the doubts lingered.
Is his hip 100 percent healed after arthroscopic surgery? Is arthritis an issue? Will this be a lingering injury? And, will he ever be whole again?
Too many questions. Not enough answers.
So when the uncertainties overshadowed the available facts, no team was willing to procure an asset that is potentially damaged goods and is already a known liability on defense, size-wise.
So on July 16, 2018, Isaiah Thomas signed a one-year deal with the Denver Nuggets worth $2 million, at least $98 million less than what he had aimed for when he began wearing the flip-flops with the Brinks logo on it.
This is why you "don't count your chickens before they hatch."
While guys like Chris Paul of the Houston Rockets and Paul George of the OKC Thunder were celebrated as jackpot winners after snagging a combined $297 million in contract extensions, Isaiah is mourned over as the 2018 free agency's biggest loser.
And why not?
For God's sake, Thomas' contract is three times less than Wayne Ellington's one-year, $6.7 million re-up with the Miami Heat.
But Thomas has himself partly to blame for all this.
As soon as he felt that something wasn't right with his hip during the Celtics' 2017 playoffs run, he should have stopped playing immediately. Instead, as multiple reports have chronicled, he gallantly played through it, possibly aggravating the injury in the process.
What he thought was best for his team at that time turned out to be the worst for him in the future.
Isaiah Thomas is a great guy. Madly loyal, courageous to a fault.
Unfortunately, in the brutal business of sports, sometimes good guys finish last.