CHICAGO - In the forty-one years since joining the NBA, the San Antonio Spurs have made the playoffs 36 times and 27 of the last 28 seasons, including 20 straight after drafting Tim Duncan in 1997.
After going through some lean years from the mid to late 80s, the Spurs have become an indomitable force that has annexed 22 division titles, hung six conference banners, and won five NBA championships.
Beginning with the glory years of David 'The Admiral' Robinson and throughout the magnificent Tim 'The Big Fundamental' Duncan era, the Spurs have created a model franchise built on the virtues of teamwork, consistency and selflessness.
This season, though, the Spurs' inspiring narrative changed into a ballad of dissatisfaction.
Injuries are a huge part of any team's regular season success, what with a grueling 82-game schedule from October to April. The Spurs certainly had more than their fair share as Tony Parker, Manu Ginobili, Danny Green, Rudy Gay and Kyle Anderson have missed a combined 92 games among them as of Sunday.
And then there's Kawhi Leonard.
The 6-foot-7 perennial All-Star has appeared in only nine games. Diagnosed with a right quadriceps tendinopathy, his injury has fractured the Spurs beyond broken bones and muscle aches. Cleared by team doctors to play, Kawhi has sought a second opinion outside of the organization and continues to rehab, insisting he's not ready.
Continue reading below ↓
Recommended Videos
Leonard, who becomes a free agent in 2019, is eligible for a max contract extension worth $217 million this July. And while it is absolutely his prerogative to protect his health and put himself in a position to safeguard that generational wealth, the process has created too much drama and unwanted attention for the usually stable and low-profile Spurs.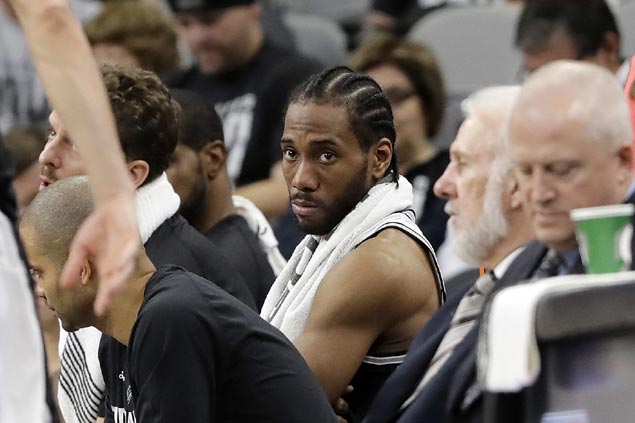 At full speed last season, Leonard averaged 25.5 points, 5.2 rebounds and 3.5 assists per. Without his productivity, the Spurs have had a rough campaign, so much so that their playoffs appearance streak was in serious peril. After losing to the Rockets, 109-93, on March 12, they plummeted to eighth place in the Western Conference and many were writing their obituary.
Not so fast.
The Spurs have won eight of their last 10, capped by Easter Sunday's 100-83 payback over the Rockets. They moved to fourth place in the West with a 45-32 slate, and with five games left in their schedule, San Antonio is poised to make its 21st straight playoff appearance.
Shooting a high 50.8 percent from the field, LaMarcus Aldridge is the biggest reason for the resurgence. He is averaging 23.1 points, 8.3 rebounds and 2.1 assists in 69 outings. He has carried the Spurs on his back on a nightly basis, including a career-high 45 points in a 124-120 overtime win over the Utah Jazz last March 23.
"If he has a cough or a cold, we're in trouble," Ginobili told ESPN when asked about how much Aldridge has meant to the team in these trying times.
Fat chance.
Spring is in the air. Flu season is over. Aldridge is in great shape, and so is the Spurs' playoffs streak.
COACH OF THE YEAR. Toronto's Dwane Casey is the front-runner for Coach of the Year for his incredible job of overhauling the Raptors' offense and leading them to the best record in the East with a 55-21 card. Nate McMillan will also get votes for Indiana's surprising turn, 46-31, fifth in the East.
Others in the running for the distinguished plum include Mike D'Antoni for making the Rockets the juggernaut they are and Brett Brown for overseeing the process in Philadelphia.
But Spurs coach Gregg Popovich should merit some consideration.
Though not known for having an inestimable charm, the usually cantankerous 69-year old tactician looks appealing with how he has juggled the pieces in his shortened bench, squeezing a lot of juice from veterans Pau Gasol and Rudy Gay while managing the minutes of the old and brittle backcourt of Parker and Ginobili.
His best feat, however, is minimizing the damage of the Kawhi Leonard fire that is raging in San Antonio.
And that is no small feat.