CHICAGO - Do not let the boyish good looks and charming demeanor fool you; beneath that sunny exterior lies a cold, assassin's heart.
Back in the 1985, while playing as a naturalized Pinoy, he led the Philippines to the Jones Cup title, In the championship game against the U.S team, one that required two overtimes to settle, he swished 43 points.
And the legend of Chip Engelland was born.
After retiring in 1992, Chip has stitched together another legendary run, this time in the NBA where is known as the The Shot Doctor, a clinician who can cure an ugly shot and emancipate a player from the shackles of bad mechanics.
Now in his 12th season with the San Antonio Spurs, he isn't just good as a teacher-mentor. He is brilliant.
According to a 2014 ESPN Grantland article, Kawhi Leonard made only 25 percent of his threes (41 of 164) during his two years at San Diego State University. But after joining the Spurs in 2011 and getting whispers from Engelland, Leonard has since dropped 418 of 1,066 triples, a 39.5 percent clip that is unbelievably stunning considering that the NBA 3-point line is three feet farther than the collegiate 3.
Continue reading below ↓
Recommended Videos
The key to Leonard's transformation was altering his release point, "shifting it from a spot over Leonard's head to one in front of his face."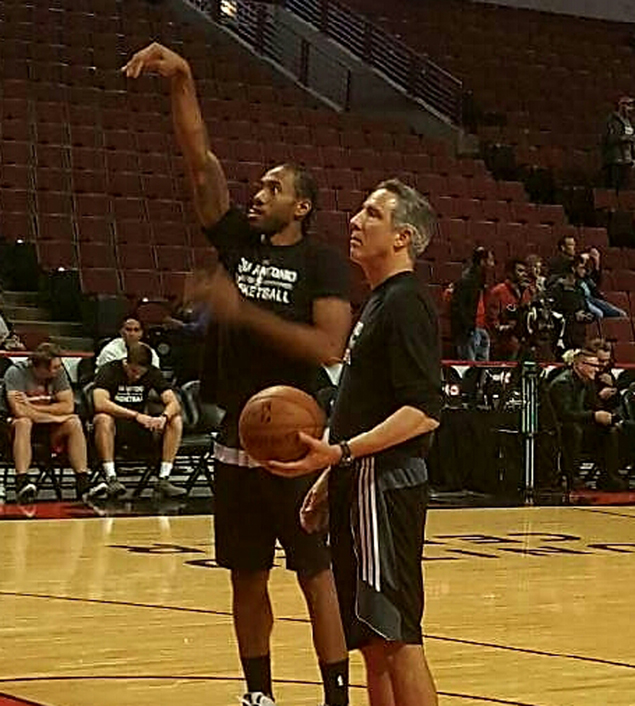 When the Spurs visited the Chicago Bulls at the United Center three days ago, I sat down with Chip and we talked about, among other things, his stint with the Philippine national team and Northern Cement of the PBA..
His fondest memory was being around the Filipino fans. "They were so supportive and welcoming. Very passionate about the sport." Chip last visited the Philippines in 2007 and he looks forward to going back soon.
"I can't tell you where I hung out," he continues with an impish smile. "But I can tell you, I drank a lot of San Miguel Beer."
He loved going to Sinugba restaurant and declared our sweet mango as his "favorite fruit in the whole world."
Chip spoke glowingly of the departed coach Ron Jacobs. He adored all his teammates, with special mention to Samboy Lim, Allan Caidic, Yves, Dignadice, Tonichi Yturri and the late Alfie Almario.
"I owe Hector Calma a lot of good dinners," he added laughing. "He set us all up!"
Chip is having the time of his life in San Antonio where a healthy democracy exists under the Gregg Popovich regime. "He is a great guy. He encourages everyone to speak their mind," Chip said.
Now 55, the 6-foot-4, 175-pound Engelland wants to stay with the Spurs for as long as he's needed. And why not, he is still quick on his feet and fit as a Marine.
Clearly, Machine Gun Chip has a lot left in the clip.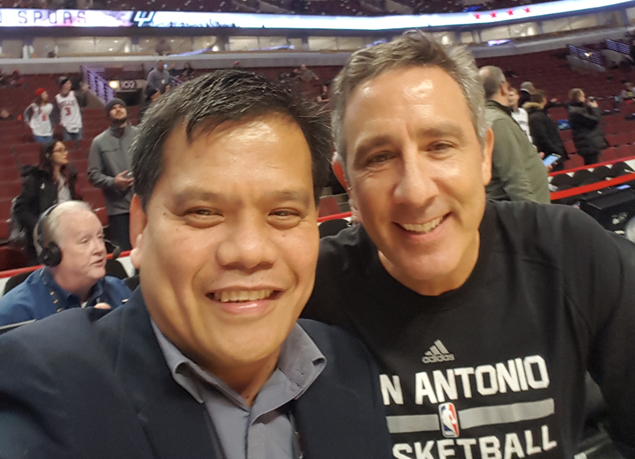 Postscript. Off the court, Engelland's greatest joy is being dad to sons Press and Path. For 13 years and going strong, he is happily married to Jessica Grunow.
While in high school at Pacific Palisades in California, Chip dated Jeannie Buss, co-owner and currently the president of the Los Angeles Lakers. Chip's first "patient" as a Shot Doctor was Steve Kerr, who reached out to Engelland after going through a shooting slump in the 1993-94 season.
NBA teams do not release assistant coaches' salaries but according to basketball-reference, assistant coaches are getting paid handsomely, somewhere in the province of $750,000 to $1 million a season.
A big thenk you to Tom James, Senior Director of Communications for the San Antonio Spurs, for making my interview with Chip possible. A couple seasons ago, Tom also helped me secure a few minutes with Tony Parker.