CLEVELAND - The No. 3 overall pick in the 1996 NBA rookie draft, he played 13 seasons in the league, showcasing his talents as a member of the Vancouver Grizzlies, Atlanta Hawks, Portland Trail Blazers and the Sacramento Kings.
When he hung up his sneakers in 2008, he had appeared in 830 games and averaged 18.1 points, 7.5 rebounds and 2.5 assists per game. Although he was voted as an All-Star just once (2002), the 2000 Olympics gold medalist was a terrific all-around player, versatile like baking soda.
So where is Shareef Abdur-Rahim these days?
Well, he is now an associate vice president for basketball operations in the NBA. Abdur-Rahim is an intellectual with impeccable academic credentials. Upon his retirement from the NBA, he returned to U.C. Berkley, one of the finest learning institutions in the United States.
He didn't just pick up a degree in sociology in 2012, he graduated with a grade point average of 3.8. Abdur-Rahim, according to his Wikipedia page, is currently pursuing his MBA at the prestigious University of Southern California (USC) School of Business.
We caught up with the former NBA great at an NBA Cares event on Friday at East Tech High here and he was gracious enough to grant us an interview.
Continue reading below ↓
Recommended Videos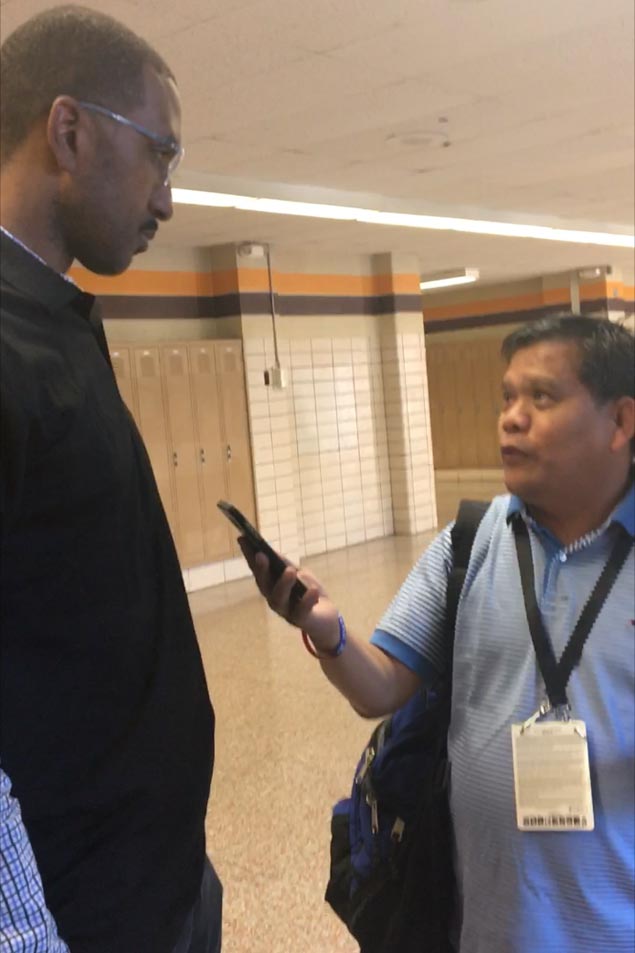 Among the questions I asked him was whether he was surprised by the new NBA where seven-footers like Kevin Durant now shoot 3s instead of camping in the low post. He was not surprised, saying that the NBA is filled with skilled players.
So is position-less basketball here to stay?
He thinks so, at least in the immediate future.
In the everlasting debate as to whether LeBron James is better than Michael Jordan, two players he had the good fortune of playing against, Abdur-Rahim was non-committal. He said comparing athletes from different eras is difficult. Each time he brings that "best ever" argument his dad would tell him, "have you seen Oscar Robertson play?"
Despite having made an estimated $95.8 million in NBA salaries, Abdur-Rahim decided to go back to college because "I want to continue to learn."
With his status as a former pro athlete and its attending celebrity, I wondered if that brought challenges when mingling with the student population.
"After one week," he says, "all that recognition goes away."
Bur for us hard-core NBA fans, the recognition that Abdur-Rahim was one of the best to play the game will linger for a long, long time.
Unlike some former ballers who have back and knee issues, Abdur-Rahim is not bent, still 6-foot-9 and standing straight as a flag pole. He was 225 pounds in his prime and he looked like he never gained excess pounds.
Abdur-Rahim is married to wife Delicia and they are blessed with a son and a daughter, Jabri and Samiyah, both of whom possess athletic genes and love basketball.
Of course.