SERGE Gabriel got a perfect birthday gift for himself when he watched the San Antonio Spurs play.
Gabriel will be celebrating his 27th birthday on Wednesday but his biggest treat came a week early when he travelled to San Antonio to watch the Spurs host the Oklahoma City Thunder at the AT&T Center.
During the game, he held up a sign saying, "Came here alone from the Philippines for my birthday to see the Spurs play." The sign didn't go unnoticed as the San Antonio Spurs social media team was able to spot Gabriel and posted his photo on social media.
That photo has generated nearly 9,000 shares on Facebook at posting time. Look: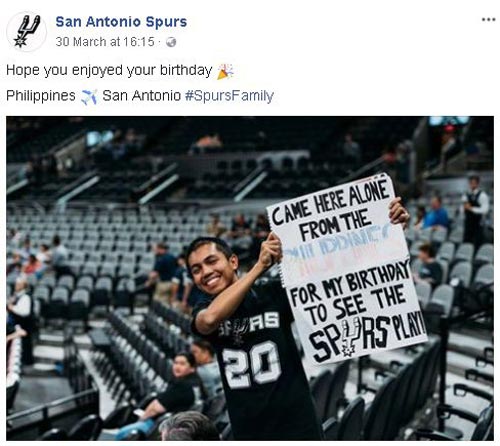 Continue reading below ↓
Recommended Videos
Gabriel said it has been his dream to watch the Spurs live since becoming a fan of the team back in the 2013 NBA Finals when San Antonio battled the Miami Heat. After watching Game Three where the Spurs hit 16 triples in the game to set what was then an NBA Finals record (which is now at 24, set by the Cleveland Cavaliers in Game Four of the 2017 NBA Finals), Gabriel was a die-hard Spurs fan.
"I was working during the 2013 NBA Finals and the TV just happened to be on. Danny Green, with Gary Neal and Manu Ginobili at the time, made so many three-pointers and I dropped what I was doing and started watching. The rest is history," said Gabriel.
Gabriel took a short flight to Hong Kong by his lonesome before travelling for 13 hours to New York. After a couple of days, he took another five-hour flight to San Antonio.
"I've never travelled alone and I've always been meaning to go so I saved up," said Gabriel.
Gabriel said he wanted to make the most out of the trip by making different fan signs; the one that he was spotted hoisting by the Spurs social media managers was just one of them.
"I watch the games from home and follow the Spurs' social media pages. A lot of people make a lot of signs so I wanted to make one, too. I actually made one for most of the players, Manu, Tony [Parker], Danny, Dejounte [Murray], Bryn [Forbes], etc. even retired ones like George Gervin, Matt Bonner, Tim Duncan, and David Robinson. I wanted to make the most of the trip," said Gabriel.
The sign also didn't escape the attention of Ginobili, his favorite player.
"Apart from the game itself, I won't forget that Manu Ginobili saw my birthday sign and told me to come up to him. He didn't even know I was from the Philippines and he still asked me to come up. He's one of my favorite players and even more now because he was so nice," said Gabriel.
"Everything was incredible."
Gabriel saw for himself how the team values its supporters particularly those from overseas, giving him one more major reason to love his Spurs even more.
"People go around taking pictures during the game. At the AT&T Center, I actually met a couple who came from Taiwan just to watch Manu Ginobili. They got their picture taken also along with a lot of Argentinian fans.
"I think it goes without saying the Spurs have a lot of international fans because they're a very international team. Their social media features a lot of them and I'm really grateful and honored to be part of it," said Gabriel.