SAN ANTONIO - November 3 turned out to be special for the San Antonio Spurs, who handled the visiting Charlotte Hornets, 108-101, at the AT&T Center.
Besides the joy of seeing their team back to its winning ways after a four-game losing streak, the sold-out crowd, especially the Filipino contingent had something else to be joyful for.
The Spurs-Hornets tiff marked the first ever Filipino Heritage Night, an event celebrated by more than 200 Filipino-Americans and their friends who share the same deep passion for Spurs. 
The Pinoy fans in the arena were allowed to watch the pregame shootaround from courtside and special T-shirts were handed out to commemorate the memorable evening.
There were opportunities to take pictures with the the Spurs' five Larry O'Brien gold trophies NBA gold trophies as well as photo-ops with championship banners and the Silver Dances. one of whom has Filipino roots.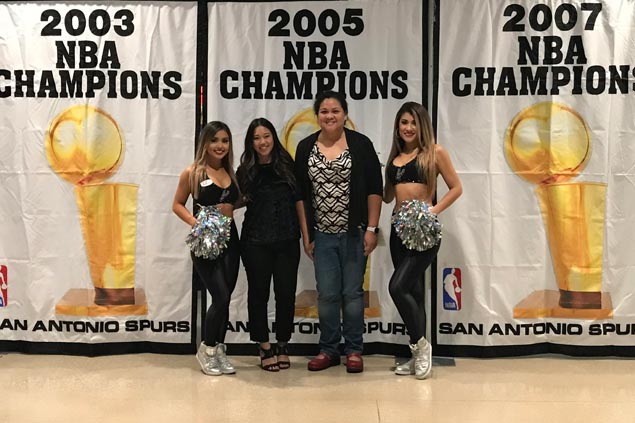 With everyone decked out in Spurs paraphernalia, Filipino pride and community was evident as attendees mingled about amongst one another on the concourse before doors opened for the main event.
The Spurs, who have since won two more games to improve to 7-4 in the standings, hope to continue celebrating the Filipinos' love of basketball with future events. 
There is a strong Filipino presence within the Spurs organization, including in leadership where Tanya Navalta serves as the associate manager of internal communications and engagement. 
Spurs assistant coach Chip Engelland is also a naturalized Filipino who played for the Philippine team in the eighties.
Navalta is proud of her heritage and Filipino hospitality is evident in the way the Spurs Sports and Entertainment family cared for the crowd at the AT&T Center. 
"It was so exciting to see the San Antonio Filipino community come together for the first-ever Filipino Heritage Night. The Spurs have an incredible following in the Philippines, so it was thrilling to rally the local Filipinos to enjoy a night of camaraderie and love of basketball. We hope to grow this special experience in the future," Navalta said.