CHICAGO - When the Cleveland Cavaliers - unimaginably broken and dying slowly on the front steps of the Quicken Loans Arena - pulled off multiple trades during last week's frenzied trading deadline I chose to withhold judgment.
The proof of the pudding, as the adage says, is in the eating.
But in the two games since Jordan Clarkson, Larry Nance Jr., George Hill and Rodney Hood joined the Cavaliers, their collective impact has been quick and satisfying, like instant mami noodles soothing the pangs of a hungry stomach.
In their first game together last Monday, the New Four combined for 49 points, 15 rebounds and five assists as the Cavaliers abused the Celtics like unloved stepchildren, winning a 121-99 laugher at the TD Garden in Boston. Two nights later in Oklahoma City, Clarkson and company combined for 50 points, 15 rebounds and 10 assists as Cleveland silenced the Thunder, 120-112.
What a difference a week makes. Before the trading deadline, the Cavs barely had a pulse, losing 13 of their last 19 games. After the purge in which they shed their roster of unwanted parts - Isaiah Thomas, Dwyane Wade, Derrick Rose, Jae Crowder, Iman Shumpert and Channing Frye - Cleveland has won three in a row.
Continue reading below ↓
Recommended Videos
At the center of the resurgence lies Jordan Clarkson. who has been especially good with 31 points, six rebounds and five dimes in two road games.
Unlike the 5-foot-9 malcontent that was Thomas, Jordan is a loyal and blissful baller who has the size (6-foot-5, 194 pounds) and the quickness to defend the pick-and-roll
Unlike the 36-year old relic that was Wade, a crumbling monument of a passing era, Clarkson is a more valuable commodity in today's new NBA, a willing and able three-point shooter who can space the floor for the rumbling freight train that is LeBron James.
Unlike the sadly broken Rose, a former Rookie of the Year and NBA MVP whose greatness was taken from him through a plethora of injuries, Jordan is healthy 25-year old who can be can relied upon during meaningful stretches at crunch time.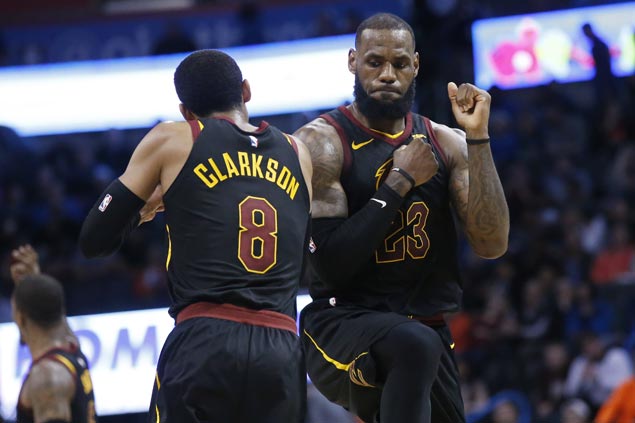 Clarkson is a well-traveled young man who grew up in Texas, played college ball in Missouri, turned pro in Los Angeles, and most recently, modeled in Italy where he looked absolutely fetching in casual but expensive Fendi clothing. Yet here he is now, of all places, in Cleveland poised to be an NBA star.
Is he ready? Can he play with the demanding and often overwhelming King? Will he thrive in Cleveland, a sleepy outpost compared to glitzy El-Ay where he hobnobbed with celebrities and had engaged in what US Weekly described as a "fun fling" with the drop-dead gorgeous Kendall Jenner of Kardashian fame?
The answers are Yes. Yes. And, hell, yes.
Jordan isn't just ready. He has arrived. In 53 games with the Lakers this season, he averaged 14.5 points, three rebounds and 3.3 assists per while hitting 44.8 percent of his field goals. Prior to last week's trade, Clarkson has scored 732 points off the bench, second only to the 813 by Lou Williams, the super sub for the Los Angeles Clippers who may well be on his way to a third Sixth Man of the Year award.
Jordan had the good fortune of playing with Kobe Bryant for a few seasons. Playing with LeBron, who possesses the same competitive fire and venom as the Black Mamba, will be easy as Sunday morning.
As far as leaving L.A. is concerned, that, too, is covered. "Wherever I am, I want to be productive. It's a business, you're either going to be here or you ain't," the 25-year old Filipino-American told the Los Angeles Times last November 12 while addressing trade rumors.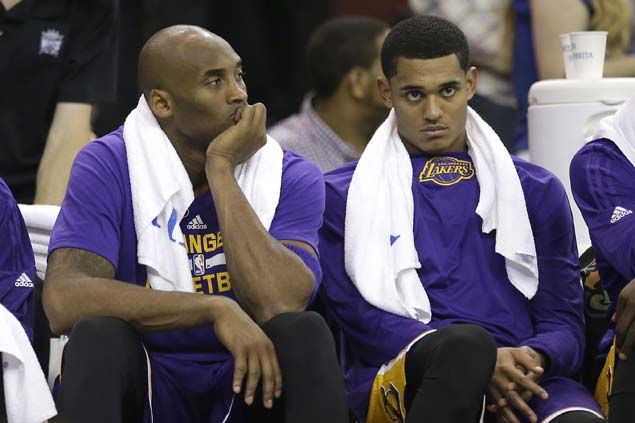 With Clarkson and Co. in town, things are so good in Cleveland these days that LeBron is actually smiling again. Coach Tyronn Lue is happy. The whole team is energized. There's plenty of oxygen and the revved up fans are looking forward to the playoffs, where the real party begins.
I used to think that the Celtics will win the East this year. But when the under-appreciated Toronto Raptors kept winning to a point where they have actually overtaken Boston by three games, I believed that those dudes up north might just do it.
I don't think so anymore. I'm currently riding the Cavaliers bandwagon and from this vantage point, all I see - very clearly - is a wide-open path to the NBA Finals, the team's fourth straight trip and LeBron's eighth consecutive appearance.
DADDY KNOWS BEST. Mike Clarkson is a smart and stern Air Force man who survived cancer against nearly impossible odds. His son is cut from the same cloth where the fabric is thick with toughness and resilience. And that is why Jordan will handle his career transition with remarkable ease.
"Awesome opportunity for Jordan. Happy for him," Mike told me via Facebook days after the trade. "He's earned and deserves the opportunity to allow his talent to shine."
Mike isn't sweating a trickle about his son being shipped to a different place.
"Jordan was prepped in his early years about being able to perform without having his parents in the stands. I taught him regardless of what sport you're participating in, your focus should never be on the spectators nor the fans in the stands. All your focus and energy should be directed to your coaches and teammates. When he went away, he was ready for the adjustment required to be a good college athlete. As a result, he excelled," Mike said.
Jordan was a nationally-ranked sprinter (100, 200 and 400 meters) while competing at AAU track and field, Mike tells me, his pride beating palpably with every texted word.
Over a dozen years after blitzing through the competition, Jordan is still running. But this time, he isn't running against gazelles wearing skin-tight track suits and ultra-light shoes. He isn't running against a ticking, unforgiving clock. And he isn't running against the wind.
Jordan is just running, one purposeful stride after another. He's running in his own measured pace, straight toward a glorious niche in the NBA, and perhaps even stardom.
And it is all so beautiful to watch.