DENVER — Duncan Robinson flexed and then flashed his mean face after a cutting layup.
No disrespect meant. The Miami Heat forward was just having a little fun in the fourth quarter.
Because for the opening three, Robinson hadn't taken a single shot. Turns out, he was simply saving his best for when his team needed him most.
Over a nearly two-minute spurt in the fourth quarter, Robinson scored all of his 10 points to spark a rally that sent the Heat to a 111-108 victory over the Denver Nuggets on Sunday night (Monday, Manila time) in Game Two of the NBA Finals.
Robinson's surge helped turn an 83-75 deficit into an 88-85 lead that Miami wouldn't relinquish in tying the series at one game apiece.
"I surprised myself with the fact that I pulled that one out," Robinson said about his spur-of-the-moment pose. "Mostly just try to play with a certain level of joy. I feel like I play my best when I'm having fun."
ADVERTISEMENT - CONTINUE READING BELOW ↓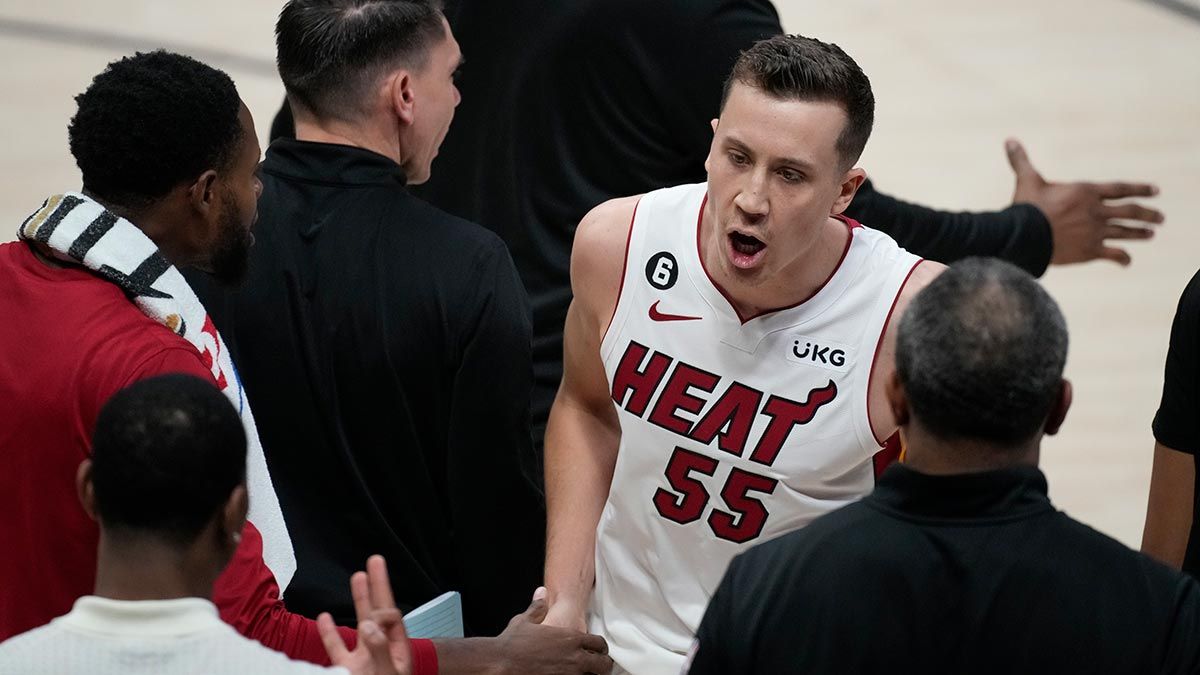 Robinson's line through three quarters was nearly seven minutes of play and a whole bunch of zeroes — zero shots, zero rebounds, zero assists. He did have one foul.
But in the fourth, he was 4 of 5, including two 3-pointers, to help the Heat do something no other team has done this postseason — beat the Nuggets at home.
"He can be one of those guys who just breaks a game open," said Heat forward Kevin Love, who started Game Two, scoring six points and grabbing 10 rebounds, after not playing a minute in Game Two. "We've seen that from him throughout these playoffs. His consistency and confidence has been there."
Robinson had a forgettable Game One when he went 1 for 6 from the floor. He just kept his cool and didn't read too much into one poor shooting performance.
He had a streaky series against Boston in the Eastern Conference finals, too. In Game Three of that series, he had 22, then two in Game Four and 18 in Game Five.
That's been his season in a nutshell. He's been in and out of the rotation all season.
"He does a lot of things that people don't know he has," Love explained. "They see him as a shooter, but he is cutting to the hoop, he's putting the ball on the floor, he's hitting a drop pass to Bam (Adebayo) and he's using his size to get to the rim on those cuts and put the ball down.
ADVERTISEMENT - CONTINUE READING BELOW ↓
"It's a beautiful thing to see. We needed all of those contributions tonight."
Max Strus chipped in early, with four 3-pointers in the first quarter. This after going 0 for 10 in Game 1.
Robinson took it from there in the fourth.
"Just trying to play with a certain level of aggressiveness on offense, just to at least be out there and have my presence felt," Robinson said. "Obviously, it helps when the ball goes in, which you can't always control. But just really about taking the right shots and just being aggressive."
Get more of the latest sports news & updates on SPIN.ph