MINNEAPOLIS - There are a million ways to get a heartache in basketball.
An uncontested gimme under the basket always hurts, while a missed free throw at a crucial stretch, or a costly turnover late has sank so many dreams. Made Hail Mary heaves have also ruined countless best-laid plans.
But nothing stings more than a disputed, controversial call from a referee.
The latest to suffer such fate were the Auburn University Tigers, whose quest for a first-ever NCAA title died at the doorstep of the Final Four, no thanks to a whistle that didn't blow when it should have, a whistle that blew when it probably shouldn't have.
Up 62-60 with seven seconds to go, the fifth-seeded Tigers were poised to score a huge upset over the No. 1-ranked University of Virginia Cavaliers. But a missed double dribble call on Virginia's Ty Jones in the final 1.5 seconds, and whistled foul by Samir Doughty on Kyle Guy's errant 3-point attempt with 0.6 to go, doomed Auburn.
Had the referees seen the double dribble infraction, Auburn would be participants in Tuesday's [Manila time] national championship against the No. 3 Texas Tech Raiders, who demolished No. 2 Michigan State Spartans, 61-51, in the first semifinal.
Instead, the Tigers will be jilted, crest-fallen spectators.
We are not portraying refs as villains here, we are merely, maybe hopelessly, trying to champion the established norm wherein those who are actually wearing jerseys must decide a game's outcome, not those dudes clad in zebra stripes.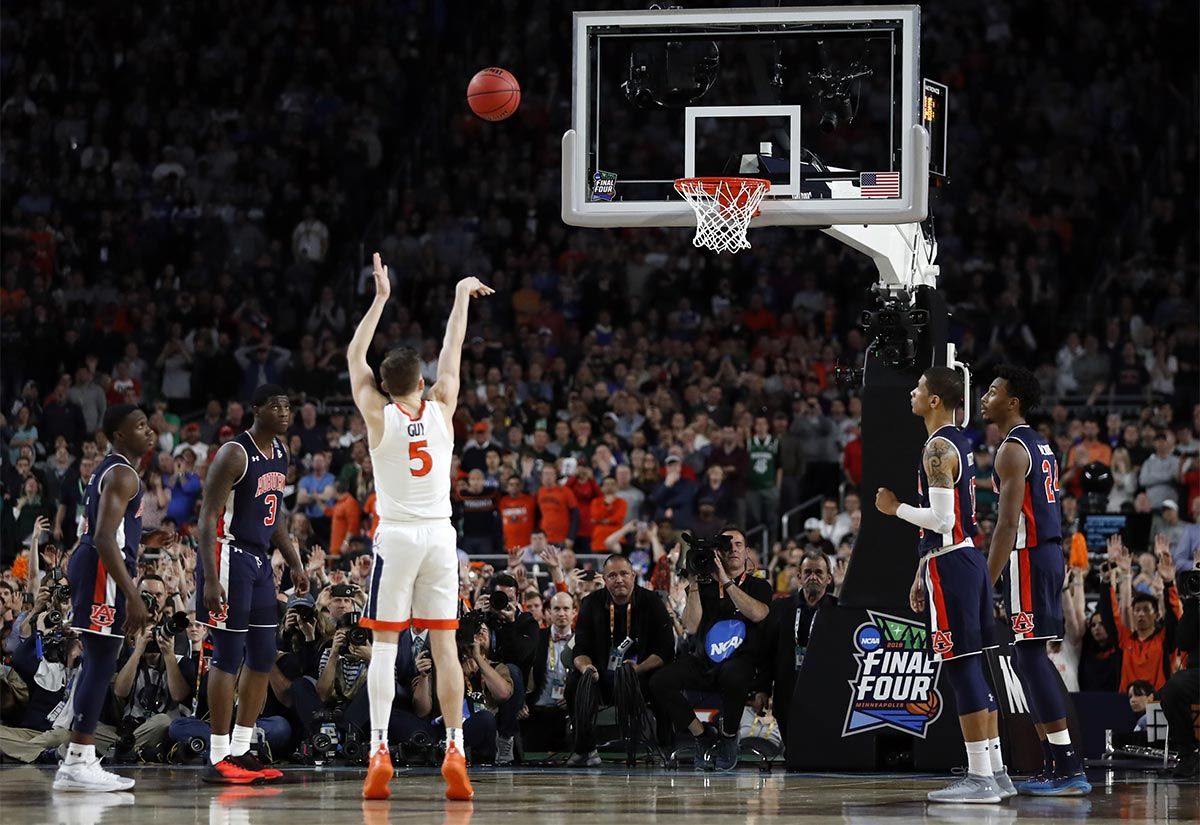 Fouled or not, credit goes to Guy, who swished three straight free throws to provide the winning 63-62 margin under immense pressure. A 6-foot-2 junior, guard, he averaged 82.5 percent at the free throw line in 37 games this season.
Statistically, there was plenty of room to clunk one, perhaps two. But he didn't. Not in the game of his life.
"I practiced that. I just literally told myself that we dream of these moments, and to make that one happen was special," Guy told ESPN.
The ref who made the call - James Breeding - was in a tough spot. Vilified by Auburn fans for making what he thought was the correct judgment, he would have been crucified by Virginia's faithful had he chosen to swallow his whistle and ignore the incidental contact.
Was it a foul, though, and should it have been whistled at that stage in the game?
Yes and yes.
Despite his honest intentions, Auburn's Doughty encroached on Guy's "vertical plane," the NCAA's technical committee said in a statement defending Breeding's call.
Officiating cannot be selective. It must whistle a perceived foul at any point of the contest, regardless of the time and score. Consistency, along with courage and common sense, are the hallmarks of a good referee.
Although I was rooting hard and heavy for Auburn, the alma mater of NBA legend Charles Barkley, I have nothing but praise for Brooding. It took balls to blow that darn whistle knowing what was at stake on both sides.
Even Barkley, who is commentating on college basketball's biggest stage for Turner Broadcasting Station (TBS), set aside his personal bias and didn't question Breeding's whistle. The Hall of Fame forward and former NBA MVP regretted his team's missed opportunities and praised Guy for making those game-winning free throws.
It's sad to see an epic showdown end like this, but at the end of the day, nothing was stolen here. Nobody got robbed. The Tigers didn't suffer from an unfair ref, they simply succumbed to a just, but unkind whistle.
Auburn didn't lose this semifinal on Guy's three freebies. The Tigers, who stormed from a 57-48 deficit at the 5:03 mark of the second half, lost it because they couldn't hold on to a 61-57 lead with a mere 17 seconds to play.
If blame were to be assigned here, Snow White has the answer. Mirror, mirror on the wall......
Last year, Virginia, then also ranked No. 1 in the South Regional, lost to No. 16 University of Maryland-Baltimore County (UMBC). The Cavaliers were the first-ever top seed to lose to a No. 16 seed in 136 games.
And it wasn't just a nail-biter, it was a cruel 74-54 crushing at the hands of a team that was ranked 188th overall in the United States.
Apparently, the failure made the Virginia Cavaliers stronger, not weaker.
After finishing this regular season at 34-3, coach Tony Bennett's kids are on a whirlwind redemption tour. And they're one game and 40 minutes away from claiming the ultimate prize, which also happens to be the school's first-ever basketball championship.
Maybe it's destiny. Maybe the basketball gods want to atone for the misery of last year's debacle.
Maybe, just maybe. This one is all meant to be.
POV,Zoom In