BAGUIO CITY - Russel Westbrook has been churning out one triple double after another in the NBA this season.
Anybody certainly can do it, according to the man who routinely did the same thing in the PBA more than three decades ago. All it needs is hardwork and a lot of basketball knowledge.
The great Ramon Fernandez said producing a triple double like what regularly he did during his playing years - and what like Westbrook has been doing now - is not that hard especially if one is willing to make his teammates look good.
"Sipag lang yan. Ang prinsipyo ko kasi para makuha ko ang respeto ng mga teammates ko, kailangan iinvolve mo sila," Fernandez related to SPIN.ph prior to leaving for a trip to Cebu City.
"If I wanted to, I could have scored 30 or 35 points a game, pero yung mga kasama ko tatamarin siyempre yun dahil di makakahawak ng bola masyado," he said. "But if you make an assist, two points din yan sa akin. Yung points na nakukuha sa assist is the same na ako ang tumira.
ADVERTISEMENT - CONTINUE READING BELOW ↓
"So kung mapa-shoot ko yung kakampi ko, matutuwa sa akin yun. Pag sinabi kong depensa tayo, dedepensa na yan."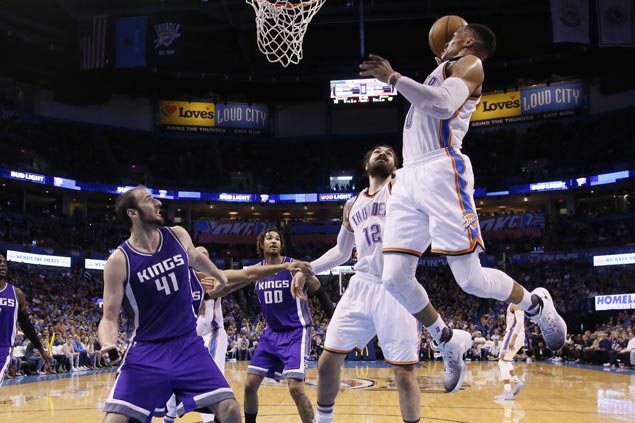 Westbrook on Saturday (Manila time) posted another triple double when he had 32 points, 15 rebounds, and 12 assists in the Oklahoma Thunder's 95-100 loss at home to the San Antonio Spurs.
ADVERTISEMENT - CONTINUE READING BELOW ↓
It was the 39th triple double of the season by the do-it-all guard as he zeroes in on the all-time record of 41 established by Hall of Famer Oscar Robertson during the 1961-62 season.
Unfortunately for Fernandez, no record of his number of triple doubles was kept by the PBA, according to resident statistician Fidel Mangonon III.
As per his memory, Mangonon recalled the 63-year-old Fernandez had around 24 to 25 triple doubles during the 1984 season when he played for Beer Hausen.
'El Presidente' almost finished with a triple double average that season with his 27.8 points, 11.17 rebounds, and 9.9 assists a game.
Fernandez has not been watching NBA games of late owing to his busy schedule as commissioner of the Philippine Sports Commission (PSC). But he is aware of how Westbrook has been making a buzz in the league today behind his triple double numbers.
[See At current pace, Fajardo has shot at breaking Fernandez's rebounds record. But all-time scoring mark is out of the question]
ADVERTISEMENT - CONTINUE READING BELOW ↓
The four-time league MVP also said it is normal that Westbrook has been committing a lot of turnovers despite averaging in triple double.
"Natural yun, kasi nasa iyo ang bola pirmi," said the product of San Carlos University. "Kagaya ko nun, muntik ako mag quadruple double kasi almost eight turnovers ako. But that's part of it."
Fernandez would rather not comment when asked why triple doubles are rare among local players in the PBA today.
Again, Fernandez said any player is capable of doing it during the course of a game.
"Creativity," when asked what makes a player needs to pull off the feat. "And it's also about basketball IQ, at least a great part of it."
Fernandez said triple-double performances make not just one player but an entire team look good.
"It makes everybody happy, it makes everybody look good, it makes everybody involved, " he pointed out. "Hindi lang ikaw ang sikat, yung whole team ang sikat. Yun ang pinaka simpleng formula dun."
ADVERTISEMENT - CONTINUE READING BELOW ↓