THE NBA Playoffs begin on Saturday (Sunday, Manila time) and there's more to watch than the thrilling match-up between top MVP candidates Russell Westbrook and James Harden in the first-round clash of the Houston Rockets and Oklahoma City Thunder.
Other intriguing face-offs and storylines are in store for basketball fans to witness unfold as intense postseason action begins for each playoff team's quest for the NBA title. What to watch and to expect in each first round series? Here's a quick guide:
EASTERN CONFERENCE
No. 1 BOSTON CELTICS (53-29) vs. No. 8 CHICAGO BULLS (41-41)
Season series: Split, 2-2.
Story line: It's Boston's first time as the No. 1 seed in the East since 2008 — which was also the last time the Celtics hoisted the Larry O'Brien Trophy to end the season. And the Bulls, who seemed seriously dysfunctional at times this season, now get new life and a chance to enjoy Dwyane Wade's playoff savvy.
ADVERTISEMENT - CONTINUE READING BELOW ↓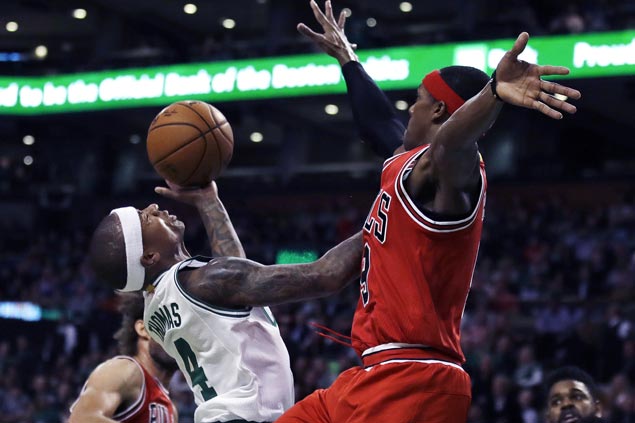 Key Matchup: Isaiah Thomas vs. Rajon Rondo. Thomas got his points in the regular season (averaging 24.8 vs. the Bulls), but the matchup will be crucial between the new Celtics star and the last point guard to take the Celtics to a title.
Prediction: Celtics in 6.
___
No. 2 CLEVELAND CAVALIERS (51-31) vs. No. 7 INDIANA PACERS (42-40)
ADVERTISEMENT - CONTINUE READING BELOW ↓
Season series: Cavaliers, 3-1.
Story line: LeBron James starts his bid for a seventh consecutive trip to the NBA Finals, and will meet the Pacers in the playoffs for the fourth time in that span. The defending champions went 23-23 in their last 46 games, tied for the 15th-best record during that stretch. Can they flip the switch, or does Indiana bask in playing with nothing to lose?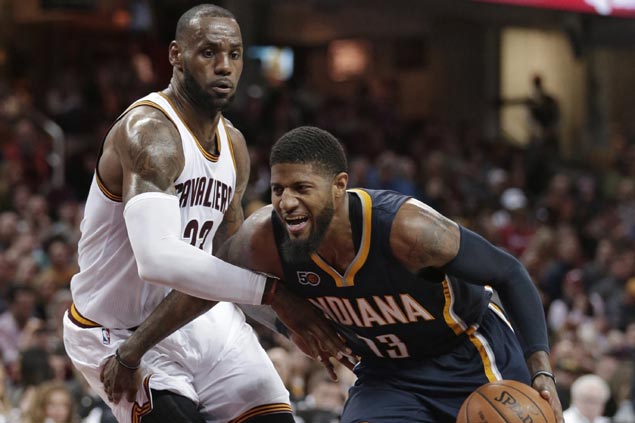 ADVERTISEMENT - CONTINUE READING BELOW ↓
Key matchup: James vs. Paul George. They may not guard each other much, but it's no secret that Indiana's most logical path to an upset is for George to get hot and stay hot. He'll likely have to match James' production for the Pacers to have a real chance.
Prediction: Cavaliers in 5.
___
No. 3 TORONTO RAPTORS (51-31) vs. No. 6 MILWAUKEE BUCKS (42-40)
Season series: Raptors, 3-1.
Story line: Toronto reached the East finals last season, have Kyle Lowry back from a second-half wrist injury and a likely All-NBA performer in DeMar DeRozan. They know what the playoffs lights are like. Milwaukee All-Star Giannis Antetokounmpo is going to get his first taste of the postseason, and he'll have to adjust quickly.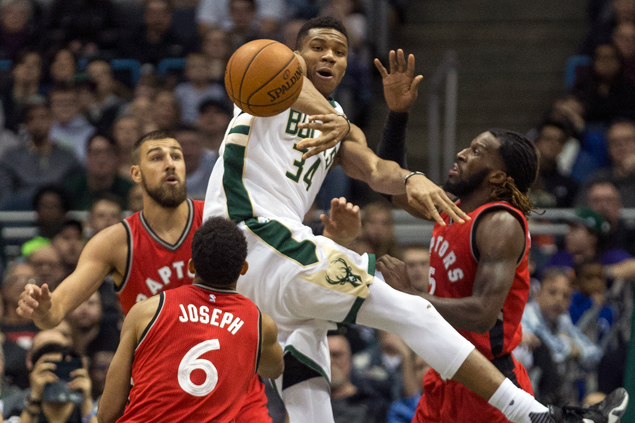 ADVERTISEMENT - CONTINUE READING BELOW ↓
Key matchup: Who guards Antetokounmpo? Probably a handful of Raptors will be involved, and that's the matchup to watch. If the Greek Freak gets on a roll, Toronto could have issues. Contain him, and the Raptors shouldn't have much problem getting to the second round.
Prediction: Raptors in 6.
___
No. 4 WASHINGTON WIZARDS (49-33) vs. No. 5 ATLANTA HAWKS (43-39)
Season series: Wizards, 3-1.
Story line: Washington was a great comeback story this season, shaking off a 2-8 start like it never happened and putting together the best regular season for the franchise in nearly 40 years. Atlanta is looking for a third consecutive trip to the second round, and finished the season on an uptick after a seven-game slide in March.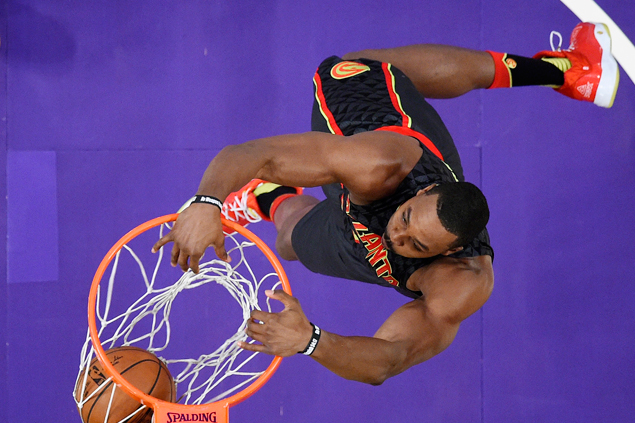 ADVERTISEMENT - CONTINUE READING BELOW ↓
Key matchup: How the Wizards guard Dwight Howard. Washington knows it won't have Ian Mahinmi to start the series because of a strained calf, and his 6-foot-11 frame will be sorely missed.
Prediction: Wizards in 7.
___
No. 1 GOLDEN STATE WARRIORS (67-15) vs. No. 8 PORTLAND TRAIL BLAZERS (41-41)
Season series: Warriors, 4-0.
Story line: With Kevin Durant back and healthy, Golden State's quest to get to a third straight NBA Finals begins against an opponent it dominated this season. Golden State averaged 125 points and had its biggest win ever over Portland with a 135-90 rout on Dec. 17. But all the games were before the All-Star break, and the Trail Blazers played their best basketball after that.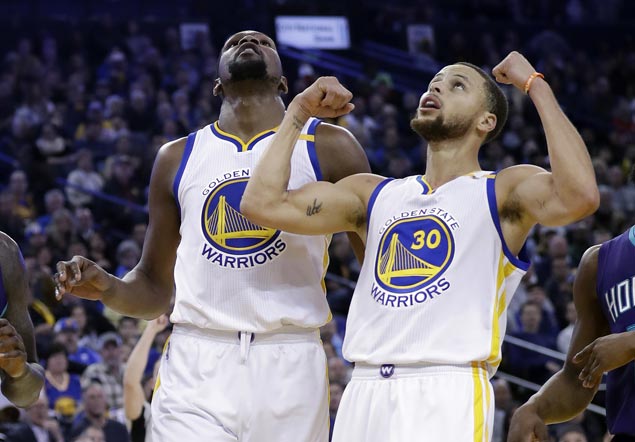 ADVERTISEMENT - CONTINUE READING BELOW ↓
Key Matchup: Stephen Curry and Klay Thompson vs. Damian Lillard and CJ McCollum. Perhaps the best backcourts in the West go head-to-head. All four guards are capable of putting up huge numbers, but Portland's probably can't afford any bad nights given how much more help the Warriors' duo has.
Prediction: Warriors in 5.
___
No. 2 SAN ANTONIO SPURS (61-21) vs. No. 7 MEMPHIS GRIZZLIES (43-39)
Season series: Split, 2-2
Story line: This is the fifth time these teams have met in the playoffs in the last 13 years, so the familiarity is there. The Spurs have kept rolling along after Tim Duncan's retirement, getting an MVP-caliber season from Kawhi Leonard and another masterful coaching job from Gregg Popovich to win 61 games. But the Grizzlies are no easy out. They held the Spurs to 90.5 points and 43 percent shooting in their four meetings this season. It will be a dogfight.
ADVERTISEMENT - CONTINUE READING BELOW ↓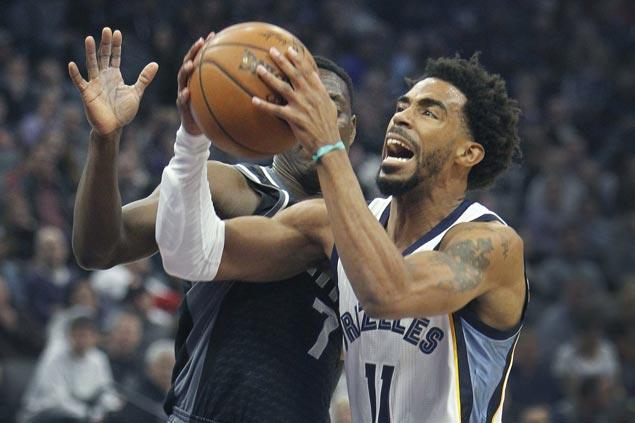 Key Matchup: Tony Parker vs. Mike Conley. Even though he's past his prime, Parker remains integral to the Spurs' chances for a deep playoff run. If Conley can dominate the matchup, Spurs could have their hands full.
Prediction: Spurs in 5.
___
No. 3 HOUSTON ROCKETS (55-27) vs. No. 6 OKLAHOMA CITY THUNDER (47-35)
ADVERTISEMENT - CONTINUE READING BELOW ↓
Season series: Rockets, 3-1.
Story line: Only the most intriguing matchup of the first round. Houston's James Harden and OKC's Russell Westbrook, former teammates with the Thunder, are the two leading candidates in an air-tight MVP race. Each have put together historic offensive seasons to carry their teams to unexpected finishes, Harden helping the Rockets rebound from a massively disappointing season last year and Westbrook single-handedly allowing the Thunder to move past Kevin Durant's departure last summer.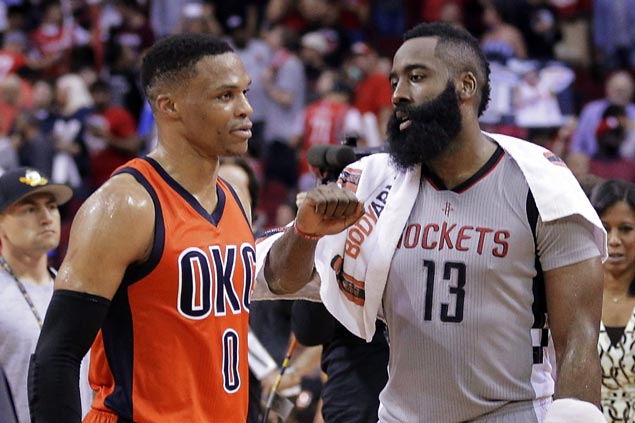 ADVERTISEMENT - CONTINUE READING BELOW ↓
Key Matchup: Harden vs. Westbrook. Westbrook owns a decided statistical advantage in the series this season, averaging 36.3 points, 9.3 assists and 9.0 rebounds while shooting 44.7 percent from the field. Harden averaged 20.5 points, 12.3 assists and 7.3 rebounds while shooting 34.3 percent, but won three of the four games.
Prediction: Rockets in 7.
___
NO. 4 LOS ANGELES CLIPPERS (51-31) vs. No. 5 UTAH JAZZ (51-31).
Season series: Clippers, 3-1.
Story line: Same as the last few years with the Clippers, only with a little more urgency now given that Chris Paul and Blake Griffin can become free agents. Are they good enough to make a deep run in the West, and will the core of their team be broken up if they don't? Their three victories over rising Utah gave them the season series tiebreaker and home-court advantage in this.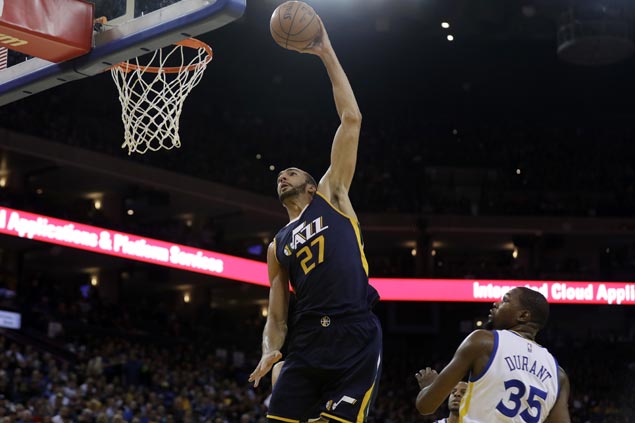 ADVERTISEMENT - CONTINUE READING BELOW ↓
Key Matchup: DeAndre Jordan vs. Rudy Gobert. Gobert is the dominant man in the middle and potential defensive player of the year for a Jazz team that allowed an NBA-low 96.8 points per game this season. But he can't roam around the paint too much and ignore Jordan, who turned Paul's passes into a 71.4 percent field goal shooting mark that led the league.
Prediction: Clippers in 7.