OAKLAND – The Golden State Warriors are just one of very few NBA teams that hold a "Filipino Heritage Night" during one of their home games as a gesture of appreciation for the support Filipinos here in the Bay Area and beyond have given to Dub Nation.
 On Tuesday, the strong Filipino fan base gave that love back by coming in full force when the Warriors celebrated their back-to-back NBA titles on the confetti-filled streets of downtown Oakland.  
Alexandra "Yani" Canton, an Alameda resident who works at a health care facility, took the day off to witness what has now been almost an annual rite of June as the Warriors celebrated their third championship in four years. Yani, who has been in the U.S. the last dozen years, found a sweet spot at 6 a.m. and watched the celebration unfold. 
With school out, Sim Delegencia, 46, and his family decided to attend the parade and honor their hardcourt heroes. The Delegencias are originally from Cagayan De Oro and now call Fremont, California home.
Sally Ortiz, Raquel Villafuerte, and Yolly Lomboy took the BART (Bay Area Rapid Transit) from South San Francisco to Oakland to avoid the heavy traffic and road closures. They all have roots from Caloocan City and share a deep passion for Warriors basketball. Sally works for the city of Oakland and her office building is located along the parade route along Broadway street.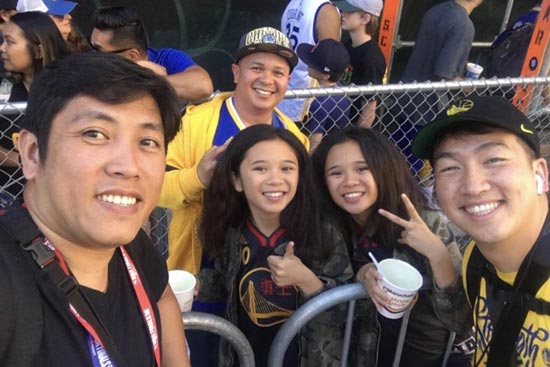 The Warriors scrapped the usual speeches that were made at a stage at the end of the parade. Instead, a televised pre-game show was held at the staging area and players talked about the victorious season.
There was no estimate on the size of the crowd but The San Francisco Chronicle reported that "The crowd was just as loud as 2015 or 2017. It compared favorably to the massive parades we witnessed when the (San Francisco) Giants also won three World Series titles. By all accounts, the Bay Area loves a parade."
And there could be many more coming.
"I never really imagined that we would be having one parade, let alone two and now three.....We're going to try and get greedy and go get some more," Steph Curry told the adoring crowd.