CLEVELAND - When I first came here to cover the 2007 NBA Finals, I was mesmerized by a 110-foot high by 212-foot wide billboard at the Sherwin-Williams building on Ontario street just across the Quicken Loans Arena.
It featured a gigantic image of LeBron James, then the focus of Nike's "Witness" campaign that heralded the King's arrival in pro basketball's grandest stage. That year, I had the honor of witnessing the San Antonio Spurs sweep the Cleveland Cavaliers.
I'm back in Cavs country, 10 years older, 27 pounds heavier, increasingly more cantankerous and still madly in love with the greatest three letters in sports - NBA.
"What a difference a day makes," so says a song. Can you imagine a whole decade?
In that '07 Finals, two of the modern traveler's tools did not exist -- Uber and Air BnB. I was on Friendster not Facebook. I had a dumb flip phone instead of a smart Samsung Note 5 and my laptop was huge and bulky.
Also, I didn't have an iPad back then. The only tablets I carried were Tylenol and Imodium,
Through all the pleasant changes, LeBron's mammoth reflection remains relevant and captivating. It looms above the same high-rise by Ontario street, bigger and louder than ever before.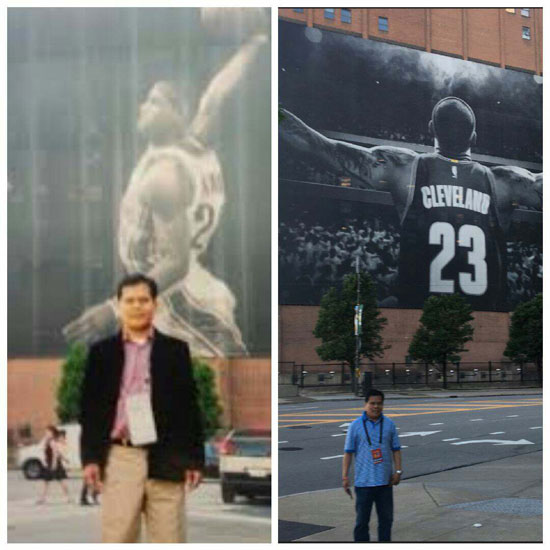 Unlike 2007, there is no sweep this time around. But there will be no Game 6, either. The Golden State Warriors, clearly the more superior team with Kevin Durant leading the charge, will handle their business at home after losing Game 4 at the Q and failing to become the first NBA team ever to navigate the entire playoffs without a single loss.
But I'm not holding my breath waiting for a Cavs comeback similar to last season to happen.
Meanwhile, allow me to look back at the acquaintances I made and rediscovered during my Cleveland stop, connections that made my 2017 Finals coverage more exciting.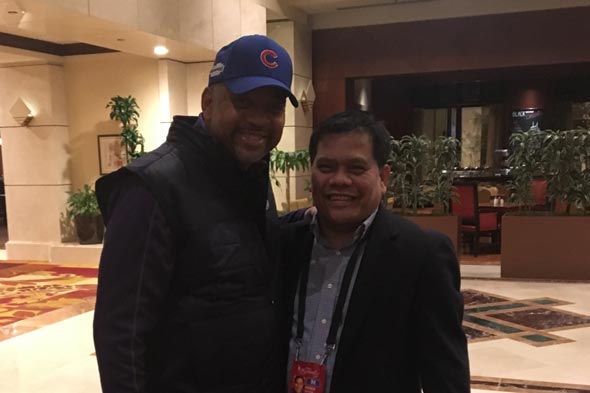 MIKE WILBON. I first met Mike in June 2002 at The Pyramid in Memphis, Tennessee where we both covered the epic Mike Tyson versus Lennox Lewis fight. Manny Pacquiao was the featured main undercard, blasting Jorge Elicier Julio in two savagely brutal rounds.
A former Washington Post columnist, Wilbon is currently the co-star of ESPN's ratings juggernaut 'Pardon the Interruption' alongside the laconic Tony Kornheiser. At the Marriott lobby on Public Square, Mike and I talked about Pacquiao's upcoming July 2 fight in distant Australia.
JEFF VAN GUNDY. Easily the best color commentator in the NBA today, the former New York Knicks and Houston Rockets head coach entertains with his broad basketball knowledge, quick wit and wry humor.
I got to talk to him after Game 4 and I wish I had more time to pick his brain. If the Warriors can keep their core, they will win 8 to 10 championships, Van Gundy opines. I don't know about 8 or 10 titles, but Golden State surely is a potential dynasty.
VON MILLER. It was intimidating to approach a man with a barrel chest and arms as thick as a boa constrictor. But the 2015 Super Bowl MVP turned out to be a super cool dude.
In the prime of his athletic life at age 28, the 6-foot-3, 250-pound Miller plays outside linebacker for the Denver Broncos of the National Football League (NFL). With his quickness and brute strength, he is a quarterback's worst nightmare.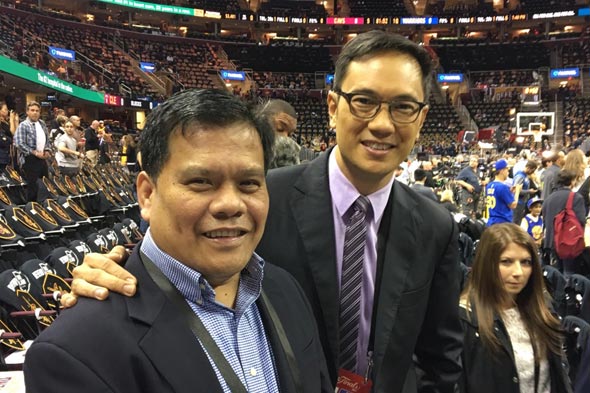 T.J. MANOTOC. A yearly fixture in the NBA Finals as ABS-CBN's ace broadcaster, I see T.J. every June since 2012 when we were in Miami for the Heat-Thunder title series. From time to time we also rub elbows at the annual All-Star Game, like the one this past February in New Orleans.
T.J. and I usually go out for a bite to eat and catch up, but our busy schedules got in the way. Still, it was nice to see the tech savvy T.J., whose decorated journalistic career has blossomed beautifully beyond sports.