EXPERIENCE is usually the best teacher for PBA coaches, who take plays and systems from their various predecessors and make or mold them into their own.
But they also draw inspiration from their NBA counterparts, who are worthy enough to coach in the world's biggest basketball stage.
PBA coaches are certainly fans of NBA coaches, some of whom they pattern their coaching style after.
So we asked our local coaches who among San Antonio's Gregg Popovich, Houston's Mike D'Antoni, and Miami's Erik Spoelstra should win the Coach of the Year, one of the main awards set to be given out aside from the MVP plum when the NBA holds its first awarding ceremony on June 26.
In a poll of six PBA coaches, Spoeltra, the youngest of the nominees at 46, has the slight edge over his elders with half of the panel voting for him – but not because he's partly Filipino.
Find out why.
Tim Cone
The Heat were arguably the, well, hottest team in the second half of this regular season, having racked up a 30-11 win-loss record after starting the year with at an opposite 11-30. They barely missed the playoffs merely on a head-to-head tiebreaker against Chicago, which finished with the same 41-41 mark, but won its season series with Miami, 2-1.
But more than what the Heat accomplished, it's how they did it that Cone noted – as Spoelstra simply made the Heat play well on both ends of the floor.
"I'm hoping coach Spo gets it. It'd be nice," Cone said. "I've never been a fan of the offensive emphasis of D'Antoni, so I want young coaches to emulate coach Spo more than I do D'Antoni. He's good offense and defense."
"In the second half, the Heat led the Eastern Conference in three-point shooting, so it's not like he ignores the offense. He coaches both sides," he added. "I'm a defensive-first coach so I like coaches and players who emphasize defense as much as offense."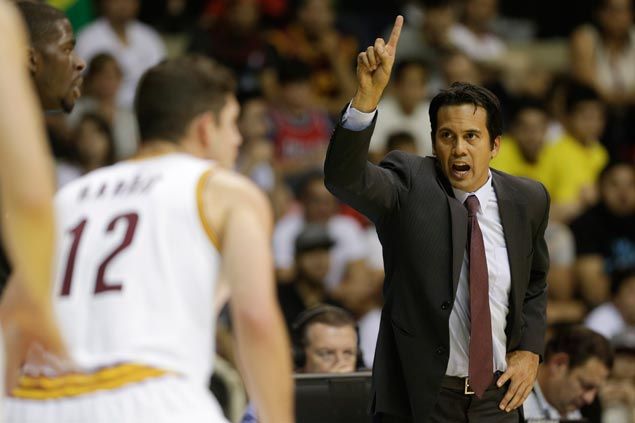 Chris Gavina
The Mahindra coach can certainly relate to Spoelstra, who brought the best out of a young squad that saw the departure of Dwyane Wade and had Goran Dragic and Hassan Whiteside as their two best players.
After all, the Floodbuster saw management surprisingly let go of four of their stars in the offseason, yet Gavina still managed to steer his squad to three wins in an all-Filipino conference where many thought they would go winless.
"I take a lot from coach Spoelstra," Gavina said. "I'm constantly watching his Miami Heat – videos, press cons, his plays, his demeanor, how he handles the pressure that's on him."
"That's why I think I wear a jacket," he added with a chuckle. "The smart take from the strong."
Then Gavina turned serious again, noting how the Heat have bought into Spoelstra's lead.
"For him to really get his team to perform the way it did with the loss of a D-Wade, pretty much had a brand-new core of young talent, it just goes to show you his ability to lead and motivate," Gavina said.
"He inspires me to do that same thing with our team," he added.
Ariel Vanguardia
The Phoenix coach would've voted for the coach of a Boston Celtics team that also made waves even without superstars in the squad, finishing on top of the Eastern Conference, before bowing to Cleveland in the conference finals.
Vanguardia feels Spoelstra mad the same impact with his Heat squad, which sparked its second-half surge with a 13-game win streak after the All-Star break.
"Brad Stevens sana ako eh, pero hindi nasama, so coach Spo na lang," Vanguardia, a Heat fan, said. "I think his run in the second half of the season, maganda yun given the lineup he had, and Pinoy din."
"Tsaka Miami Heat talaga ako," he added. "I wish they could've made it to the playoffs."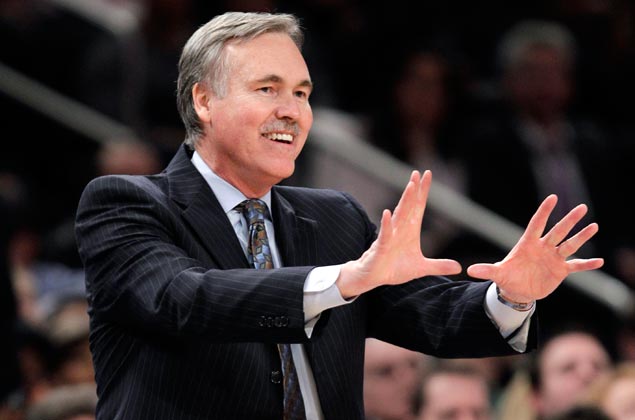 Franz Pumaren
The GlobalPort coach believes no coach has made an impact bigger than what D'Antoni made right in his first season with the Rockets after replacing interim coach J.B. Bickerstaff, who, in turn, took over from Kevin McHale.
After all, D'Antoni led the Rockets to the third-best record in the league at 55-27 after barely making the playoffs at 41-41 as the West's last seed the previous year.
While also noting the efforts of Spoelstra and Popovich, Pumaren credited D'Antoni for making the Rockets an elite team by instilling his eight-seconds-or-less offensive philosophy that fit his team to a T.
"They all deserve to be Coach of the Year; Spoelstra made a run in spite of him having a depleted lineup, but Houston, I guess they're a different team," Pumaren said. "Mike D'Antoni implemented something new, which was I feel was adaptable to the current lineup of Houston."
"Popovich is always there (even though) every year they count him out," he added. "But for me, I think it's going to be D'Antoni because of what he was able to accomplish. He maximized his lineup right now."
Norman Black
The Meralco coach simply stated the facts: the D'Antoni's Rockets had a better record and made the postseason compared to Spoelstra's Heat.
"I know that Spoelstra has had a great year also, but D'Antoni, his team won a lot more games, and he made the playoffs, and Miami did not," Black said while not taking anything away from Popovich.
"Popovich is definitely the best coach in the NBA, but best coaches don't always win Coach of the Year," the Bolts coach said.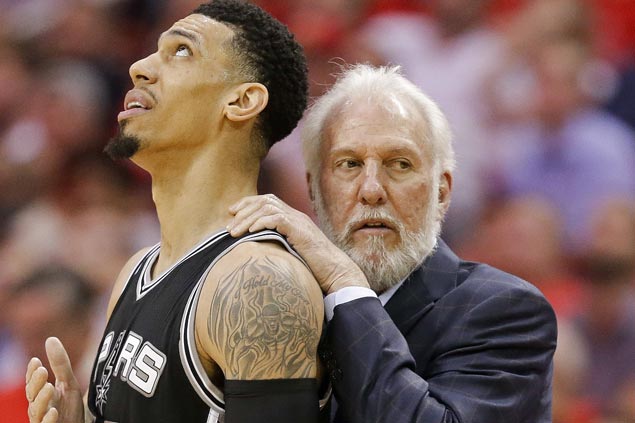 Yeng Guiao
But sometimes, best coaches do win Coach of the Year.
Guiao seems to believe that as the unconventional NLEX coach lived up to his reputation, going against the tide by voting for Popovich owing to his tried-and-tested system that has made the Spurs one of the most successful teams in the four major sports in America.
"Sentimental favorite ko si Popovich," Of course Pinoy kasi si Spoelstra pero between yung pagka Pinoy niya and yung consisteny ni Popovich through the years, yung system niya, palagay ko mas (okay) yun. Taking out our racial bias, palagay ko sa akin si Popovich."