PAUL George has one message to Filipino players with dreams of making it big in basketball — anything is possible.
The Indiana Pacers star is in Manila as a guest head coach of the Nike Rise, a reality documentary television program aimed at giving aspiring players from around the country a platform to reach their cage dreams.
George attended Monday's training session at the Nike House of Rise located at Sheridan, Mandaluyong City where he joined several drills supervised by the Nike Rise coaches led by former national coach Chot Reyes.
George encouraged the aspiring Nike Rise streetballers as well as other players to work hard.
"They have to think that anything is possible," said George during Monday's press conference. "No limit to nothing. That is something that I learned early, to put work on it and put my mind into it."
[See NBA star Paul George impressed by Pinoy streetballer as he arrives in Manila for Nike Rise]
George said he looks forward to the opportunity of sharing his knowledge to the aspirants. The 6-foot-10 swingman said he is a perfect example of someone who worked hard in order to attain his dream.
"I got a chance to do something special. That's why I'll share it to them. Maybe it's a short guy who can't shoot well, or can't dribble. There is a way to overcome that. That's why I'm here to help these guys," said George.
"I've been blessed to play this sport. The sport has been great to me. And I never take that for granted. Every opportunity that I can give back, I'm all for it," he added.
ADVERTISEMENT - CONTINUE READING BELOW ↓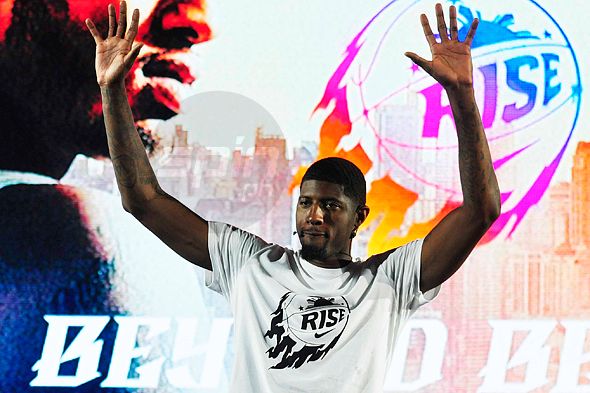 His hard work has led to George being the leader of the Indiana Pacers, a two-time NBA All-Star, and being one of the Nike ambassadors, a role that he loves so much.
"I love being a leader. I love that aggression. That keeps me from working hard. I love being the face of the organization and inspiring people.
"I didn't think I would reach the level that I've reached now," said George, who also has his own line of shoes.
"It's funny. When I was just a kid, I used to draw sketches of sneakers and I always tell myself I have a shoe. It's crazy that here I am with Nike as ambassador and being part of something big. I'm blessed to be in this position."