CHICAGO - Kawhi Leonard is about to commit a traveling violation. He wants to leave the championship confines of San Antonio to parts unknown.
This is sort of puzzling. I'm grasping to comprehend.
Players flock to San Antonio and they never leave. Some even take less money for a chance to contend for a title and play for that Jedi disguised as head coach, the increasingly cantankerous Gregg Popovich.
Since the Spurs acquired him from Indiana via trade on the night of the 2011 NBA draft, Leonard has been an All-Star twice, honored as Defensive Player of the Year two times, and won a championship in 2014, the same year he was crowned Finals MVP.
The face of the franchise following Tim Duncan's retirement in July 2016, Leonard made $18.1 million this past season, will rake $20 million more in 2018-19, plus another $21.3 million in 2019-20 if he picks up his player option. He can also re-sign long-term for five years and and $219 million.
Life is good, and yet he longs for something else, something new.
Oh why, oh why, Kawhi?
"Choices are the hinges of destiny," wrote 20th century poet Edwin Markham. So it's hard to fault another human for exercising his free will and hunt for a niche under the blazing sun.
But how can Leonard look for something he has already found?
With his accomplished feats, his ties to the community, his connection to the fans, Leonard, who is as selfless as he is gifted, was destined to be a Spur. He is already a legend in San Antonio with a chance to become an institution.
ADVERTISEMENT - CONTINUE READING BELOW ↓
Elsewhere, he can be downgraded from alpha to beta. Away from the disciplined, team-oriented structure that he has learned and grown as an NBA player, Leonard may never win the Larry O'Brien trophy again. Perhaps, his only chance at a second ring is to get married.
Leonard was named California Mr. Basketball in 2009. After two years at San Diego State University and seven in San Antonio, the 6-foot-7, 230-pound forward wants to go home and play in Los Angeles.
The Lakers, whose salary cap space is more flexible than a contortionist, has a purple-and-golden chance of snagging the 26-year old Leonard. The Lakers wield unequaled weight in the recruiting race, what with Magic and Kobe pursuing a disgruntled All-Star as hard as they had chased championships.
And, the opportunity to play with LeBron James, assuming that king domino falls with the Lakers, might prove irresistible.
Still, the Los Angeles Clippers have a shot, too. They have valuable trade assets such as the 12th and 13th picks in the upcoming 2018 draft and they have a Microsoft billionaire owner - Steve Ballmer - who can swallow Leonard's humongous salary whole without flinching.
But don't sleep on those Celtics.
Boston team president Danny Ainge has a proven track record of being skillful and creative in navigating the salary cap. He also has well-functioning pieces that might interest San Antonio, veterans such as Al Horford and Gordon Hayward, and blue-chip point guard Kyrie Irving, who can take over the calcifying Tony Parker.
But why are we even having this conversation?
How did the Spurs and Leonard get to this point?
It began with an injured right quad during the 2017 playoffs and went slowly but surely downhill from there. Mistrust was alleged on both sides. There was mutual discord. And the word "betrayal" was thrown around like turkey on Thanksgiving.
All of the above has paved the way for what appears to be an inevitable parting of ways. The Spurs-Kawhi union is as irredeemable as president Duterte's relationship with the Catholic church.
I get it. Lovers fall out of love, partnerships die. But I never imagined, never in a million years, that Kawhi would instigate a break-up. He's always been a conformist, a company loyalist, the guy who says the least in a party but is having the most fun.
I'm happy for Kawhi for following his heart but I also feel sorry for him because there are repercussions when you turn your back against those who had loved, nurtured, and turned you into a star.
In San Antonio, Kawhi Leonard was once celebrated as a Spur for life. Instead, he will be spurned forever.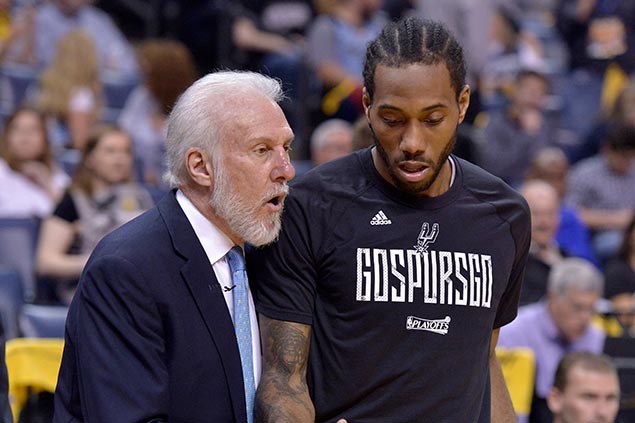 HAPPY FATHERS' DAY. I've cried so much in my 49 years. Cried over missed opportunities, cried over lost loves. I once bawled over my Chicago Bulls and, heck, I even cried watching E.T. and countless other movies with happy endings.
But I couldn't remember fighting back tears as hard as I did when my son John graduated from Taft Academic Center last Friday. It was a brave, determined battle. But I ended up a wet and inconsolable mess.
ADVERTISEMENT - CONTINUE READING BELOW ↓
Although I have three other children, my 14-year old John is the only one left as I go through the fourth quarter of my life.
My eldest, Lorenz, is 25 and we haven't spoken since 2002 when his mom and I parted like the Red Sea. My daughter Faith was 16 when she passed on five years ago. I also have a son I never met, from a woman who ran away from me faster than Usain Bolt.
John, who is enrolled in one of the top high schools in all of USA, loves basketball. He has good handles, a decent jumper, and terrific court vision. No, he won't make the NBA someday, but as a straight-A student since discovering a classroom, he is determined to one day pass the BAR exams.
From a starving writers's means, I can't possibly give John all the finer things in life. But I will die trying and I will never tire giving him all the love he can handle.
After all, I'm his dad. And on this Fathers' Day I renew the commitment to be best in the whole damn world.