CHICAGO - After several hours of drills and scrimmages, Kai Sotto was tired.
I saw it in his eyes, in the weary shoulders that sagged while he dragged his slender frame from center court to a corner in the north end of the Quest Multisport facility last Sunday afternoon.
As the father of a 16-year old, I can tell you that, on any given weekend, my son would rather practice driving in the streets of Chicago, chill with his girlfriend, or violate the remote control of his PlayStation 4.
Poor Kai had no such options.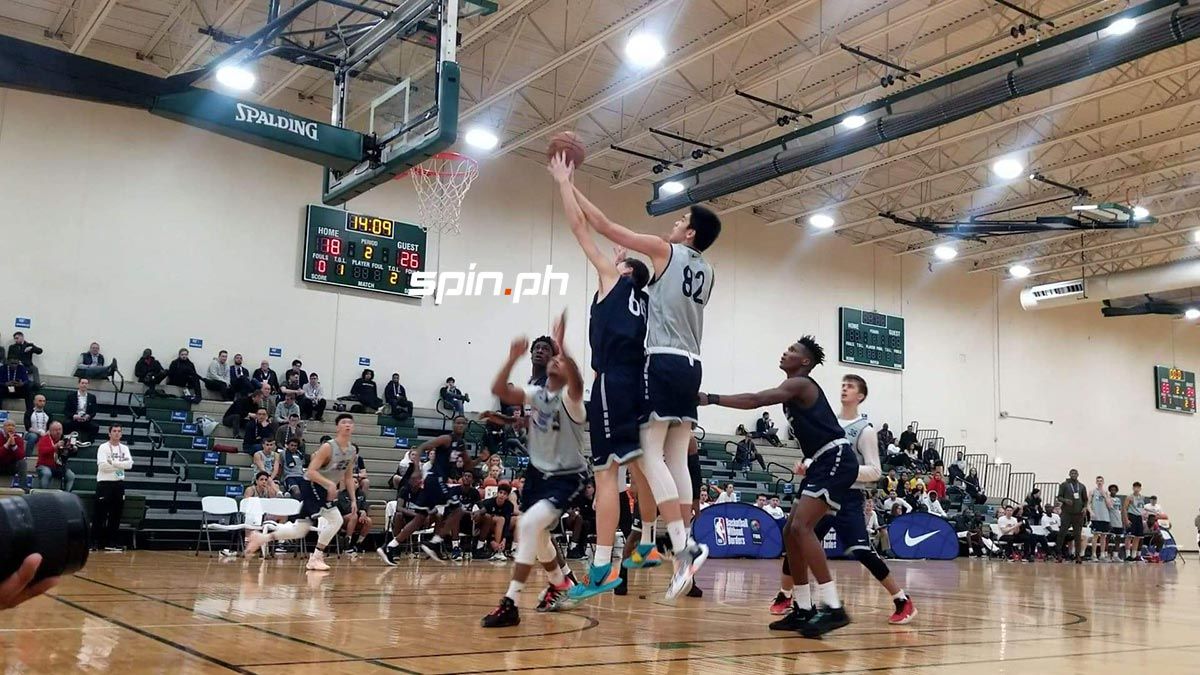 ADVERTISEMENT - CONTINUE READING BELOW ↓
He slumped 223 pounds worth of fatigue on a metal folding chair that was cushioned with cheap leather. He looked uneasy, bored.
But he was required to address the media tsunami that had washed over him the past three days at the Basketball Without Borders (BWB) camp. And that meant talking to adult strangers and being suffocated by tiring questions while the cameras clicked and the videos rolled.
When a full-blooded Filipino sets his sights on the NBA, he automatically carries with him the unwanted anxiety of fulfilling an entire nation's basketball fantasy.
It doesn't always spark an over-the-top feeling, It can often be just overwhelming.
Welcome to Kai Sotto's world.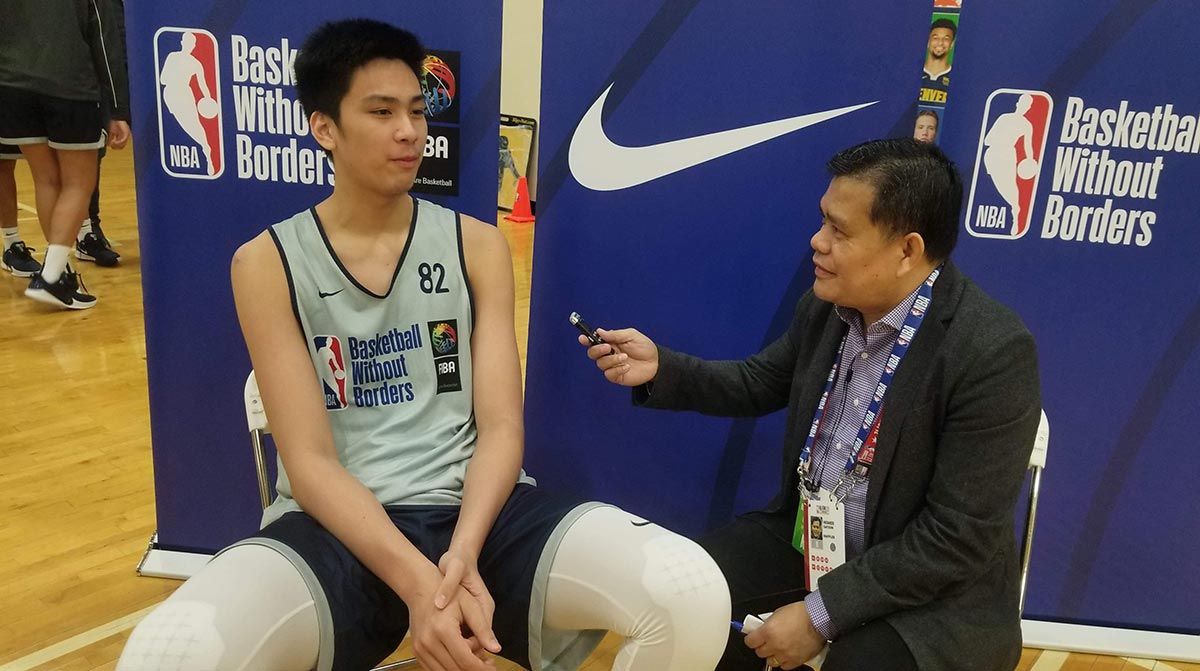 "Can you handle the pressure?" I asked after planting myself in the interrogator's chair.
"May confidence naman ako sa sarili, sa alam kung kaya kung gawin," he said.
The steely resolve, he explained. is reinforced by the fact that his parents have traveled with him to Atlanta where The Skill Factory is based. He mentions the luxury of leaning on his father Ervin, a former PBA player, for hoop-related advice.
"Malaking tulong sa akin na kasama ko sila."
As for the microscopic attention that follows his every move, his every step, Kai said he tries to to shove that in the back of his mind, choosing to devote his energy instead into focusing on the "love of the game."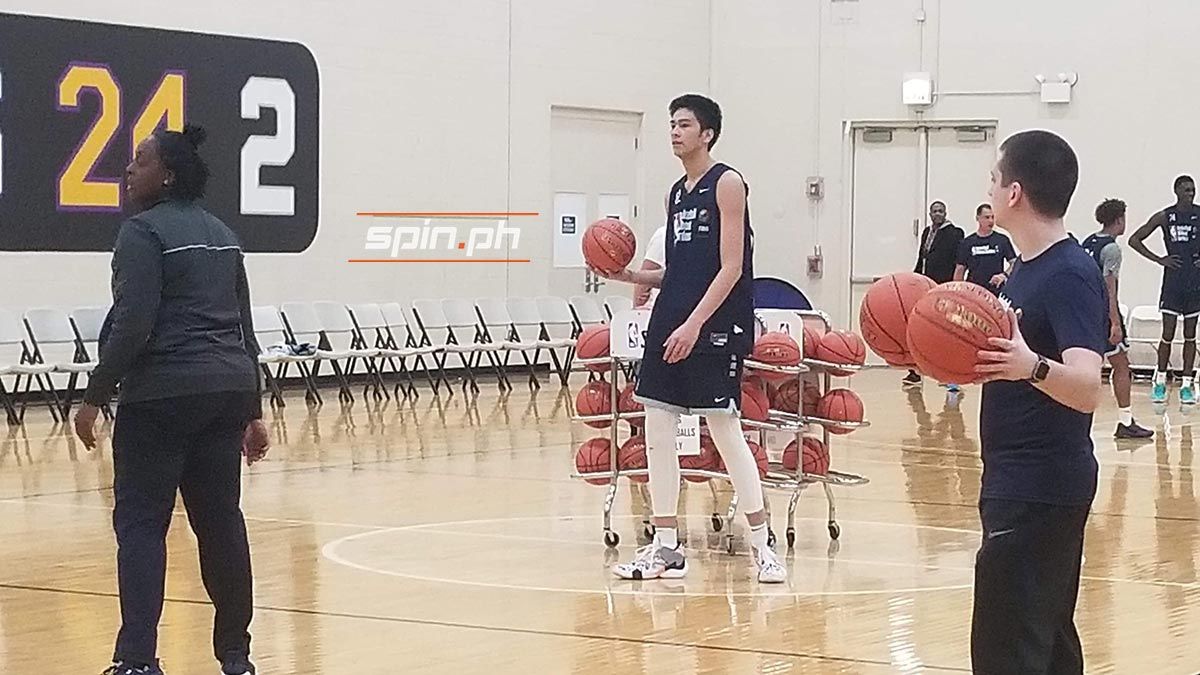 ADVERTISEMENT - CONTINUE READING BELOW ↓
With his weight being scrutinized like that of a hungry super model, I wondered if the migration to the United States had also facilitated a departure from his usual eating preferences and habits.
"Actually, hindi nagbago yung diet ko. Filipino food pa rin," he confessed. But he admits indulging in American fare on some occasions when they dine out.
A trained nutritionist can count calories and monitor protein intake, while a personal chef can tickle the taste buds with flavorful imagination. Kai, however, doesn't need either.
As his eyes sparkled talking about the topic, it was clear that in his vastly expanding universe, there is no greater heaven than the culinary magic of mama's home cooking.
GROWING UP IS HARD TO DO. "Do you miss you friends back home?" I probed.
"Siyempre, sobrang-sobrang miss ko sila dahil yung mga close kung kaibigan tinuturing ko na silang mga kapatid," he replied.
ADVERTISEMENT - CONTINUE READING BELOW ↓
Fortunately, it's a longing that's been eased by how the digital revolution has bridged oceans and distance through the marvel of chat portals and video calling.
I lingered for a while after my allotted interview time expired but when I decided to dip for the United Center for the All-Star Game, I saw Kai reuniting with his family.
It was a sight to behold. He was happy now, unburdened by duty, and back into being just a normal 17-year old kid. Laughing, frolicking.
As I exited the facility and unto the brisk Chicago winter air outside, it dawned on me that this whole Kai Sotto saga is as much about two parents' sacrifice than it is about one child surrendering his life for his dreams.
And with that, the words of a Pat Benatar song flowed freely from my mind.
We are running with the shadows of the night. So baby, take my hand, you'll be alright. Surrender all your dreams to me tonight. They'll come true in the end.
ADVERTISEMENT - CONTINUE READING BELOW ↓
Get more of the latest sports news & updates on SPIN.ph