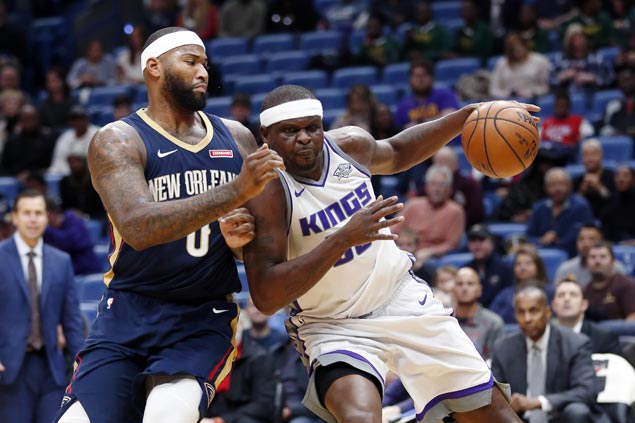 NEW ORLEANS — Zach Randolph scored a season-high 35 points, Buddy Hield led a fourth-quarter rally against his former team and the Sacramento Kings beat the New Orleans Pelicans 116-109 in overtime on Friday night (Saturday, Manila time).
Randolph made two of his career-high five 3-pointers in overtime and added 13 rebounds. Hield made a 3-pointer with 34 seconds left in regulation to force overtime and finished with 18 points off the bench.
De'Aaron Fox added 14 points and Frank Mason III had 12 for the Kings, who won for just the fourth time in 15 road games this season.
DeMarcus Cousins, who along with Hield was the main piece in a trade between the teams in February, led New Orleans with 38 points and 11 rebounds. Anthony Davis, returning from a three-game absence with an adductor strain, had 18 points. Ian Clark had a season-high 15 points in his first start and Jrue Holiday scored 14.
Randolph started the overtime scoring with a 3-pointer, and Cousins answered with a three-point play. Randolph made another 3-pointer, and Mason added a jumper that gave Sacramento a 110-105 lead with 3:13 left.
Holiday made a jumper, but Fox made two free throws and Mason scored on a drive for a seven-point lead with 58 seconds left.
Cousins scored 15 points in the second quarter, and the Pelicans led by six at the half. Randolph scored 10 points as the Kings pulled even at 77 late in the third quarter.
Clark scored on a drive and Jameer Nelson made a 3-pointer as New Orleans took an 82-77 lead after three quarters.
The Pelicans increased the lead to 10 early in the fourth as Clark and Darius Miller scored the first two baskets and Dante Cunningham added a 3-pointer.
Sacramento cut the lead to five midway through the quarter, but Davis answered with four consecutive points.
The Kings pulled within 100-99 on Randolph's drive with 1:07 left.
Cousins got free for a dunk and a three-point lead with 49 seconds left before Hield tied it with his 3-pointer.
TIP-INS
Kings: Randolph missed a baseline jumper just before the final buzzer, and Vince Carter rebounded the miss and dunked just after the buzzer. ... The Kings' bench outscored the Pelicans' bench, 53-16. ... Sacramento finished its trip 2-2.
Pelicans: The Pelicans beat the Kings 114-106 on Oct. 26 in Sacramento as Cousins had 41 points and 23 rebounds. ... New Orleans made 17 of 19 free throws. ... The Pelicans had a 12-4 edge in fast-break points.
RONDO RESTS
Pelicans guard Rajon Rondo sat out the game to rest. He missed the first 13 games of the season because of a core muscle injury. He had started the last 11 games at point guard. In those games, Holiday averaged 20 points while starting at shooting guard. Clark started in Rondo's place.
ADVERTISEMENT - CONTINUE READING BELOW
UP NEXT
Kings: Return home to play Toronto on Sunday.
Pelicans: Host the 76ers on Sunday to conclude a four-game homestand.