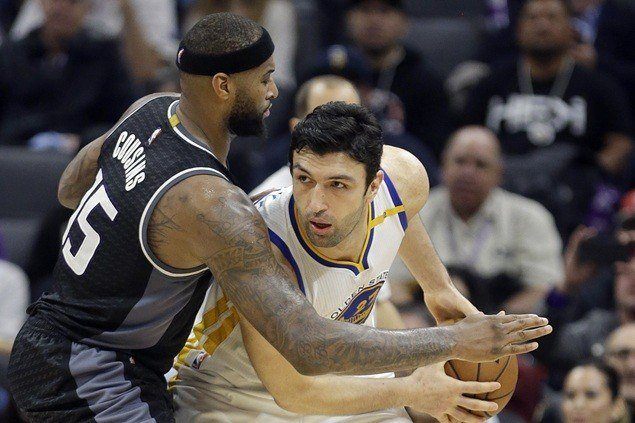 OAKLAND, California — Zaza Pachulia heard all the negative noise from his Golden State Warriors fans, and he began taking it personally.
He was the new guy at the start of this NBA season, the lone non-All-Star in Golden State's decorated starting lineup. He was no Andrew Bogut, the imposing big man he replaced, and fans got nasty with their frustration.
Now, Pachulia constantly recalls what coach Steve Kerr preaches: The only thing that matters is how the Warriors feel about each other, not what anyone outside thinks or says.
Not that it was easy for Pachulia to ignore the scrutiny.
"That was one of the biggest challenges I've had. I've never been in this situation," he said on Monday (Tuesday, Manila time). "It's a lot of responsibility, I understand it. It was very emotional for me at the beginning. I was kind of taking it very personal. But that's where mental toughness kicks in.
"I'm fortunate I have friends who have been in this situation throughout the league, but most importantly, the biggest help came from my coaching staff."
With Kerr in his ear, Pachulia has made an effort to tune out the critics.
As expected, the Warriors have needed time to jell this season, and Pachulia's been at the center of the development. Early on, the center from Georgia took a passive approach, and also found himself in subpar shape. Now he's getting more comfortable, and is emerging at the perfect time. The Warriors are headed into the second half, and Pachulia has found his place complementing Stephen Curry, Kevin Durant, Draymond Green, and Klay Thompson.
Last month, Pachulia had season-bests of 15 points and 14 rebounds in a win at Brooklyn, and he believes that helped him turn a corner. He has four straight games scoring in double figures entering Tuesday's home matchup with Miami after doing so just twice in his first 32 games.
In a victory at Sacramento on Sunday, Pachulia made a jaw-dropping, no-look backward heave that was right on target to Curry and led to an easy basket by the league MVP.
"He's tried some crazy stuff before, but he made a good, timely read as the best way to get me the ball," Curry said. "It was right on target, one bounce into my lap and I was able to finish it. I'm sure Coach will make sure he's not experimenting too much more with that."
ADVERTISEMENT - CONTINUE READING BELOW
Pachulia's enjoyed being part of the "fancy stuff" these pass-happy Warriors get up to — Golden State wracks up 30-assist performances at an astonishing rate.
"Zaza's got a little flair to him," Kerr said on Monday. "He likes making plays like that. Not that he's constantly making them, but he's got a little of that in him. I know he had fun with that play."
Never before had the big man been part of a team with so many great players, and finding his way with this group made for a daunting adjustment. That core of talent is the reason he chose to join Golden State for his 14th season.
"No disrespect to Dallas, Milwaukee, but we weren't this type of team. No one was expecting a championship from us," Pachulia said. "This team is different, right? Let's be honest. So every time you make a mistake on the court, and that's very normal, especially in the beginning, it looks like 10 times, 100 times worse.
"Fans are spoiled here because of the types of seasons they had — last year, where they broke the record even though they lost in the Finals, it was amazing. The year before they won the championship, so they were feeling really comfortable with the players and the personalities they had."
For Pachulia, the improvements have come from focusing on the small things — such as minor footwork adjustments and working to better defend the perimeter.
That has come with a willingness to learn.
"The thing that I'm most proud of in watching him this year is his growth. I'm talking about a guy who's played a lot of basketball," Warriors assistant coach and defensive guru Ron Adams said. "The ability to be coached at his age has really been fun. ... He is one of those lifelong learners."
Still, Pachulia knows the compliments from those around him must be earned.
From the basketball-crazed Bay Area fans, too.
"My skin got thicker," Pachulia said. "I don't listen to stuff from outside or even if I hear or if I read something, I just let it go very easily. It's not bothering me, because the truth is that Steph or Klay or KD or Draymond or Andre (Iguodala), all these guys, they either like playing with me or they don't. That's what matters. The coaching staff is happy with my presence or not.
"Maybe the first day, you're not expecting any of your teammates to give you some good words. We've played enough games that my teammates have a lot of compliments to say about me. My coaching staff has a lot of compliments to say about me. Those compliments don't come just like that. They are professionals and you get a compliment because you deserve it. That means a lot."
ADVERTISEMENT - CONTINUE READING BELOW