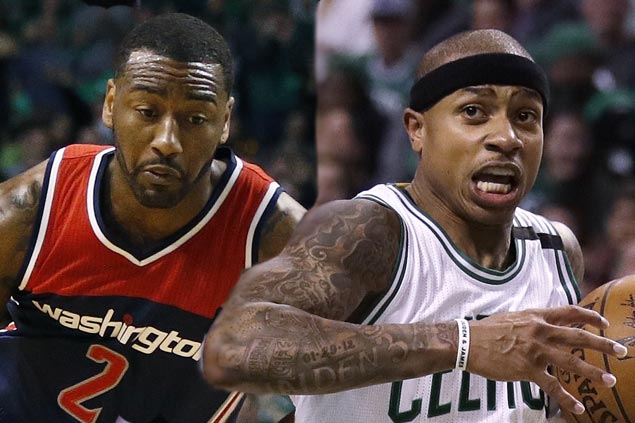 BOSTON (AP) — Isaiah Thomas used to imagine what it would be like to play in a Game 7 as he watched some of the NBA's biggest names cement their legacies on the league's biggest stage.
The Celtics All-Star will get his first chance to do the same on Monday night when Boston hosts the Washington Wizards with a trip to the Eastern Conference finals at stake.
While Thomas is anxious for the opportunity, one thing he says he won't be is nervous.
"I don't believe in pressure," Thomas said. "I've worked too hard to be scared of any type of pressure."
Maybe not. But neither is a Washington team that pulled out a one-point win in Friday's Game 6, becoming the first home team to stave off elimination on its home floor this postseason. Teams had previously been 0-10 during the 2017 playoffs.
The Wizards will now be trying to be first team in this matchup to win on the opponent's home floor in 2016-17. All 10 meetings this season have been won by the home team.
"A lot of guys doubted us winning (Game 6) at home," Wizards point guard John Wall said. "The last two years we were in the playoffs we lost Game 6 here and we just had a lot of heart."
Monday's winner earns an Eastern Conference finals matchup with the defending champion Cleveland Cavaliers, who have been awaiting an opponent since sweeping Toronto on May 7.
For the Celtics, an opportunity to face the Cavs would validate the No. 1 seed that Boston outlasted Cleveland for in the final week of the regular season. It would also be the Celtics' first trip to the conference finals since 2012, the last such run made by Boston's since-departed Big Three of Kevin Garnett, Paul Pierce and Ray Allen.
In Washington, the drought has been much longer. The Wizards haven't been out of the second round since 1979, when the then-Bullets beat the Spurs to advance to the NBA Finals. That series was Washington's last time in a Game 7.
ADVERTISEMENT - CONTINUE READING BELOW
Game 7 will also — at least for now — settle the score between teams that haven't hidden their dislike for one another. The Wizards wore all-black to a regular-season matchup with Boston in January before soundly beating them.
Several Boston players showed up wearing black for Game 6, but the Celtics weren't able to end the Wizards' season.
Washington's Ian Mahinmi, who was part of the 2014 Indiana Pacers' team that eliminated Washington in the East semifinals, said both Wall and Bradley Beal have matured a lot since then.
"Now, those guys are not babies anymore," Mahinmi said. "They closers. They proven closers."
Thomas has gotten mental advice this postseason from both Kobe Bryant and most recently Paul Pierce after the Wizards evened the series in Game 4.
Pierce's advice was ringing in his ears on Sunday.
"Winning's hard. It's not for everybody," Thomas recalled Pierce telling him. "If it was easy it would be."