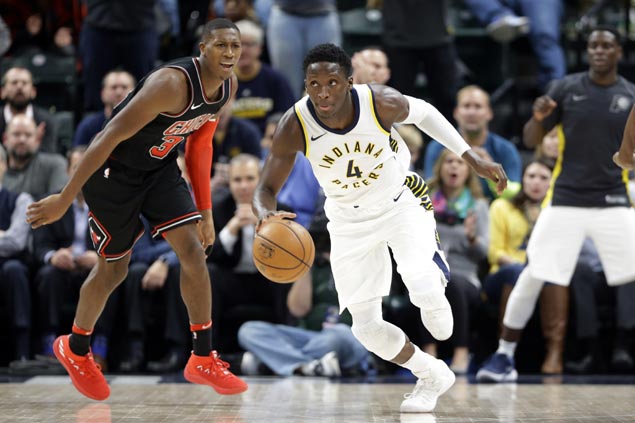 INDIANAPOLIS — Victor Oladipo scored 27 points, including a clutch 3-pointer with 31.1 seconds left that lifted the Indiana Pacers to the comeback victory over the Chicago Bulls, 98-96, on Wednesday (Thursday, Manila time).
Bojan Bogdanovic had 17 points for Indiana (14-11), and Darren Collison finished with 14. Myles Turner had 11 points and blocked four shots, and Thaddeus Young finished with 10 points and nine rebounds.
The lowly Bulls led by as many as 17, but couldn't hold off the Pacers in the final moments. Oladipo's 3 gave Indiana its first lead at 97-96, and he tacked on a free throw with 12.8 seconds left.
Lauri Markkanen missed a potential game-winning 3-pointer in the final seconds of Chicago's 10th straight loss.
Kris Dunn had 18 points, six rebounds and six assists for the Bulls (3-20), and Robin Lopez scored 16 points.