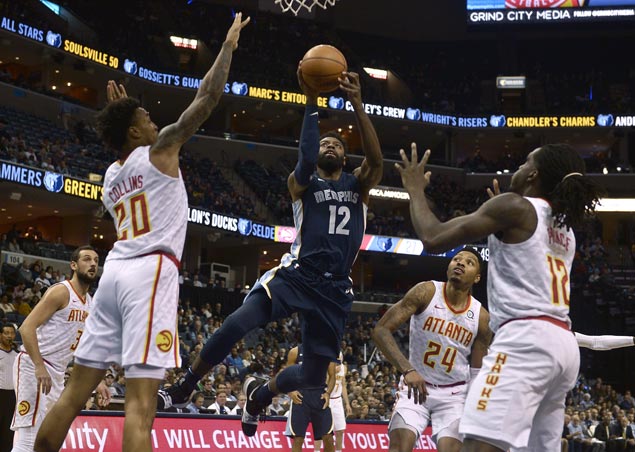 MEMPHIS, Tennessee — Tyreke Evans scored 22 points, including the go-ahead layup with 1:03 left to help the Memphis Grizzlies snap a five-game losing streak with a 96-94 victory over the Atlanta Hawks on Friday night (Saturday, Manila time).
The Hawks had three shots in the closing seconds, all of which misfired, including Andrew Harrison's block of Taurean Prince's attempt in the left corner with 1.2 seconds left. The ball went into Kent Bazemore's hands and his 3-point attempt at the horn bounced off the front of the rim.
Mario Chalmers added 16 points and had four steals, while Marc Gasol scored 13 points.
Bazemore led the Hawks with 19 points, while Dennis Schroder finished with 18 points and 11 assists. Prince contributed 17 points as Atlanta lost it fourth straight.
Memphis trailed 89-81 with just over 6 minutes left when it reeled off eight straight, capped by Chalmers' 3-pointer to tie the game at 89.
Chalmers converted another 3-pointer with 1:45 to go, tying the game at 94, and set the stage for Evans' go-ahead basket.
The Hawks built the lead to as many as 12 in the third quarter, but a pair of 3-pointers late in the period by Harrison led a Grizzlies rally in the closing seconds to cut the Atlanta lead to 73-72.
The first half was representative of a contest between two of the worst teams in the league, with a total of 24 turnovers between them and both shooting 44 percent. A few more made free throws for Atlanta and a couple of extra 3-pointers gave the Hawks a 47-40 lead at intermission.
TIP-INS
Hawks: Schroder's 11 assists marked the second straight night he has reached at least 10. . Prince made a career-high five 3-pointers. His previous high was four on Nov. 11 against the Wizards.
Grizzlies: Evans returned after missing Wednesday's game in Washington with right hip soreness. . Memphis committed 14 turnovers in the first half, a season high for miscues in a half. The 22 turnovers for the game also were a season high. .Gasol has reached double figures in all but one game this season, a victory over Houston on Oct. 28.
UP NEXT
Hawks: Host the Miami Heat on Monday.
Grizzlies: Play the second night of a home back-to-back on Saturday against the Boston Celtics.