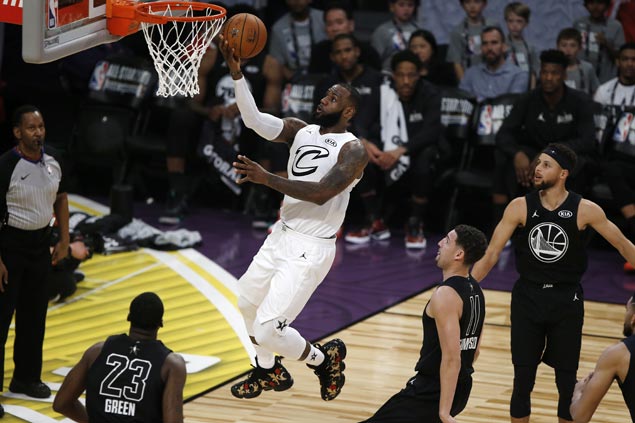 TEAM LeBron rallied from double-digits down in the fourth to beat Team Stephen 148-145 on Sunday in the NBA All Star Game in Los Angeles (Monday, Manila time).
LeBron James got huge support from Kevin Durant, Paul George, Andre Drummond and Bradley Beal, taking victory in the new-look midseason show as the NBA used a playground-style selection process over the traditional East-West format.
James hit a triple to tie the match at 144 with a minute and 30 remaining.
DeMar DeRozan briefly put Team Steph ahead with a split from the stripe before James scored on a finger roll and assisted on a Russell Westbrook layup with 10 seconds left for the final count. 
James wound up with 29 points, 10 rebounds and two assists shy of a triple-double.
Durant had 19 points in 30 minutes of action, George came off the bench to deliver 16 points, while Drummond and Beal each scored 14. 
Steph Curry's squad had a strong start, taking a 42-31 first-quarter lead and was ahead by 13 halfway through the fourth.
Damian Lillard and DeMar DeRozan scored 21 apiece for Team Stephen.
Curry went 4 for 14 including 3 for 11 from beyond the arc and wound up with 11 points, while James Harden was 5 for 19, including 2 for 13 from the 3-point line, finishing with 12 markers.