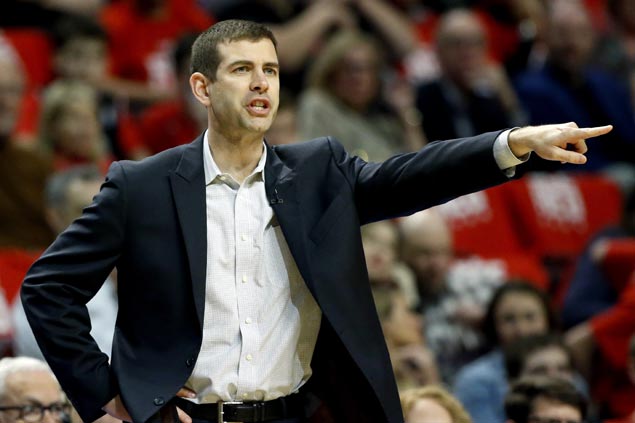 CHICAGO (AP) — The Boston Celtics kept reminding each other not to let up as they closed in on a lopsided victory and a trip to the NBA's Eastern Conference semifinals.
No need to worry about that.
Avery Bradley scored 23 points, and the hot-shooting Celtics pounded the Chicago Bulls 105-83 to win their first-round series 4-2 on Friday night.
The top-seeded Celtics simply torched Chicago to finish off a tougher-than-anticipated series and advance in the playoffs for the first time since 2012. Boston regrouped after dropping the first two games at home and will meet Washington in the Eastern semifinals. Game 1 is Sunday.
"Once we started to get the game at hand and in control, we all just kept repeating to stay focused, to keep it going, to keep pushing," Al Horford said. "We didn't want to give them any life. We were as focused and we were enjoying the moment."
Bradley finished one point shy of a playoff career high he set in Game 5. He nailed three 3-pointers and the Celtics hit 16 of 39 from long range.
Gerald Green scored 16 in his fourth straight start and Isaiah Thomas had 12 before heading home to Washington state for his sister Chyna's funeral on Saturday. Her death in a car accident the day before the playoff opener dealt a blow to the Celtics. But Boston rallied around its star player and regrouped when it looked like the series might slip from reach.
"Bigger things than basketball happen and that takes precedent," coach Brad Stevens said. "I was really proud of our guys, how they treated each other and how they stuck together. Nobody pointed fingers and we're a great support network for one another, especially Isaiah. I think they appreciated being counted out."
Jimmy Butler led Chicago with 23 points. But the Bulls never really found their rhythm over the final four games with point guard Rajon Rondo sidelined by a broken right thumb.
Dwyane Wade shot just 1 of 10 in a two-point effort that could be his final appearance for the Bulls. He has a $23.8 million option on the two-year deal he signed last summer to leave Miami and come home to Chicago.
The Celtics set the tone by hitting 3s on their first three possessions on the way to a 13-point halftime lead. They buried Chicago in the third, outscoring the Bulls 34-18. Things got so lopsided that Thomas gathered his teammates near the baseline late in the quarter and screamed: "That's a wrap for these (expletives)!"
ADVERTISEMENT - CONTINUE READING BELOW
"We came out and moved the ball around, we got open looks and they were going down for us," Bradley said. "It felt good to be playing Celtic basketball again. We were all smiling and having fun and that's how it's supposed to be."