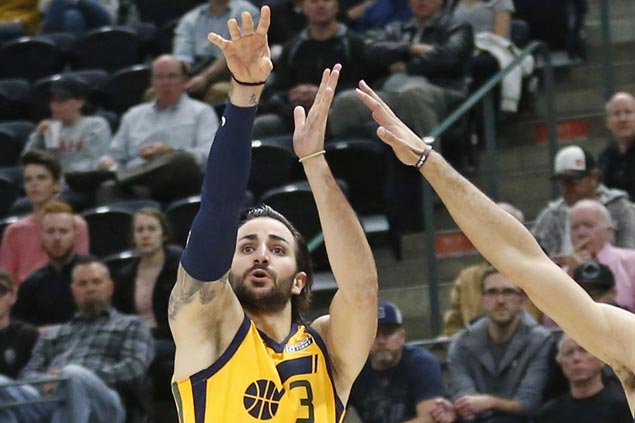 TORONTO — Ricky Rubio's 3-pointer with 4 seconds remaining gave the Utah Jazz a 97-93 victory over the Toronto Raptors on Friday night (Saturday, Manila time).
Donovan Mitchell scored 26 points, Rudy Gobert had 18 points and 15 rebounds and Rubio finished with 14 points for the Jazz, who won consecutive games for the first time since a six-game winning streak was snapped on Dec. 4. Utah also won at Detroit on Wednesday night.
With Utah trailing 93-92, Rubio made his 3-pointer for the 14th — and final — lead change of the game.  After DeMar DeRozan missed a jumper, Royce O'Neale sealed it with a pair of free throws.
Joe Ingles scored 11 points and Derrick Favors had 10 for Utah.
Jonas Valanciunas had a season-high 28 points and 14 rebounds, and DeRozan added 19 points for the Raptors, who lost for the fourth time in 22 home games. Toronto had won its previous four meetings with the Jazz.
Serge Ibaka had 10 points and 10 rebounds, and C.J. Miles scored 10 points for Toronto.
The Raptors trailed by six to begin the fourth, but started the quarter with a 7-0 run.  A 3-pointer by Miles sparked a 10-2 Raptors run that gave Toronto a 91-85 lead with 2:24 left, but a dunk by Favors and a 3 by Ingles cut it to 91-90 with 1:20 remaining.
Valanciunas made two free throws to put Toronto up 93-90, but Mitchell replied with a pair at the line. DeRozan missed a pull-up jumper and Ingles grabbed the rebound before Rubio's decisive 3.
Utah led 30-24 after one quarter, but Valanciunas had 10 points and six rebounds in the second to help give Toronto a 48-45 lead at halftime. The Raptors trailed 40-30 with 7:04 left in the second, but closed the half with an 18-5 run.
Mitchell scored 15 points in the third, connecting on three of four attempts from 3-point range, as Utah erased a 10-point deficit to reclaimed the lead. The Jazz led 75-69 heading to the fourth.
TIP-INS
Jazz: Rubio led Utah with six assists. ... G Rodney Hood (left leg) missed his fourth straight game.
Raptors: Kyle Lowry shot 2 for 14, including 0 for 6 from 3-point range. ... Valanciunas made multiple 3-pointers for the first time in his career. ... Canadian tennis star Denis Shapovalov attended the game.
UP NEXT
Jazz: Host Golden State on Tuesday. Utah has lost its past three home meetings with the Warriors.
Raptors: Host the Los Angeles Lakers on Sunday. Toronto has won six straight against the Lakers.